If dealing with random shootings and beatings by protesting mobs isn't enough, New York City police have yet another personal safety concerns to deal with.
A department memo addressed to "all commands" warned officers that patrol and personal vehicles have had their lug nuts loosened or completely removed, the New York Post reported: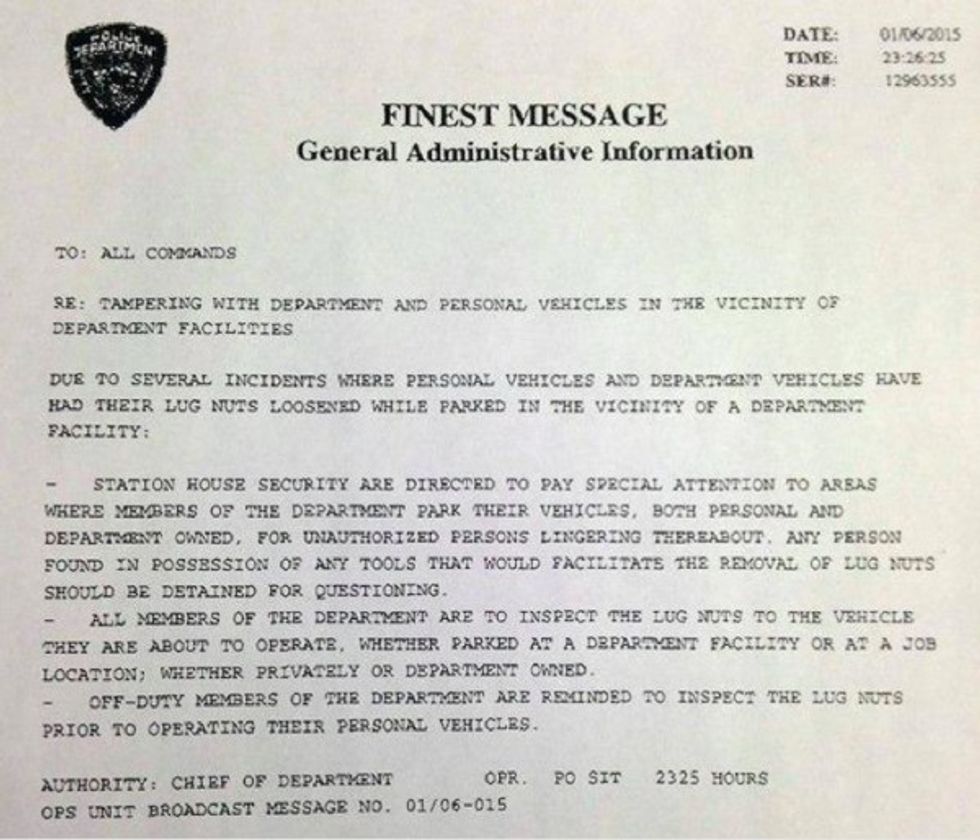 Image source: Twitter
In one instance an officer was about to enter his personal vehicle in Brooklyn about 8 p.m. Tuesday and noticed the windshield wipers appeared to have been tampered with. Upon checking the rest of vehicle the officer noticed the lug nuts on all four tires were loosened, the Post reported.
A team of cops arrived to check patrol vehicles nearby, finding another officer's personal vehicle parked in a "Police Only" zone — as well as two unmarked patrol vehicles in a lot used by supervisors — with loosened lug nuts, the Post said.
The memo directed officers to check lug nuts on personal and patrol vehicles before operating them and to watch for "unauthorized persons lingering" in areas where police park vehicles. "Any person found in possession of tools that would facilitate the removal should be detained for questioning," the memo noted.
NYPD officers have faced a spike in violence against them — including the fatal shooting of two officers sitting in their patrol car last month — since a grand jury chose not to indict a white officer caught on video placing an apparent chokehold on Eric Garner, a black man, who later died.