Republican National Committee Chairman Reince Priebus ripped President Barack Obama's "misplaced priorities" after he skipped visiting the Veterans Affairs hospital at the center of the VA scandal during a trip to Phoenix on Thursday.
Obama's motorcade actually passed the VA facility en route to touting a new mortgage-lowering initiative.
"It is a testament to this president's misplaced priorities that he would choose a photo op for his next executive action over visiting the VA hospital where veterans died on secret government waiting lists instead of getting care," Priebus said.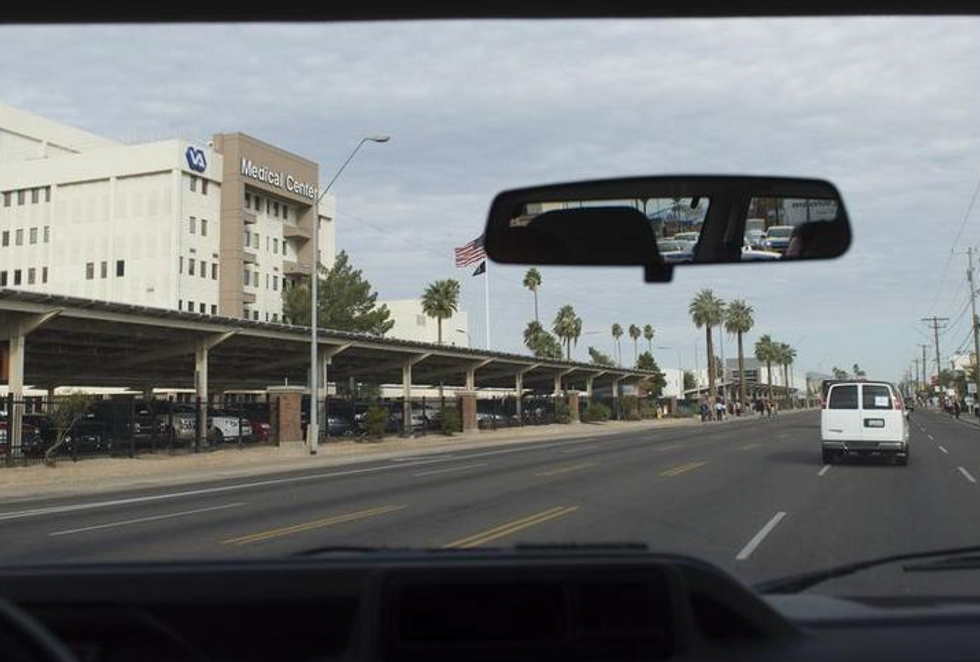 President Barack Obama's motorcade drives past the Phoenix Veterans Affairs Hospital, Jan. 8, 2015. The Phoenix VA was at the center of scandal last year regarding the health care of U.S. military veterans. (AFP/SAUL LOEB)
Earlier that day, Sen. John McCain (R-Ariz.) tweeted out a "must-read" column criticizing Obama for not visiting the VA hospital.
Must-read @PeteHegseth on Obama's #Phoenix trip today: "Why is Obama still snubbing the #VA?" http://t.co/SXnAq4A3d9

— John McCain (@SenJohnMcCain) January 8, 2015
In the Arizona Republic column, Concerned Veterans of America CEO Pete Hegseth wrote: "Why is Obama Snubbing the VA?"
"Today, President Obama will visit Phoenix's Central High School to tout the supposed recovery of our nation's housing market. Yet, one mile away, there's a different tale of recovery (or lack thereof) that his administration would just assume we all forget," he wrote. "While he addresses an adoring crowd, five minutes away there are wounded veterans still awaiting timely care, and long-overdue accountability, at the Phoenix Veterans Affairs Hospital — the same hospital where, less than one year ago, America learned how grossly mismanaged our VA system had become."
During the press gaggle on Air Force One on the way back to Washington, a reporter asked White House press secretary Josh Earnest, "Did the White House give any consideration to having the president visit the VA hospital in Phoenix while he was here?"
Earnest responded: "Not really. The president traveled to Arizona because Arizona was one of the states that was most hardest-hit -- or at least the housing market in Arizona was the most-hardest hit or among the most hardest-hit states in the country in the midst of the housing downturn."
Earnest said earlier this week that VA Secretary Robert McDonald visited the Phoenix facility in his first trip as secretary, after replacing Eric Shinseki, who resigned as a result of the scandal.
"There have been some important personnel changes that have been made at that facility there," Earnest said. "There have been substantial operational reforms in place that are ensuring that the needs of the veterans in Phoenix are being better met by the medical facility there."
This story and its headline have been updated to include Priebus' comments.