Republicans on Tuesday will launch something that hasn't been seen for years in the Senate — voting on amendments on the Senate floor.
The Senate under Sen. Harry Reid (D-Nev.) became a place that only worked legislatively when Congress had to move "must-pass" bills, such as huge spending bills to keep the government open, or easy bills with clear bipartisan support. But even then, Reid would usually fill up all the available amendment slots, giving Republicans and even his fellow Democrats no chance to amend legislation.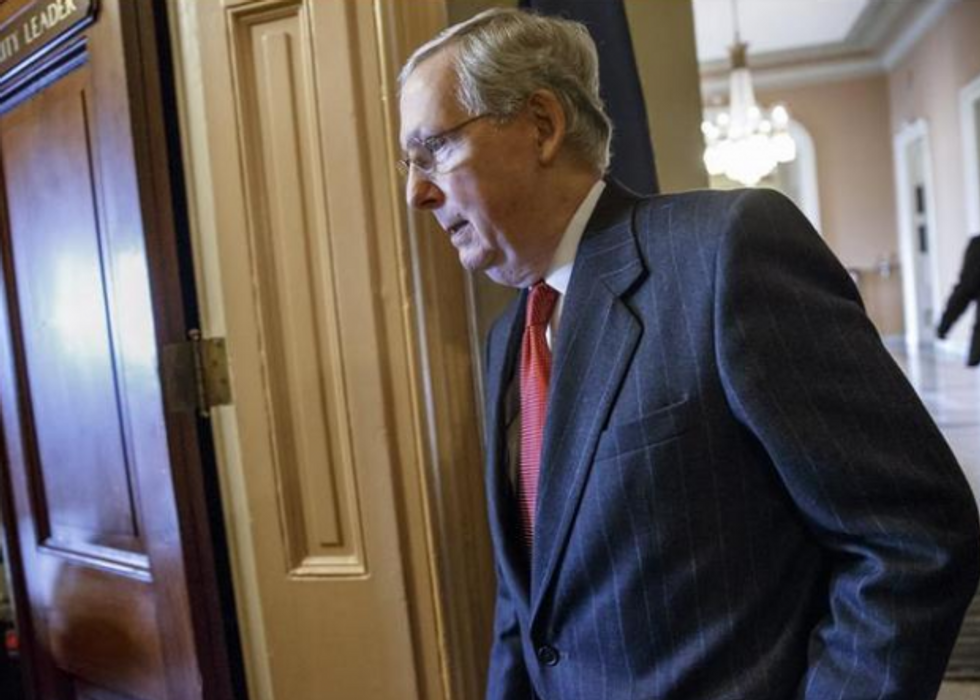 The Senate, under Majority Leader Mitch McConnell (R-Ky.), will start voting on amendments this week, something that hasn't been seen consistently for years.
Image: AP Photo/J. Scott Applewhite
Reid's maneuvers were widely seen as a way to protect Democrats from controversial votes on a full range of issues, and also to stop bills opposed by Democrats from reaching the White House. But while Democrats achieved their political goals in the short term, the GOP takeover of the Senate last November means an entirely different process going forward.
"We need to return to regular order," Senate Majority Leader Mitch McConnell (R-Ky) said on the Senate's first full day last week. "We need to get committees working again. We need to recommit to a rational, functioning appropriations process. We need to open the legislative process in a way that allows more amendments from both sides."
As their first order of business, Republicans have called up legislation to approve the Keystone XL pipeline. On Tuesday morning, McConnell again said that both Republicans and Democrats would be able to offer amendments to that bill.
"This is a debate where senators can actually offer amendments and have them considered by the Senate," he said. "A debate where senators can actually make the voices of their constituents heard — that's just the kind of serious legislating many of us have been waiting a long time for."
Democrats as a group had yet to formally propose any amendments to the Keystone bill, a likely sign that many Democrats will not try to tweak a bill that President Barack Obama has already said he would veto.
Democrats also seemed comfortable delaying work on the bipartisan legislation for as long as possible. McConnell said some Democrats were refusing to agree to speeding up the process and allowing the Senate to start work on the bill today — without an agreement on timing, the Senate would have to wait until the wee hours of Wednesday morning to start work on the bill.
"Either we'll get on it this afternoon by consent or shortly after midnight without consent," McConnell said.
Democratic delays prompted McConnell to say that while the Senate would see an open amendment process, it would not be an "open-ended process." That was interpreted by some Democrats as a walking-back of McConnell's earlier pledge.
In addition, some reports indicated that Republicans wouldn't allow Democrats to offer all of the amendments they wanted. Politico reported Monday that Sen. Bernie Sanders (I-Vt.) wants a global warming amendment to get a vote, but that Republicans may stop that from coming up.
Still, consideration of even some would be an improvement from how it was run under Reid. Democrats themselves have said they welcome the GOP's proposed change.
"This bill, of course, is going to be subject to the new approach of the new majority —amendments on the floor," Senate Minority Whip Dick Durbin (D-Ill.) said last week. "I welcome that. I have been looking forward to that and a return to that for a long time."
On Monday, the Senate voted 63-32 to advance the Keystone legislation. All 32 "no" votes were Democrats.