President Barack Obama said the hacking of U.S. Central Command social media accounts by "Islamist jihadist sympathizers" must be addressed by legislation to combat cyberthreats.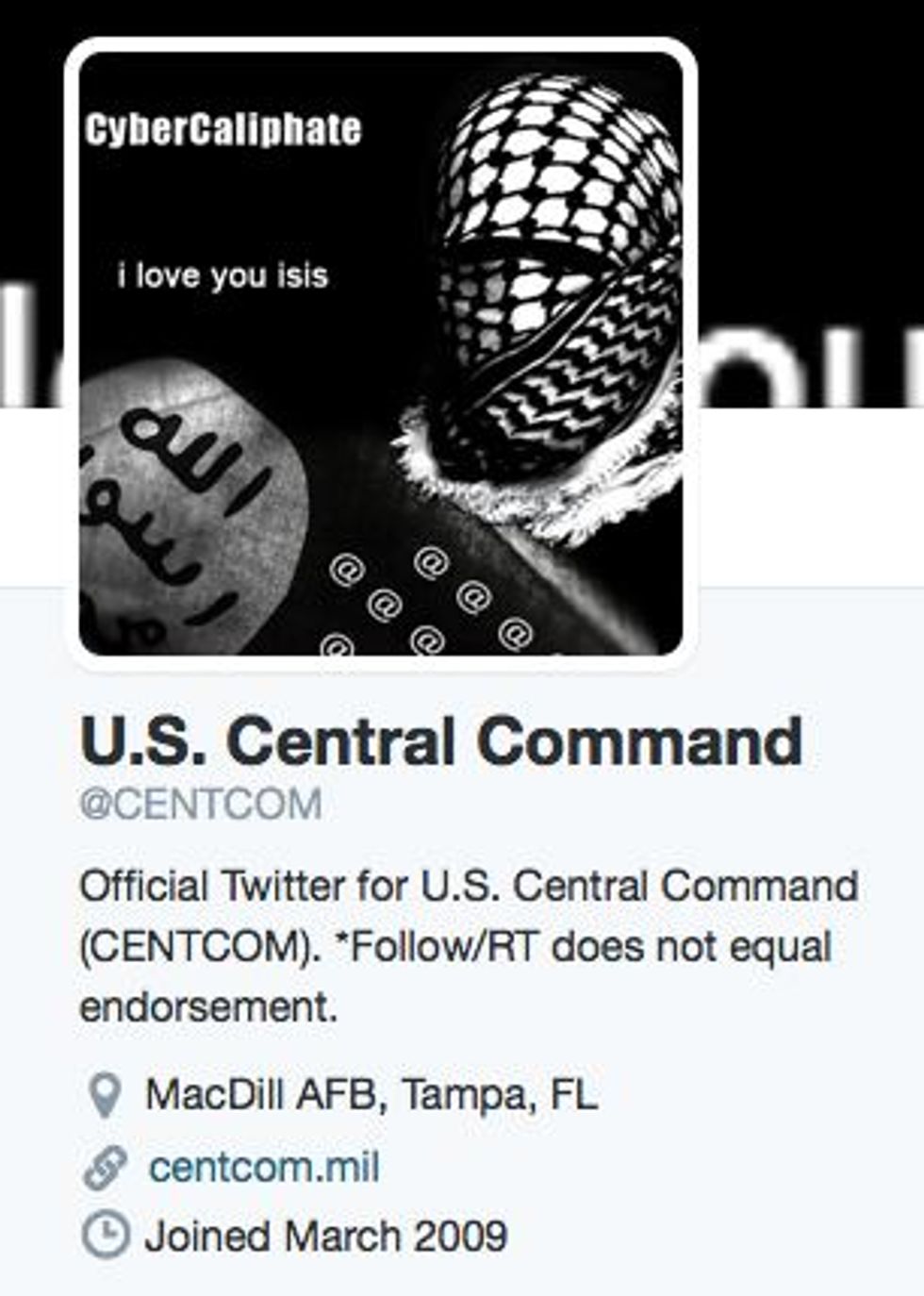 Image via Twitter
Obama met with House and Senate leaders at the White House Tuesday to talk about a number of issues where they can find common ground. One of those, the president said, would be cybersecurity – given both the Central Command hacking Monday and the attack on Sony late last year, which the FBI says was committed by North Korea.
"One of the things we are going to talk about is cybersecurity," Obama told reporters before the meeting. "With the Sony attacks that took place, with the Twitter account that was hacked by Islamist jihadist sympathizers yesterday, it just goes to show how much more work we need to do both public and private sector to strengthen our cybersecurity so family bank accounts are safe, to make sure our public infrastructure is safe."
A group calling itself the "CyberCaliphate" briefly took control of U.S. Central Command's Twitter and YouTube accounts Monday with messages including "I love you ISIS" and threatening U.S. service members.
Obama is releasing a proposal Tuesday to promote more cybersecurity that includes information-sharing with the private sector and government.
"I talked to the speaker as well as Mitch McConnell about this and I think we agree that this is an area where we can work hard together, get some legislation done and make sure w are much more effective at protecting the American people from these kind of cyber attacks," Obama said.
Those attending the meeting included Vice President Joe Biden, House Speaker John Boehner (R-Ohio), Senate Majority Leader Mitch McConnell (R-Ky.), House Minority Leader Nancy Pelosi (D-Calif.), Senate Minority Whip Dick Durbin (D-Ill.) and House Majority Leader Kevin McCarthy (R-Calif.). Senate Minority Leader Harry Reid (D-Nev.) is still recovering from an injury and did not attend.