The House voted Wednesday to defund President Barack Obama's executive action on immigration, a step Republicans promised to take after Obama said in November he would provide legal protection for up to 5 million illegal immigrants.
Members voted 237-190 in favor of a defunding amendment brought by Rep. Bob Aderholt (R-Ala.). All but seven Republicans supported it, and it was opposed by all Democrats.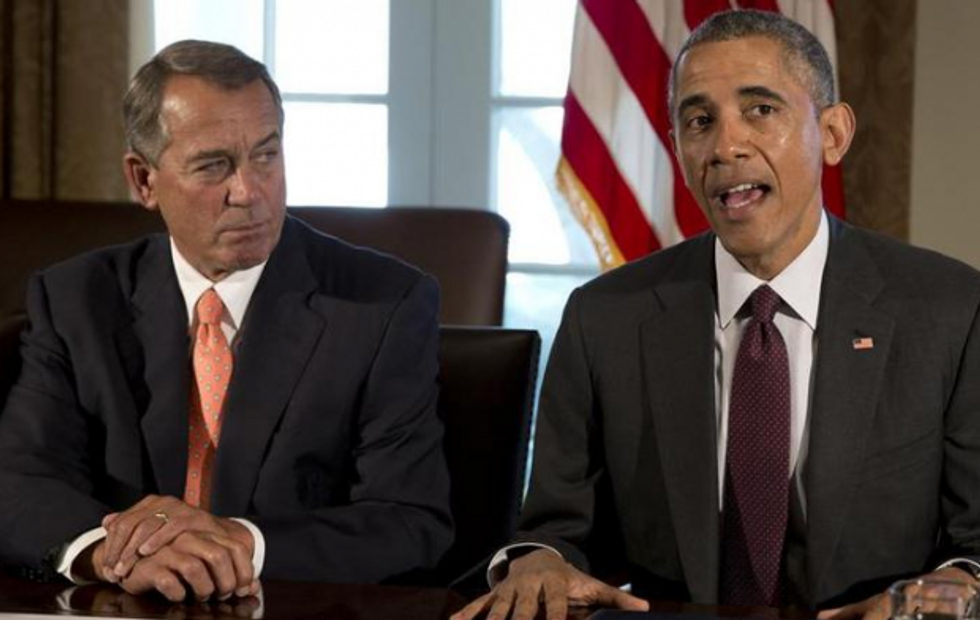 House Speaker John Boehner (R-Ohio) said he would fight 'tooth and nail' against President Barack Obama's immigration action, and on Wednesday, the House approved language to defund that action on a DHS spending bill.
Image: AP Photo/Carolyn Kaster
Republicans voting against it were Reps. Carlos Curbello (Fla.), Jeff Denham (Calif.), Mario Diaz-Balart (Fla.), Bob Dold (Ill.), Renee Ellmers (N.C.), Ileana Ros-Lehtinen (Fla.) and David Valadao (Calif.).
With that vote, Aderholt's language was attached to a Department of Homeland Security spending bill, which the House then passed shortly after noon in a 236-191 vote.
Aderholt's language would block funding for Obama's executive action, even those funds that agencies collect on their own through fees. It would prevent enforcement of memos DHS released in 2011 and 2012 that allow agencies to halt immigration enforcement on various classes of illegal immigrants.
It would also block any effort to carry out similar policies, and prevent the executive branch from giving any benefit to illegal immigrants that aren't prescribed under law.
House Speaker John Boehner (R-Ohio) promised to fight Obama's action "tooth and nail," and attaching the defunding language to the DHS spending bill is one of the stronger steps the GOP could take. Many conservatives feared the House might pass a defunding bill as a separate item, which would have made it much easier for Obama to ignore.
Attaching it to the DHS spending bill sets up an immediate challenge to Obama, who has said he would veto the bill if it defunds his immigration plan.
It also raises questions about how the Senate will handle the bill. It's possible that Republicans may have to consider tweaking the language in order to find the 60 votes needed to start work on the bill, and failure to do so could effectively kill the bill in the upper chamber.
But this week, at least, House Republicans were holding firm, and were led by Boehner himself in the effort to fight back against Obama's attempt to go around Congress.
"We do not take this action lightly, but simply, there is no alternative," Boehner said, making one of his rare appearances on the House floor to speak about specific legislation. "This executive overreach is an affront to the rule of law and to the Constitution itself."
"Enough is enough," Boehner added. "By their votes last November, the people made clear that they wanted more accountability from this president, and by our votes here today, we will heed their will and we will keep our oath to protect and defend the Constitution of the United States of America."
Democrats used the debate to warn that Obama's actions were legal, and that the defunding language threatens to create a fight that could lead to the partial shutdown of DHS. Several Democrats have noted that Congress should not put at risk DHS funding, especially after the attacks against Charlie Hebdo in France last week.
"I am deeply disappointed that Republicans insist on making Congress play out this farce at the expense of our Nation's security," said Rep. Nita Lowey (D-N.Y.), the top Democrat on the House Appropriations Committee, on Tuesday. "It has taken less than two weeks for the Republican Congress to prove that it cannot govern responsibly."
Members considered two other substantive amendments to the bill. One from Rep. Marsha Blackburn (R-Tenn.) would prohibit the use of any federal funding to consider new applications under Obama's Deferred Action for Childhood Arrivals. That program, known as DACA, has given legal protection to hundreds of thousands of illegal immigrants who came to the country with their parents.
That amendment narrowly passed in a 218-209 vote, as 26 Republicans voted against it along with every Democrat.
Another bill from Rep. Ron DeSantis (R-Fla.) would prioritize for deportation any illegal immigrant who is convicted of sex offenses. Obama's immigration plan puts these immigrants on a second tier of priority for deportation.
The House passed this amendment in a 278-149 vote. Thirty-five Democrats voted with Republicans on this measure, and one Republican voted against it.
Reps. Matt Salmon (R-Ariz.) and Aaron Schock (R-Ill.) also put forward amendments that express a sense of Congress that the White House should not pursue immigration policies that disadvantage U.S. workers, or ignore immigrants who are trying to come to the U.S. legally. Salmon's language passed 253-171, and Schock's language passed 260-167.
— This story was updated at 12:06 p.m.