A senior Democratic senator says reports of Cuba's decision to release 53 political prisoners are exaggerated, since some of those prisoners had already been freed before Cuba's pledge to let them go — including one prisoner who was released a year ago.
Sen. Bob Menendez (D-N.J.) said in a Senate speech Tuesday that press reports are citing U.S. officials who say the list of 53 prisoners was created over the summer. But he said by then, some of the 53 who Cuba claims to have released were already out of jail.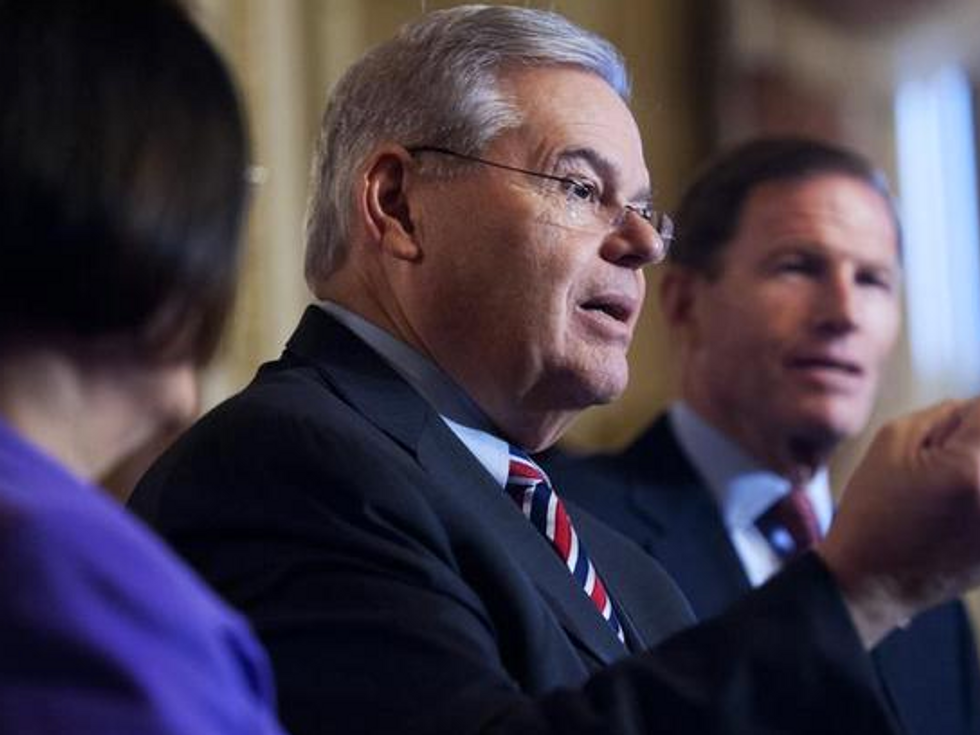 Sen. Bob Menendez (D-N.J.) says many of the 53 prisoners that Cuba supposedly freed recently have already been free for months.
Image: Tom Williams/CQ-Roll Call,Inc.
"Some of the 53 were released well before June, before the list was supposedly put together," he said. "As a matter of fact, 14, to be exact, were released six to eight months before the December 17 announcement. One was released over a year ago."
Menendez also said some of those prisoners were released because they had finished their prison term on schedule.
Menendez's comments are the latest criticism of the Obama administration's broad agreement with Cuba that could lead to formal diplomatic relations between the two countries. The Obama administration had said for weeks that it would not release any information about the prisoners, which led to criticism that Congress had no way of understanding if Cuba was living up to its commitment.
Menendez said keeping the list out of the public "provided the regime the flexibility to define 'mission accomplished.' "
On Monday, however, the government relented last week and sent the list to Congress, a move that seems to have helped Menendez figure out that not all of the 53 prisoners were released recently.
Menendez is the top Democrat on the Senate Foreign Relations Committee, and said he would urge Republicans to hold hearings and investigate the Obama administration's deal with Cuba.
More broadly, Menendez argued that the Obama administration should not be looking to boost ties with Cuba at all, given its ongoing hostile activities toward the United States and its oppression of pro-democracy voices. He said human rights abuses are still rampant in Cuba, despite the release of a few dozen dissidents.
"The fact is, the release of 53 political prisoners does not mean there are no longer political prisoners inside of Cuba," he said. "Human rights groups had stated, prior to the president's speech in December, that there were over 100 long-term political prisoners in the country, and there were 8,900 — to be exact 8,889 — political detentions in Cuba last year."
"They have a long history of rearresting these political and human rights activists whom they previously released," he added.