A moment of silence honoring those slain in the terrorist attack on the Charlie Hebdo magazine offices was reportedly not respected by some French Muslim school students, according to British media accounts.
Britain's Independent in an article examining sentiments among French Muslims reported that a huge percentage of students at one secondary school refused to honor the moment of silence.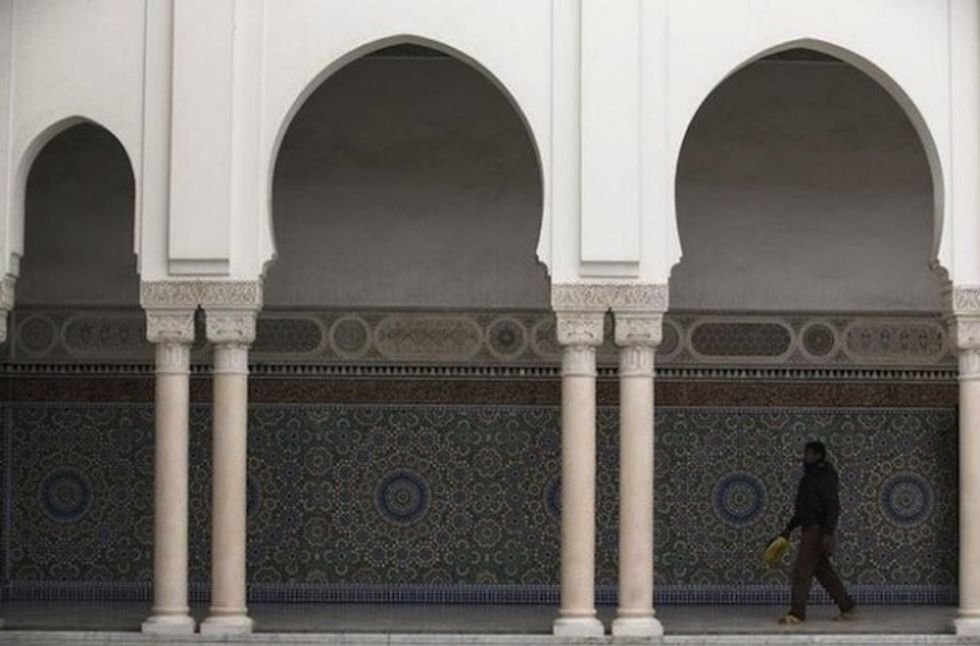 A Muslim man walks through the Grand Mosque on January 9, 2015 in Paris. (Dan Kitwood/Getty Images)
The Independent reported:
As memorial services took place for some of those who had died in the terror attacks, Najat Vallaud-Belkacem, the Education Minister, held a meeting with teaching officials in response to the many schoolchildren in Muslim areas who had refused to observe a minute's silence. At a secondary school in Seine-Saint-Denis, more than 80 per cent of the pupils refused to comply, saying the Charlie Hebdo staff had "deserved what they got". In Lille, a boy threatened to shoot "with a Kalashnikov" a teacher who had asked a class to be quiet during the remembrance.

These instances may just have been the bravado of schoolchildren, but the bitterness and disillusionment among some in the Muslim community, especially, among the young, runs deep.
The nationwide minute of silence was scheduled for Thursday, one day after two French-born Muslims launched a terrorist attack on the magazine staff.
National Review Online reported that a BBC correspondent also heard of noncompliance in some neighborhoods populated predominantly by Muslims.
"I'm already getting reports from people in France that some schools in those strongly Muslim neighborhoods, the kids didn't stand for the minute's silence," BBC reporter Katty Kay told MSNBC's "Morning Joe" Monday. "They see those attackers as heroes. How do we change that? Because that's where the problem for Europe lies."
Kay further warned that more French Muslims were becoming radicalized.
That assessment was bolstered by a conversation a reporter for the Independent had with a group of young Muslim men from a Paris suburb who said they admired those who traveled abroad to fight jihad and that they themselves would not serve for France.
The young men told the Independent they were upset by the latest cover of Charlie Hebdo which depicted the Prophet Muhammad.
"They talk about unity and how we are all together – and then they do this," a man identified as Walid said. "Then when someone gets hurt, they will blame Muslims as usual."
A man named Ahmed said ominously, "They know what they are doing and they must take the consequences."