The fight for a convention of the states to force a constitutional amendment balancing the budget will take Ohio Gov. John Kasich across the country in 2015, but the twice-elected Republican leader of the ultimate presidential battleground state says he's not championing the cause with 2016 in mind.
"I'm not doing this balanced budget thing so I can run for president," Kasich told TheBlaze in a phone interview where he was in a room full of young supporters. "I'm doing this balanced budget thing because I think it can save the country from fiscal ruin. I have 40 or 50 kids in here who are going to have to pay the bills of adults who were mounting up a big debt. I don't think that's moral."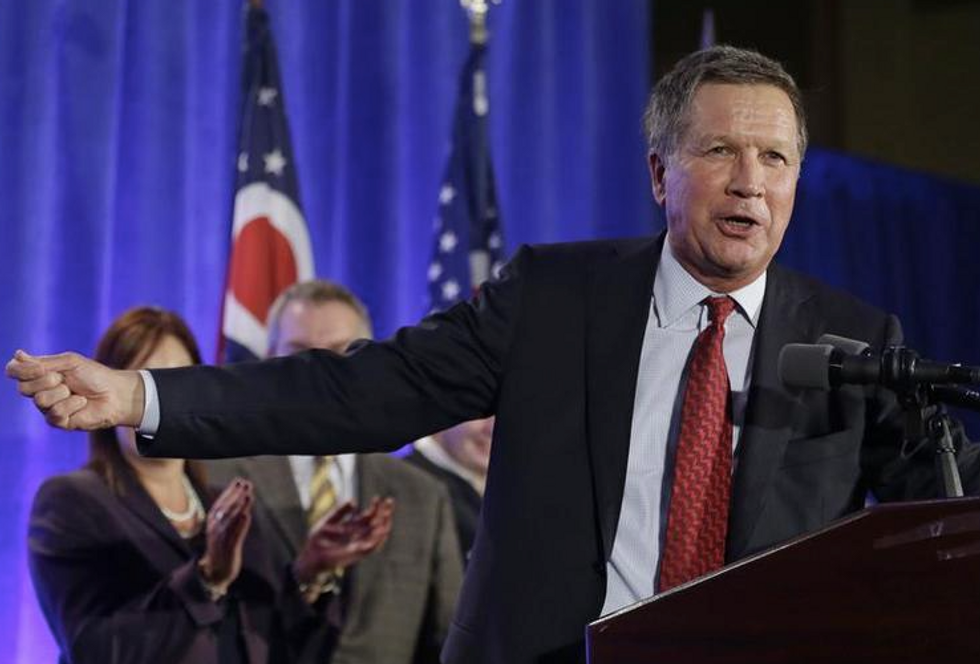 Ohio Governor John Kasich speaks to supporters at the Ohio Republican Party celebration on election night 2014. (AP Photo/Tony Dejak)
This year, Kasich is set to travel to Arizona, Idaho, Utah and South Carolina and says he's gotten interest from a total of nine states in having him speak for an Article V convention to balance the budget. "Every state that will have me, I'm going."
"I just think it's a good time. I waited until after the election. I got re-elected, and now I've decided to devote a little bit of time to this," said Kasich, who helped create the 501 (c)(4) nonprofit Balanced Budget Forever to raise money to promote a state-led convention.
Of other potential 2016 presidential contenders, Indiana Gov. Mike Pence and Louisiana Gov. Bobby Jindal have expressed support for an Article V convention to force the federal government to balance the budget. But Kasich is the only governor or potential candidate taking the cause nationally.
In 2013, the Ohio legislature approved a resolution calling for a convention of the states; a total of 24 state legislatures have approved such resolutions — 10 short of the 34 needed to call one. It would then take 38 states to ratify any amendments proposed by a convention. To date, every other amendment to the Constitution has been initiated in Congress.
[sharequote align="center"]"I think it can save the country from fiscal ruin."[/sharequote]
Kasich said he is "pleasantly surprised" by the interest, but wouldn't predict the likelihood of adding 10 states needed for a convention.
But he dismissed concerns about a runaway convention that would propose amending the Constitution in dangerous ways.
"I'd prefer for Congress to enact themselves and send an amendment to the states for ratification," he said. "But there are people who say 'I don't know what would happen if there was a convention.' Well, first of all, you have to have 38 states ratify anything to come out of a convention. For people who say 'I'd rather not take a chance on that,' and at the same time tell you that this debt is potentially a catastrophe, that would be like the argument, 'my house is on fire, but I don't want to leave the house because I might get hit by a meteor.' It is totally unfounded. There is no reason to worry because you have a 38-state backstop."
He added, "What these people are worried about is fantasy. It's not real. What's real is that we are $18 trillion in the hole and growing. That's the problem."
Kasich has been a longtime budget hawk going back to his time in the Ohio state Senate, where he said he first advocated for a convention to force the federal government to tighten its belt in 1980.
After getting elected to Congress, he eventually became the House Budget Committee chairman, and was a leading figure when a Republican Congress and President Bill Clinton balanced the federal budget in the late 1990s. So it was disappointing to him to see deficits return and the national debt explode after he left Congress in 2001.
"The Republicans made it a giant deal in the last election how we are $18 trillion in the hole. I can tell you, it is very unlikely, that it will be very unusual for Congress to pass a balanced budget without a requirement," Kasich said.
Despite his opinion about Congress's lack of discipline, he still had good things to say about his fellow Ohioan, House Speaker John Boehner, who was easily re-elected speaker last week despite 25 Republican defections.
"John Boehner is a terrific speaker operating under some difficult circumstances," Kasich said. "Whenever you have that big of a majority, you are always going to have some dissenters. It is just par for the course. I will have some dissenters in Ohio. When you have a very large majority, it is likely that you will have people who say I want to do it my way. He won overwhelmingly, was never threatened and he's fine."