Michigan Gov. Rick Snyder, a Republican, won praise from the New York Times editorial board and scorn from the National Rifle Association that endorsed him for re-election for vetoing legislation that would have loosened requirements for people who've had restraining orders taken out against them to get a concealed gun permit.
In an editorial Friday called "Standing up to the NRA," the Times said: "With a veto on Thursday, Gov. Rick Snyder of Michigan stood as the rare Republican leader willing to buck the powerful gun lobby's statehouse clout."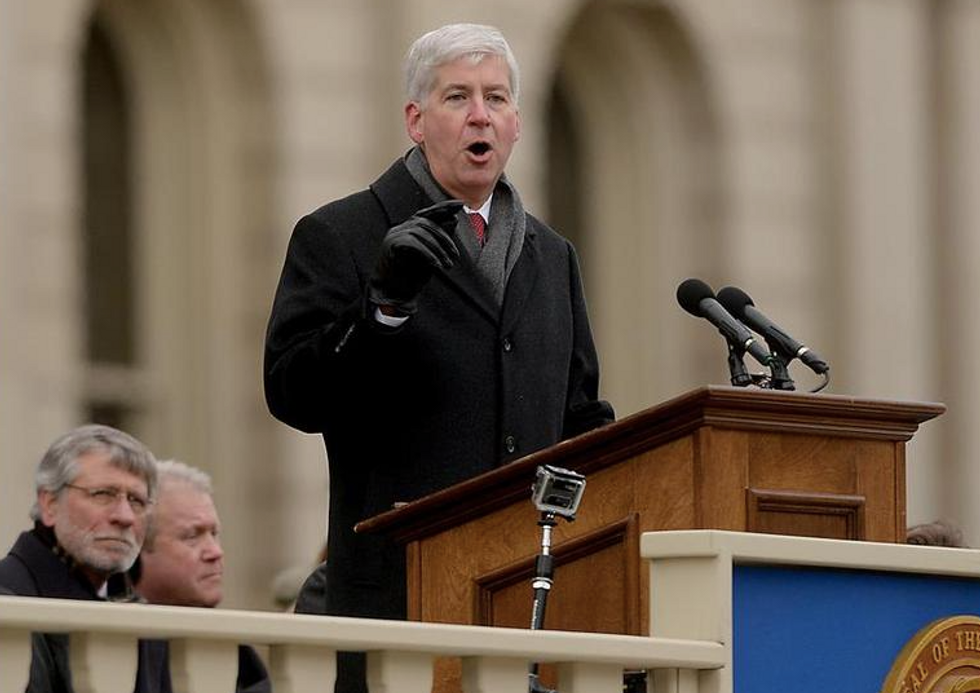 Michigan Gov.Rick Snyder speaks during his inauguration ceremony on Thursday, Jan. 1, 2015, in Lansing, Mich. (AP Photo/Lansing State Journal, Dave Wasinger)
Synder said he supported many provisions of the bill, including getting rid of numerous local permitting boards, but he said the legislation raised other concerns.
"We simply can't and won't take the chance of exposing domestic abuse victims to additional violence or intimidation," Snyder said in a statement Thursday. "There are certainly some reforms that can improve the way Michigan issues concealed pistol licenses and we support the rights of law-abiding firearm owners, but it's crucial that we leave in place protections for people who already have endured challenges and abuse."
Snyder received letters from former Rep. Gabrielle Giffords, who was shot during an event in her district in 2011, and from other gun control activists.
The NRA said the bill had broad support and was the victim of mischaracterizations after it passed the legislature.
"Simply put, if an individual is a domestic abuser and has been charged or convicted as such, or a judge has made a determination that the individual should not be allowed to purchase or possess a firearm, that person would be prohibited from receiving a concealed pistol license under SB 789. No exceptions," the NRA said in a statement. "Further evidence that Governor Snyder's veto is without merit is the fact that SB 789 proceeded through the legislative process for nearly a year without organized opposition. The bill was posted for public consumption. Hearings were held to allow for public testimony. Stakeholder concerns were voiced and their opinions were addressed. It was not until SB 789 had passed the legislature and was sitting on Governor Snyder's desk that groups began attacking this legislation based on misinformation about its content."