Nine Senate Democrats this week renewed their push to ensure that the 2015 Women's World Cup in Canada is held on real grass, and said the current plan to hold it on artificial turf is sending the wrong message to women and girls around the world.
The International Association of Federation Football, known as FIFA, has faced criticism along with the Canadian Soccer Association for planning the June tournament on artificial turf. Dozens of players have sued both FIFA and the CSA, arguing that forcing them to play on turf is gender discrimination.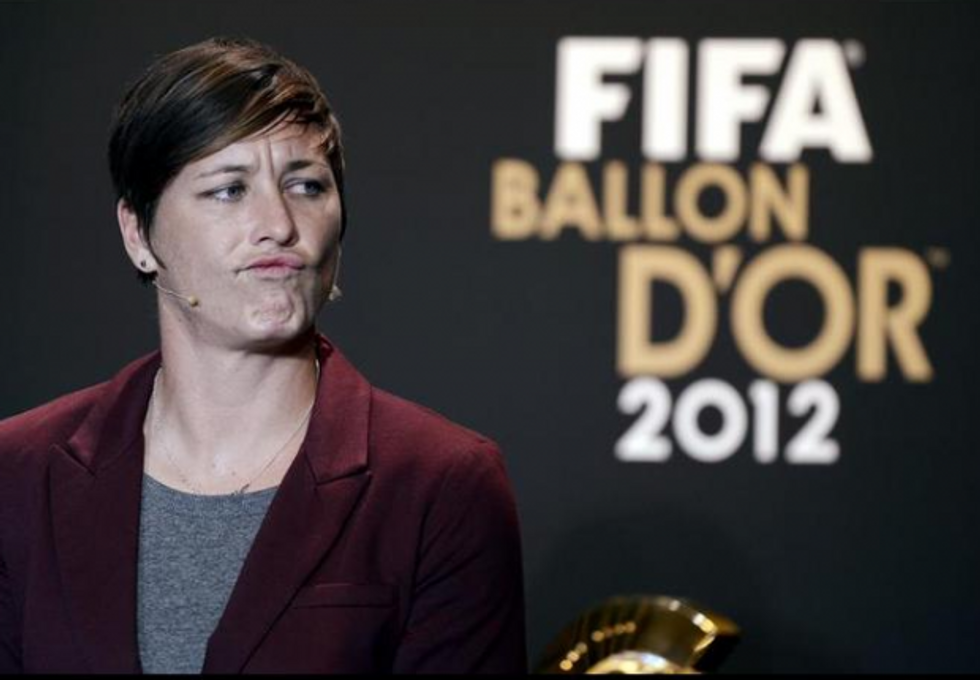 A group of elite players has filed a lawsuit in Canada challenging plans to play the 2015 Women's World Cup on artificial turf. The players, led by U.S. women's national team forward Abby Wambach, was filed in the human rights tribunal of Ontario.
Image: AP Photo/Keystone/Walter Bieri
"CSA and FIFA's decision to hold the tournament on artificial turf is inherently discriminatory and injures an elite group of female athletes in three significant ways," the players said in their lawsuit, "(1) by forcing them to compete on a surface that fundamentally alters the way the game is played, (2) by subjecting them to unique and serious risks of injury, and (3) by devaluing their dignity, state of mind and self-respect as a result of requiring them to play on a second-class surface before tens of thousands of stadium spectators and a global broadcast audience."
Democrats in the Senate have supported the players' fight, and on Thursday they warned that FIFA is sending a signal that it's OK to force women to play on a surface that men are not being forced to use.
"We believe that FIFA's approach is sending the wrong message: FIFA literally is requiring female athletes to perform on an unequal playing field – one that it would not let men play upon," they wrote in a letter to FIFA President Sepp Blatter.
"This is about more than the playing surface on which soccer matches are played: it is about the message we are sending to women and girls around the world," they added. The United States Women's National Team has been an inspiration for our country. These incredible female athletes are talented and hard-working, and they endeavor to hold themselves to the highest standards of sportsmanship and teamwork."
"We are proud of our players, and relegating them to fields that men would not play upon sends the wrong message to them and the world," they said.
Sen. Sherrod Brown (D-Ohio) spearheaded the letter, and he was joined on it by Sens. Richard Blumenthal (D-Conn.), Barbara Boxer (D-Calif.), Bob Casey (D-Pa.), Kirsten Gillibrand (D-N.Y.), Ed Markey (D-Mass.), Bob Menendez (D-N.J.), Patty Murray (D-Wash.) and Charles Schumer (D-N.Y.).