Pope Francis' message for the Philippines: Fight back against the "ideological colonization" of gay marriage.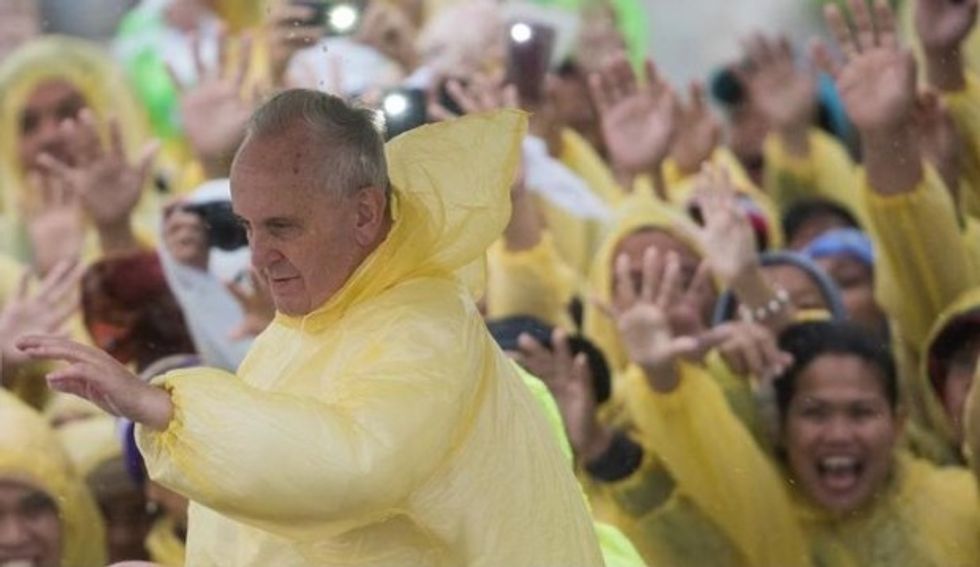 Pope Francis (L) wears a plastic poncho as he waves to well wishers after a mass in Tacloban, Philippines, on January 17, 2015. (Johannes Eisele/AFP/Getty Images)
Pope Francis has been praised by liberal groups in the past for his "Who am I to judge?" comments on homosexuality, but he made it abundantly clear on Friday that he is resolute in his opposition to gay marriage.
Same-sex unions threaten to "disfigure God's plan for creation," Pope Francis said, urging Filipinos to resist the "ideological colonization that threatens the family."
Pope Francis' comments come amid turmoil over the issue within the traditionally Catholic world.
While the overwhelmingly Catholic Philippines does not recognize any form of same-sex unions, the Catholic nations of Europe have been steadily embracing gay marriage.
Ireland, the country from which many American Catholics can trace their religious heritage, is set to hold a referendum on gay marriage in May, and polling results released Wednesday indicate a substantial majority of Irish voters support gay marriage.
Despite the pressure, Pope Francis' message was firm.
"The family is threatened by growing efforts on the part of some to redefine the very institution of marriage," he said, hours after warning that Philippine society was "tempted by confusing presentations of sexuality, marriage and the family."
"As you know, these realities are increasingly under attack from powerful forces which threaten to disfigure God's plan for creation and betray the very values which have inspired and shaped all that is best in your culture," he said.
See more from the Pope's visit to the Philippines via Catholic News Service below:
—
Follow Zach Noble (@thezachnoble) on Twitter