Fox News producer Jesse Watters attempted to report from inside a Muslim conference that took place near Dallas, Texas, over the weekend, but was denied entry.
"Did you fill out the media form?" a man appearing to be an organizer asked Watters outside the "Stand With the Prophet" event.
"Yeah, I filled out the media form and I bought tickets too, personally," the Fox News producer replied. "And now they're saying I can't go in."
"There's a certain type of media allowed," the man replied to Watters.
"I thought this was supposed to be open press and I came all the way down here from New York," Watters countered as the man walked away.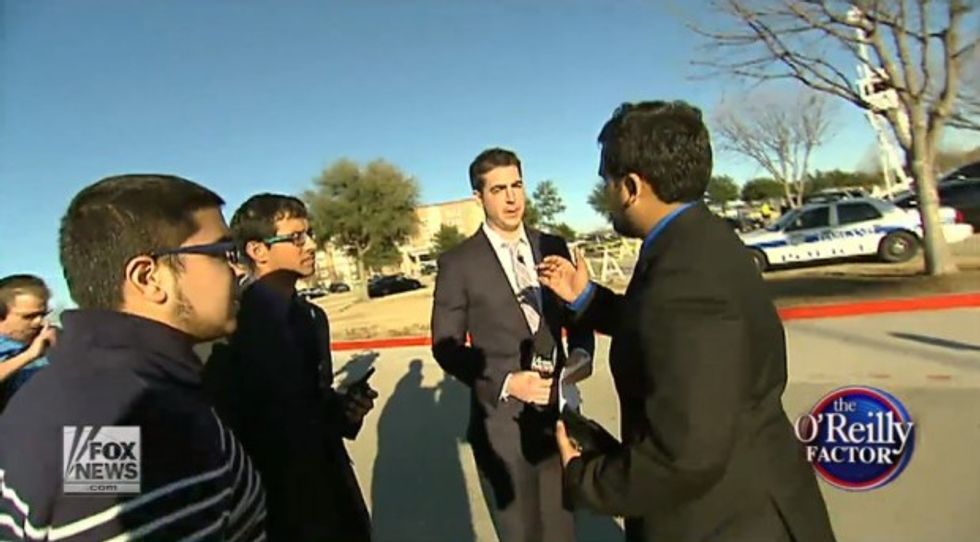 Image source: Screen grab via Fox News
Seeking to get more answers about why Fox News couldn't enter a conference center owned by a local school district, Watters spoke with a police officer.
"They can't ban us from being a conference center," he said. "They don't own the conference center."
"They rented it out," the unidentified officer replied.
After appearing to report outside the conference center for hours, Watters reported that organizers eventually told him they "specifically barred 'The O'Reilly Factor' from coming inside."
—
Follow Oliver Darcy (@oliverdarcy) on Twitter