The Argentine magistrate investigating the death of prosecutor Alberto Nisman said Tuesday that forensic analysis showed there were no traces of gunpowder on his hands.
Earlier, she said she could not rule out that he may somehow have been induced into committing suicide.
Viviana Fein, who is heading the investigation into Nisman's death, was quoted by the Buenos Aires Herald saying the absence of gunpowder "does not rule out the possibility that Nisman had fired the gun himself" because .22-caliber firearms "usually do not deliver positive results" for gunpowder traces.
Nisman was found Sunday night in his Buenos Aires apartment with a gunshot wound to the head and a reportedly borrowed .22-caliber handgun and bullet casing next to his body. He was discovered just hours before he was set to testify in a closed-door meeting with lawmakers on evidence he said he found that President Cristina Kirchner and Foreign Minister Hector Timerman had tried to "erase" Iran's role in the 1994 bombing of the Argentine Jewish Charities Federation building, which killed 85 people.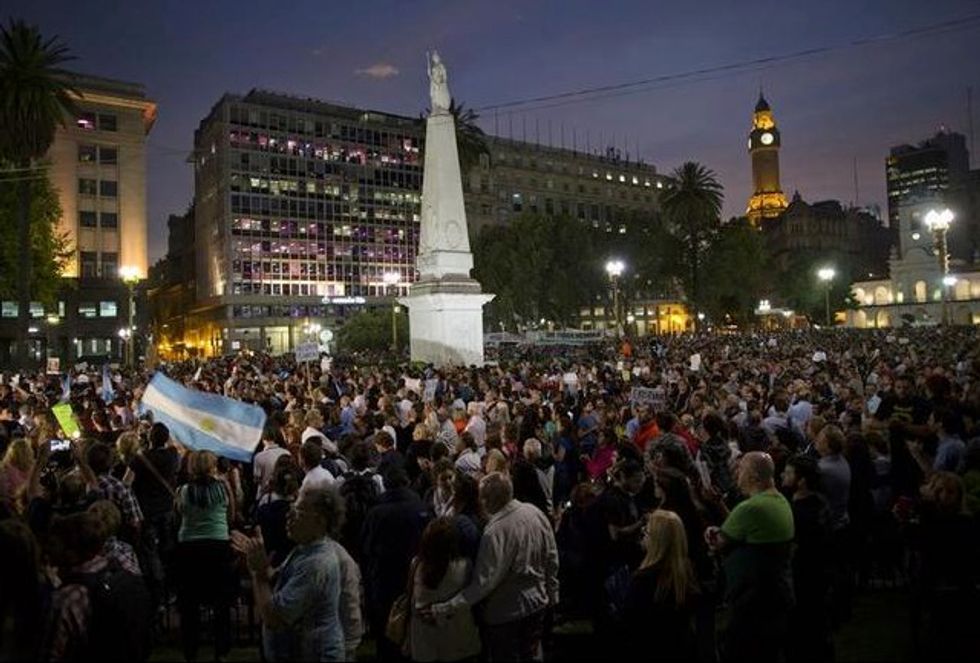 People gather outside the government palace in Plaza de Mayo to protest the death of special prosecutor Alberto Nisman in Buenos Aires, Argentina, Monday, Jan. 19, 2015. (AP Photo/Rodrigo Abd)
While Argentine authorities are pointing to evidence at the scene - that Nisman's apartment was locked from the inside and that his body was blocking the door to his bathroom - as suggesting suicide, citizens poured into the streets Monday night demanding a thorough investigation, suggesting a mafia-style killing, with some accusing the president of being a "murderer."
A friend of Nisman interviewed on Israel television Monday night said the prosecutor had a love of life and was in no way suicidal, while reporters said Nisman had indicated he would be willing to give interviews after his Monday testimony to lawmakers.
Times of Israel editor David Horovitz, who also knew Nisman, on Tuesday called the suicide theory "insulting and ridiculous."
21,000 people have signed up to joinmarch in Buenos Aires calling for justice in case of #Nisman death and attacking "the mafiosi system"

— Sarah Marsh (@reuterssarah) January 19, 2015
Some 500 protestors shouting "murderer" are camped outside the #Argentine President's place in Olivos after #Nisman death

— Sarah Marsh (@reuterssarah) January 19, 2015
"Nobody has said that this is a suicide or murder: it is a suspicious death. Until all the evidence has been gathered, all available leads will be followed," investigator Fein said in a Monday statement, according to the Buenos Aires Herald.
"We could talk about suicide, the body was not beaten nor mistreated, I do not rule out instigation [to suicide]. We are not saying the case is solved," Fein said. "We will investigate if there was any type of pressure or inciting through threats, be it through calls or text messages."
Nisman was commended widely by friends and reporters for his tireless work to uncover those behind the suicide bombing and find justice for the victims of what has described as the worst anti-Semitic attack in recent history.
"With the death of Nisman, the AMIA bomb exploded again," said Julio Schlosser, the head of DAIA, the largest Jewish community organization in Argentina.
Britain's Guardian newspaper pointed out that based on Nisman's investigation, Interpol in 2007 issued an international arrest warrant for Iranian officials suspected of directing the suicide bombing.
In a television interview last Wednesday, Nisman said he had wiretap recordings which revealed secret negotiations between Argentine and Iranian officials aimed at clearing Iran's name in the bombing and in return obtain Iranian oil.
"There's been an alliance with the terrorists," Nisman said.
The Guardian reported that Nisman said he was so shocked when he first heard the wiretaps that he didn't believe them. He later became convinced when those recorded discussed an issue relating to the president's health which became public only later.
He also heard conspirators referring to him as a "dirty Jew" on the intercepted calls.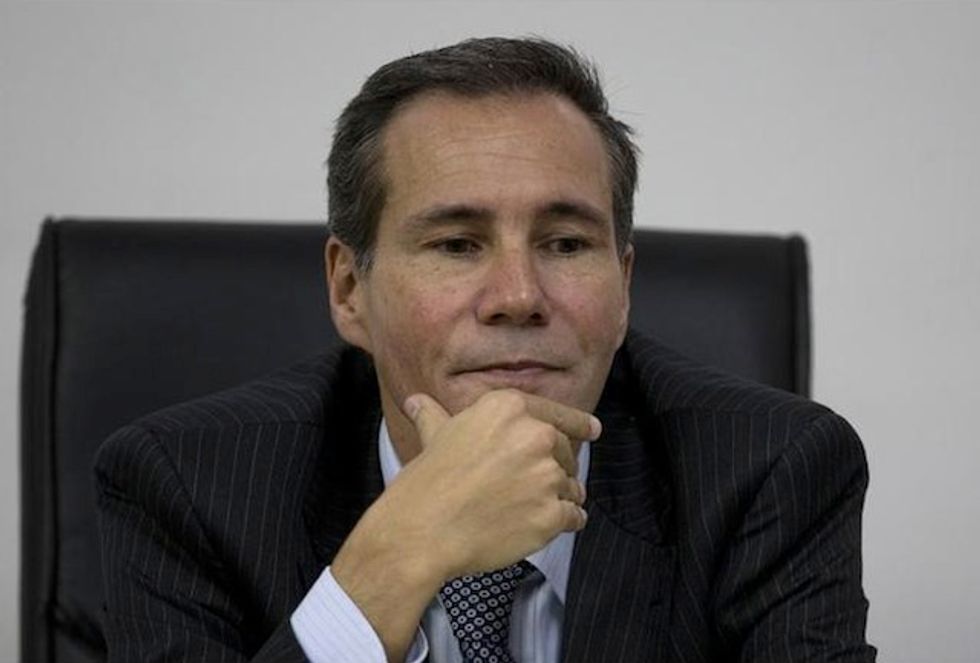 In this May 29, 2013 photo, Alberto Nisman, the prosecutor investigating the 1994 bombing of the Argentine-Israeli Mutual Association community center, talks to journalists in Buenos Aires, Argentina. Nisman, who accused the government of secret deals with Iran over the investigation, was found shot dead at his apartment early Monday Jan. 19, 2014. He was due to participate in a closed-door session with Congress Monday over his claim last week that de Kirchner and Foreign Minister Hector Timerman covered up a deal with Iran. (AP Photo/Natacha Pisarenko)
President Kirchner's secretary, Anibal Fernandez, Monday morning seemed to point reporters toward the suicide theory.
"How can we know what went through the prosecutor's head at that moment?" Fernandez asked, according to the Guardian.
The president later wrote on Facebook, "A suicide prompts, in all cases, shock and questions. What drives a person to take the terrible decision to take his own life?"
She later placed a question mark after the word "suicide," writing, "In the case of the suicide (?) of the prosecutor in charge of the AMIA case, Alberto Nisman, there is not only shock and questions — but also a story too long, too heavy, too hard and above all things too sordid."
.@morgfair #Nisman didn't own gun. Was he "induced" to suicide? (Reminds one of Godfather II) In Spanish: http://t.co/kX3UYgZZel …

— csdickey (@csdickey) January 20, 2015
At the protest in Buenos Aires a sign reads "you can't 'suicide' us all" (photo via @PetriAdriana) #Nisman pic.twitter.com/4XnNYU4Inj

— Conz Preti (@conz) January 20, 2015
Thousands of demonstrators were part of the protest in Buenos Aires Monday night demanding an investigation and shouting "No more lies!"