It was the "bam!" heard round the world.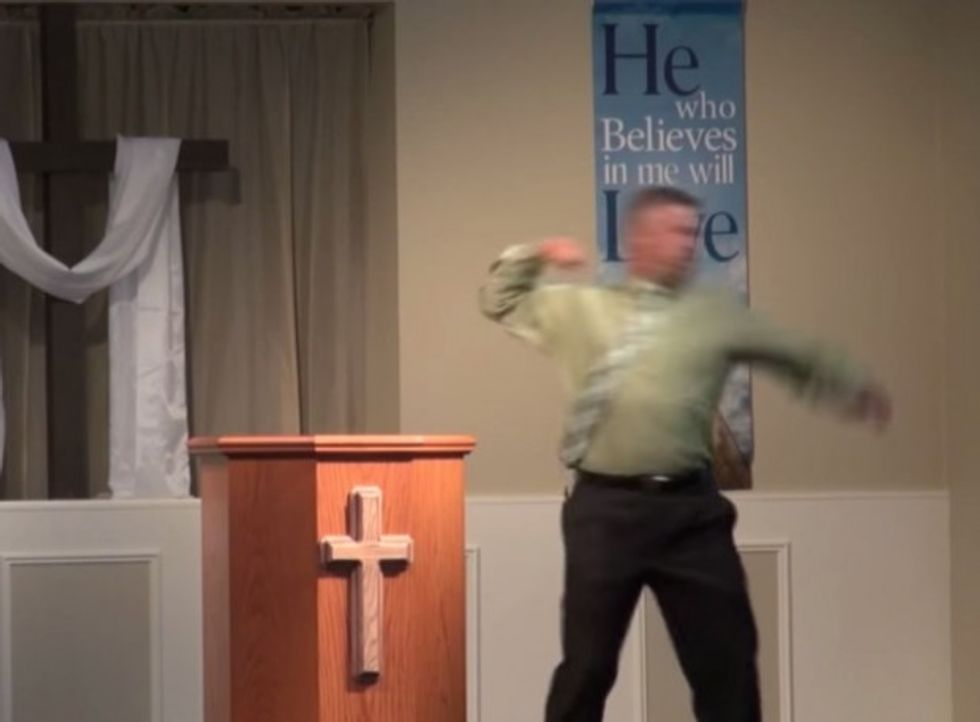 Pastor Eric Dammann. (Image via YouTube)
Pastor Eric Dammann of Bible Baptist Church in Hasbrouck Heights, New Jersey, brought a lot of unwanted attention on the church when a video clip of him talking in a sermon about punching a boy went viral last week.
Since then, the church has gone on the defensive and Dammann has published an apology on Bible Baptist's website.
Dammann also told the New York Daily News that the clip takes his words out of context, and that he condemned kid-punching in his full sermon.
"I do not endorse child abuse or the punching of children," he said. "My intention in the sermon was to make a point of how God can use our mistakes. The viral clip does not show the whole sermon, where I say what I did was wrong."
But Bible Bible yanked the sermon off of the Internet, making it impossible to check Dammann's claim — until a reader sent TheBlaze a link to the full sermon, uploaded to YouTube by a third party.
What was the full context of Dammann's sermon?
He's discussing the book of Nehemiah and talking about Christian leadership and zealous action.
"Aren't you glad we're on this side of the New Testament, on this side of the cross?" Dammann asks early in the sermon, talking about how Old Testament figures had to submit to the random choice of "casting lots" for major life decisions.
Then he proceeds to endorse a decidedly Old Testament approach towards handling problems, starting around the 22-minute mark of the video.
When confronted with his countrymen breaking the laws of God, Nehemiah "grabs them, he pulls out their beards, and he beat them," Dammann says. "Man, Nehemiah's hardcore, he's my kind of guy, I like this. Nehemiah was willing to back things up. He was a man of action."
Dammann hedges a bit, saying, "God's word doesn't tell us if he was right or wrong in this reaction, but it does tell us that he was vindicated, he was full of the zeal of the Lord."
Then he jokes about "a new policy" at Bible Baptist Church, drawing chuckles from the audience with the implication of violence, before saying, "There might be times where that happens."
Then he tells the story about punching a boy for being a "smart aleck" — and his tone throughout is passionate, not apologetic.
Dammann never directly says that what he did was wrong.
The closest he comes to admitting that he should not have hit a kid might be when he says, "As much as I might want to [punching noise] in my own flesh, God does a much better job than I ever could."
Watch the full sermon below:
Is Dammann being wrongfully skewered in the media, did he seem to endorse violence against kids in his sermon, or is he guilty of choosing his words very poorly? Take the poll below and discuss:
—
Follow Zach Noble (@thezachnoble) on Twitter