The Republican-led Senate easily passed an amendment to the Keystone pipeline bill on Wednesday that says climate change is real, but then rejected a more specific amendment that said climate change is caused by human activity.
The first vote raised eyebrows given the GOP's general rejection of Democratic arguments that the climate is changing because humans are polluting the planet. But Republicans effectively nullified its importance by arguing that the vote was only on the narrow issue of whether the climate is changing, and not on what is causing that change.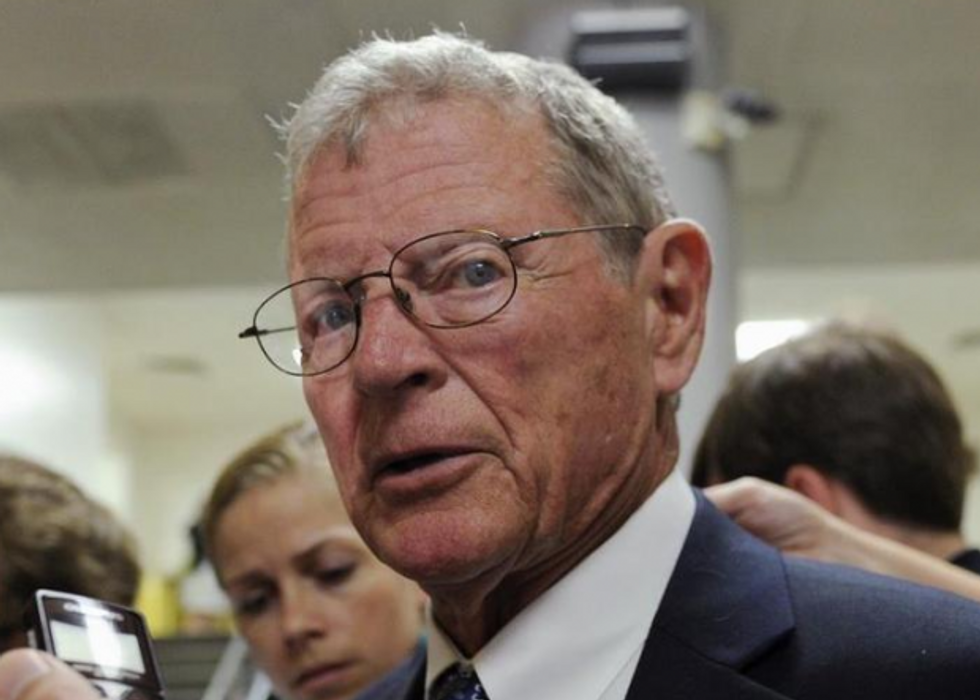 Sen. James Inhofe (R-Okla.) raised eyebrows by supporting language saying climate change is real, but later clarified that his support only reflects the fact that the climate is changing, and does not endorse the idea that human activity is causing it.
Image: AP Photo/Susan Walsh
Sen. Sheldon Whitehouse (D-R.I.) proposed the amendment to the Keystone bill: it says simply, "It is the sense of the Senate that climate change is real and not a hoax."
Whitehouse cast the amendment as one that could signal a turning point in the never-ending debate over climate change. "I am hoping that after many years of darkness and blockade, this vote can be a first little beam of light through the wall that will allow us to at least start having an honest conversation about what carbon pollution is doing to our climate and to our oceans," Whitehouse said.
But Sen. James Inhofe (R-Okla.) foiled the Democrats' plot by openly declaring his support for the amendment, and even asking that he be made a cosponsor of the language. When he made that request, Democrats could be heard clapping and hooting in the Senate chamber.
"Climate is changing, and climate has always changed, and it always will," Inhofe said. But then he noted that because the amendment didn't purport to claim what is causing climate change, it was a harmless "yes" vote for Republicans.
"The hoax is that there are some people who are so arrogant to think that they are so powerful they can change climate. Man can't change climate," he said. "I ask my colleagues to vote for the Whitehouse/Inhofe amendment."
With that, the Senate voted 98-1 in favor of the amendment, and only Sen. Roger Wicker (R-Miss.) voted against it.
The more important vote came soon after, when the Senate considered language from Sen. Brian Schatz (D-Hawaii). His amendment says climate change is happening, and that it is "extremely likely that global increases in atmospheric greenhouse gas concentrations and global temperatures are caused by human activities."
"It is the sense of Congress that 1) climate change is real, and 2) human activity significantly contributes to climate change," the Schatz amendment concluded. Sen. Lisa Murkowski (R-Alaska.) noted the difference, and called on senators to vote against it.
"There is a distinct difference between this amendment and what we just previously considered," she said. Republicans easily noticed the difference, and the Schatz amendment failed in a 50-49 vote — under an agreement reached between the two parties, 60 "yes" votes were needed for passage.
While Schatz's language failed because of the artificial 60-vote threshold, it does show that bare majority of senators believe humans are contributing to climate change. It also shows some GOP support for this position, Sens. Lamar Alexander (Tenn.), Kelly Ayotte (N.H.), Lindsey Graham (S.C.) and Mark Kirk (Ill.) voted with Democrats.
While most Republicans would likely have preferred skipping both votes, GOP leaders in the Senate have pledged to allow votes on germane issues when legislation is debated on the floor. That pledge is an attempt to fix what many agree was a broken Senate under Democratic leadership, which saw just a few amendment votes each year.
The Senate held four other votes on amendments today, but all of them failed, in large part because the two parties agreed that 60 votes would be needed to pass them.
Sen. Mike Lee (R-Utah), for example, had a proposal to cap legal fees that can be recouped when parties successfully sue the federal government under the Endangered Species Act, but it failed 54-45. Another proposal from Sen. Dick Durbin (D-Ill.) would have regulated the storage of petroleum coke to protect the environment, but it failed 41-58.