WASHINGTON — A massive wave of anti-abortion demonstrators hit the streets of the nation's capital Thursday for the 42nd annual March for Life.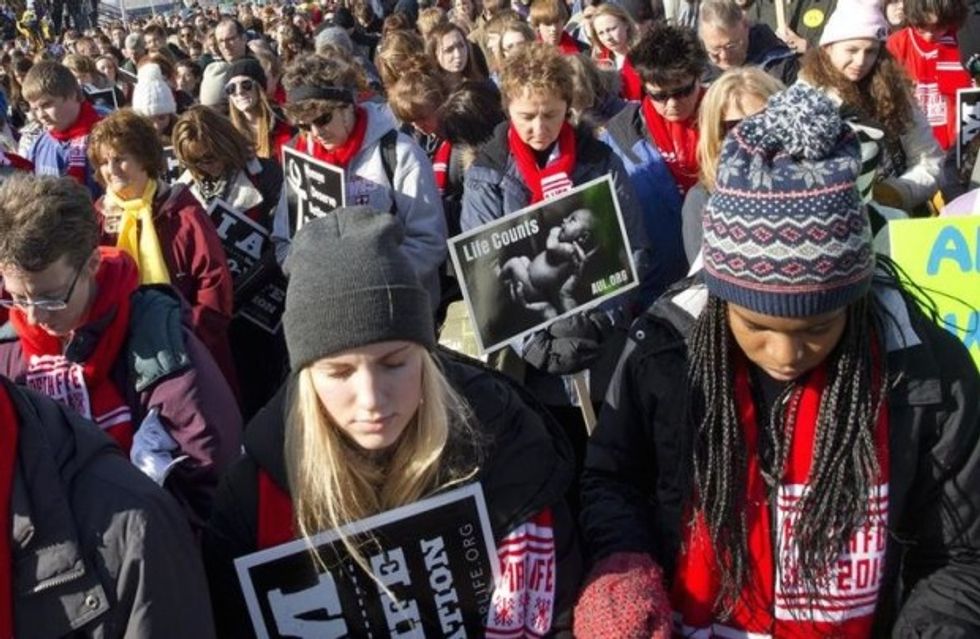 Lauren Sandy, 18, front left, and Afure Adah, 17, of Fargo, N.D., pray as they attend an anti-abortion rally at the annual March for Life, Thursday, Jan. 22, 2015, on the National Mall in Washington. Thousands of anti-abortion demonstrators are gathering in Washington for an annual march to protest the Supreme Court's landmark 1973 decision that declared a constitutional right to abortion. (AP Photo/Jacquelyn Martin)
Hundreds of thousands of people — organizers estimated at least 300,000 marchers — packed the National Mall, listening to political and religious speakers before marching to the steps of the Supreme Court.
"The crowds are massive," March for Life president Jeanne Monahan-Mancini told TheBlaze. "I've never seen anything like it in my entire life."
As in years past, the rally was dominated by young Catholics, with many Catholic colleges and youth groups bussing in teenagers from all over the U.S.
"It's a very Catholic event, as a Catholic I'm proud of that," Monahan-Mancini said, while noting their outreach to other faiths (including having Dr. James Dobson speak at the 2014 March for Life) and the presence of such groups as Secular Pro-Life.
Colorful characters...
Most creative attire: Dan Rose, wearing Roman helmet, Aslan shield & carrying "Strike4Life" flag #MarchforLife2015 pic.twitter.com/bYNiScKIfi

— Zach Noble (@thezachnoble) January 22, 2015
Johnny Heffernan. How did you expect a Georgia Tech bro to rep Ga at the #MarchforLife2015 -- withOUT a guitar? 14/50 pic.twitter.com/0tgwvjGbSg

— Zach Noble (@thezachnoble) January 22, 2015
...and counter-protesters (some of whom wound up arrested) punctuated the march.
Tens of thousands of anti-abortion protesters behind, media's trained on the hundred or so pro-abortion chanters. pic.twitter.com/YfMIowAclX

— Zach Noble (@thezachnoble) January 22, 2015
But at the end of the day, as their chants of "Hey hey, ho ho, Roe v. Wade has got to go" illustrated, the anti-abortion advocates were there for one reason: to protest the Supreme Court's 1973 decision enshrining abortion as a constitutional right, and, as Monahan-Mancini put it, "to build a culture of life."
See photos from the rally below: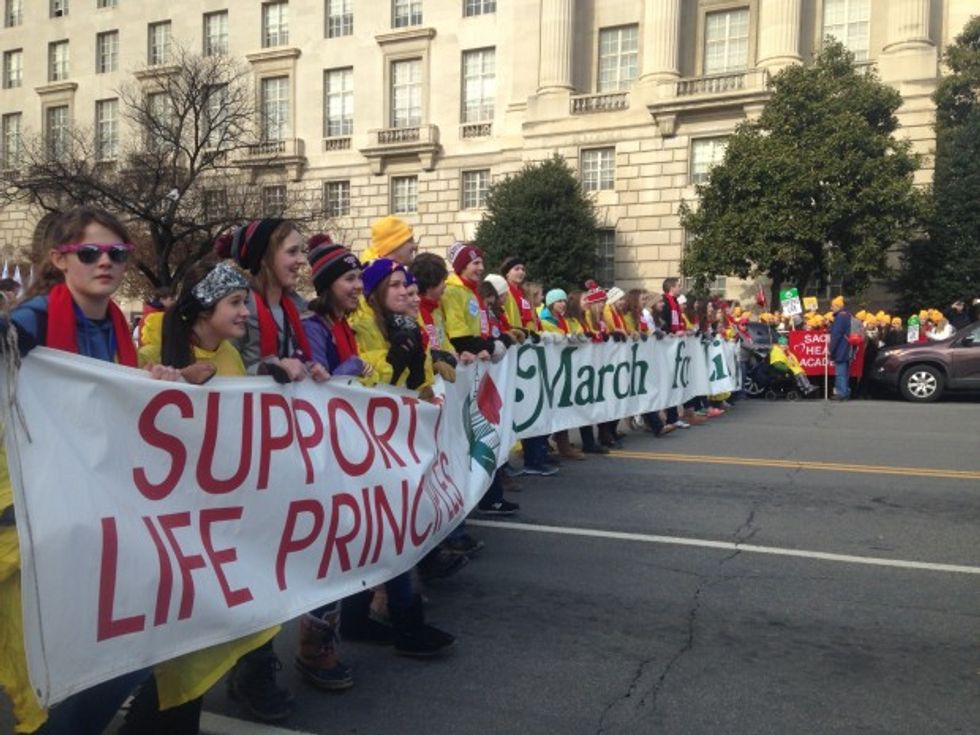 Photo: Natalie Noble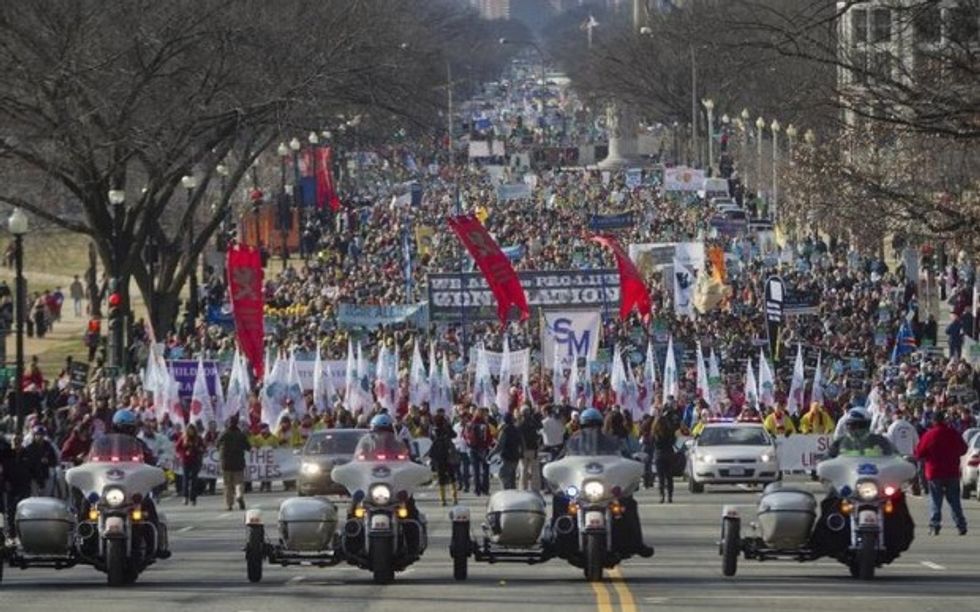 Motorcycle police escort anti-abortion demonstrators during the annual March for Life, Thursday, Jan. 22, 2015, on the National Mall in Washington. (AP Photo/Pablo Martinez Monsivais)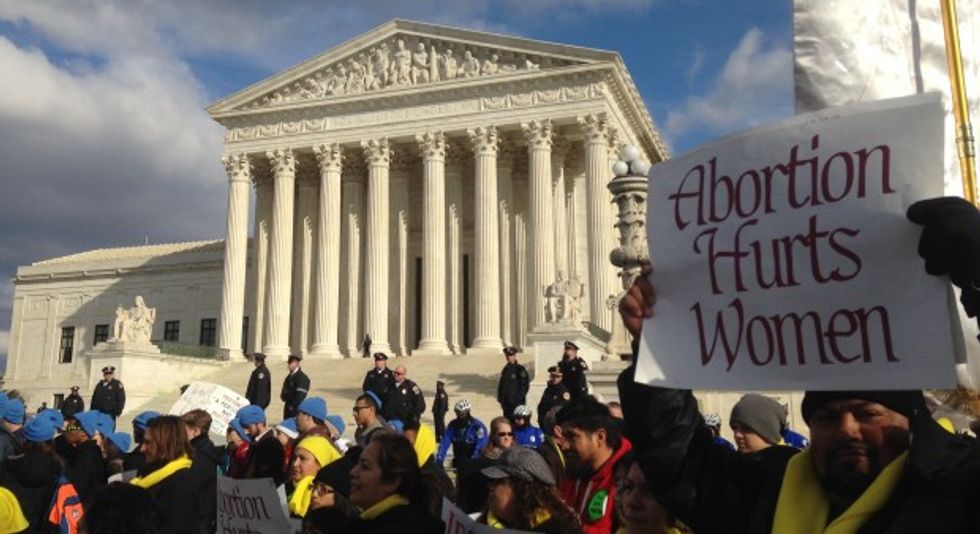 Photo: Zach Noble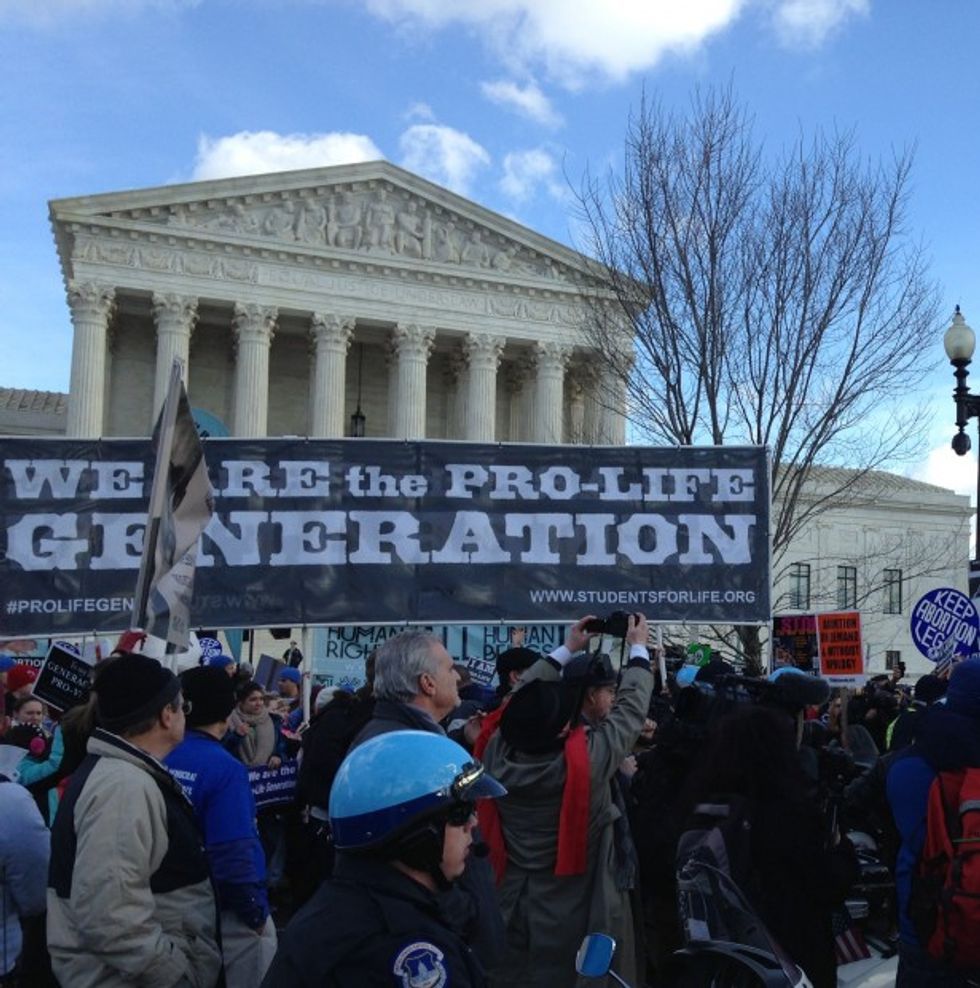 Photo: Zach Noble/TheBlaze
—
Follow Zach Noble (@thezachnoble) on Twitter