Debbie Lee, the mother of slain Navy SEAL sniper Marc Alan Lee, issued a tough challenge to outspoken filmmaker Michael Moore at the 2015 SHOT Show in Las Vegas on Friday. It would be a shock if Moore actually accepts the challenge.
Speaking alongside Taya Kyle, the widow of legendary Navy SEAL sniper Chris Kyle, at a Friday fundraising event for AmericanSnipers.org, Lee urged Moore to go through just one day of sniper training.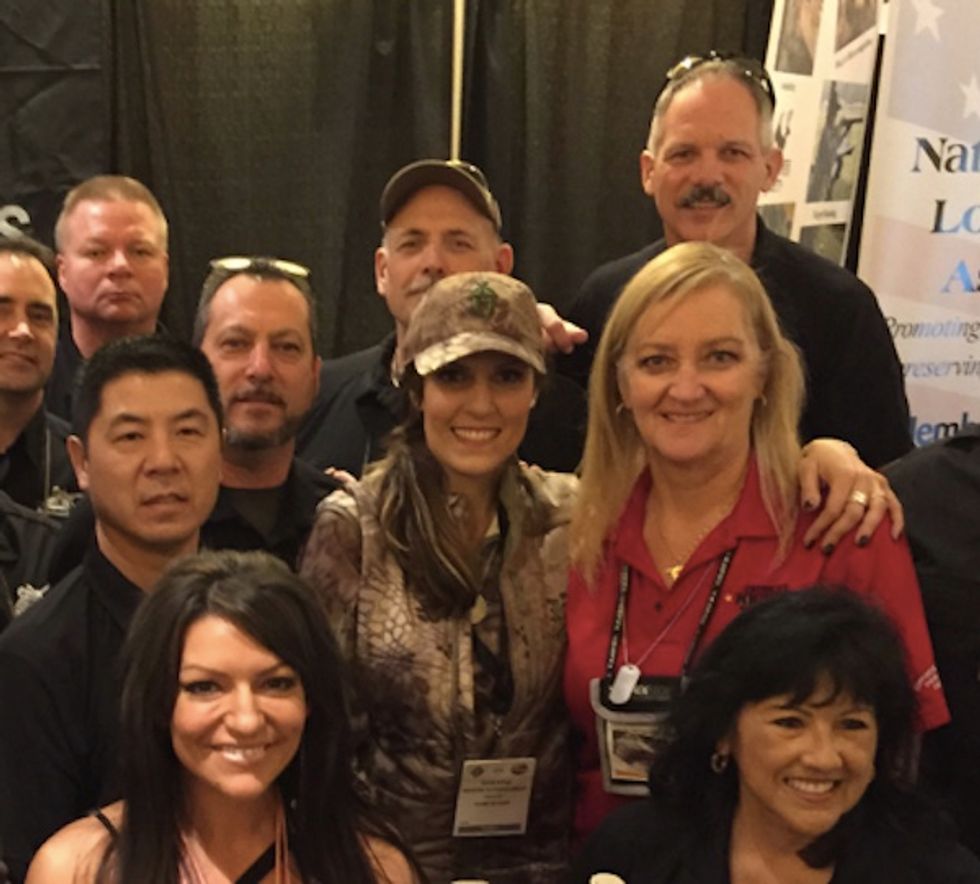 Debbie Lee (in red) with Taya Kyle and AmericanSnipers.org crew
Image: TheBlaze / Mike Opelka
Her blunt message comes after Moore said he was taught that all snipers are "cowards" just as Kyle's "American Sniper" story had people across the country flocking to movie theaters. He then continued to bash snipers on Saturday, tweeting:
Tomorrow's Sunday School (1) What Would Jesus Do? Oh, I know what he'd do -- hide on top of a roof and shoot people in the back!

— Michael Moore (@MMFlint) January 24, 2015
"It means so much to know that there are so many people out here who continue to support what we're doing in the memory of Chris, in the memory of Marc," she began. "And I don't know if you guys heard, but I challenged Michael Moore that all of you snipers out there will run him through training. Just one day, we won't even make him go to combat. See if we can educate him."
The applause she received for her challenge to Moore seemed to indicate the audience, many of them military veterans, were on board with the idea. Watch the video via TheBlaze:
Marc Alan Lee was the first Navy SEAL to die in the line of duty during Operation Iraqi Freedom and is highly revered in the military community.
At the same fundraising event, AmericanSnipers.org also gifted Taya Kyle over $62,000 raised through a gun raffle in a surprise act of generosity. One of the guns raffled was a replica of McMillan .338 Lapua that Kyle used in combat.
We captured her emotional response to the surprise donation -- watch it here.