UPDATE: Greece's governing conservatives have conceded defeat to the radical left.
BREAKING: Official in Greece's governing conservatives concedes defeat to the radical left Syriza party: http://t.co/uTqlBNFRGQ

— The Associated Press (@AP) January 25, 2015
—
ATHENS, Greece (AP) — A Greek state TV exit poll was projecting that anti-bailout party Syriza had won Sunday's parliamentary elections — in a historic first for a radical left-wing party in Greece.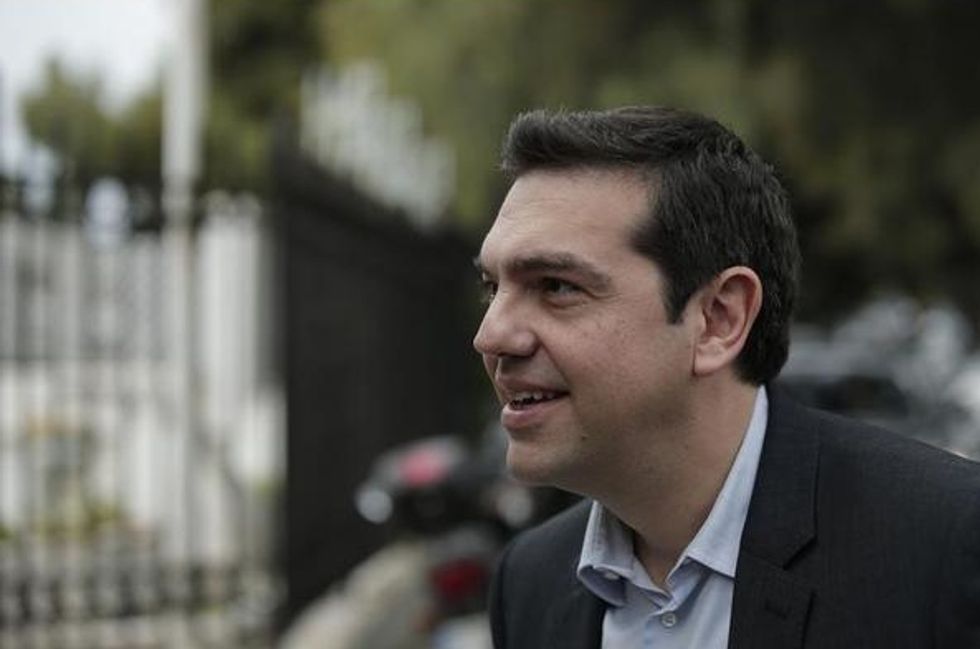 Alexis Tsipras, leader of Greece's Syriza left-wing main opposition party arrives for a lunch with journalists in central Athens, Saturday, Jan. 24, 2015. The radical left opposition Syriza party, which has vowed to rewrite the terms of Greece's international bailout, is expected to defeat Prime Minister Antonis Samaras' conservatives as Greece goes to the polls Sunday, Jan. 25, 2015 in a snap general election. Although expected to win, it is unclear whether Syriza will get enough parliamentary seats to form a government alone, or will have to seek a coalition deal with other parties. (AP Photo/Lefteris Pitarakis)
But it was unclear whether Syriza had won a decisive enough victory over Prime Minister Antonis Samaras' incumbent conservatives to govern alone. For that, they need a minimum 151 of parliament's 300 seats.
The exit poll on Nerit TV projected Syriza as having won with between 35.5 and 39.5 percent — or 146-158 seats, compared to Samaras' New Democracy with 23-27 percent — or 65-75 seats.
The centrist Potami (River) party was battling for third place with the Nazi-inspired, extreme right-wing Golden Dawn, whose leadership is in prison pending trial for running a criminal organization. Both were projected as being between 6.4 and 8 percent.
Golden Dawn leader Nikolaos Michaloliakos speaks during a news conference in front of a banner with the twisting Maeander. (AP Photo/Petros Giannakouris)
Syriza leader Alexis Tsipras has promised to renegotiate the country's 240 billion-euro ($270 billion) international bailout deal. He has pledged to reverse many of the reforms that creditors demanded in exchange for keeping Greece financially afloat since 2010.
The anti-bailout rhetoric has renewed doubts over Greece's ability to emerge from its financial crisis that has seen a quarter of its economy wiped out, sent unemployment soaring and undermined the euro, the currency shared by 19 European countries.
Greece's creditors insist the country must abide by previous commitments to continue receiving support, and investors and markets alike have been spooked by the anti-bailout rhetoric. Greece could face bankruptcy if a solution is not found, although speculation of a "Grexit" — Greece leaving the euro — and a potential collapse of the currency has been far less fraught than during the last general election in 2012.
___
Associated Press reporter Demetris Nellas contributed to this report.