If you were watching Sunday night's Screen Actor's Guild awards ceremony, you may have picked up on the fact that not everything about "live" awards shows is as it seems.
A blooper from the show that exposed this reality is getting a lot of chatter on social media. The screw up did not come from the mouth of an actor, writer or producer. It was courtesy of someone in the control room who pushed a button on the canned applause a few seconds too early.
The mistake happened after Reese Witherspoon announced the nominees for "Outstanding Performance by a Male Actor in a Supporting Role." As she was ripping open the envelope with the name of the winner and started saying, "And the actor goes to..." Witherspoon appeared to be stunned as thunderous applause was heard.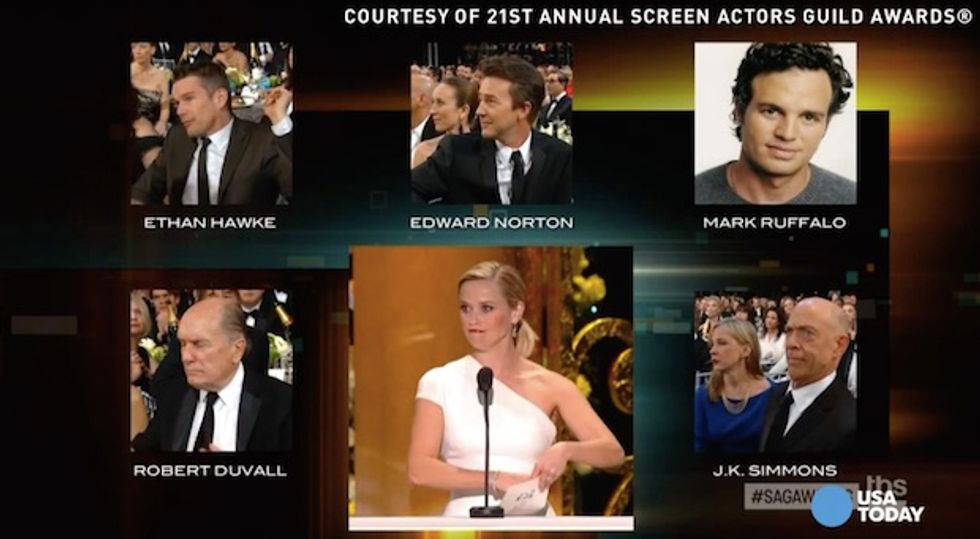 Image: YouTube
The quick-thinking Witherspoon laughed off the error, looking around and asking, "What was that noise?" Adding, "It wasn't me."
Watch the screw up, and the announcement of the eventual winner, J.K. Simmons:
See the entire list of winners from the 2015 SAG Awards.
(H/T: USA Today)
__
Follow Mike Opelka (@Stuntbrain) on Twitter.