The U.S. Census Bureau reported Wednesday that 16 million children living in America received food stamps in 2014, or about one out of every five kids.
Census said that number is up dramatically from 2007, before the Great Recession, when 9 million kids were receiving food stamps, or about one in eight. The data comes from Census' 2014 survey on families.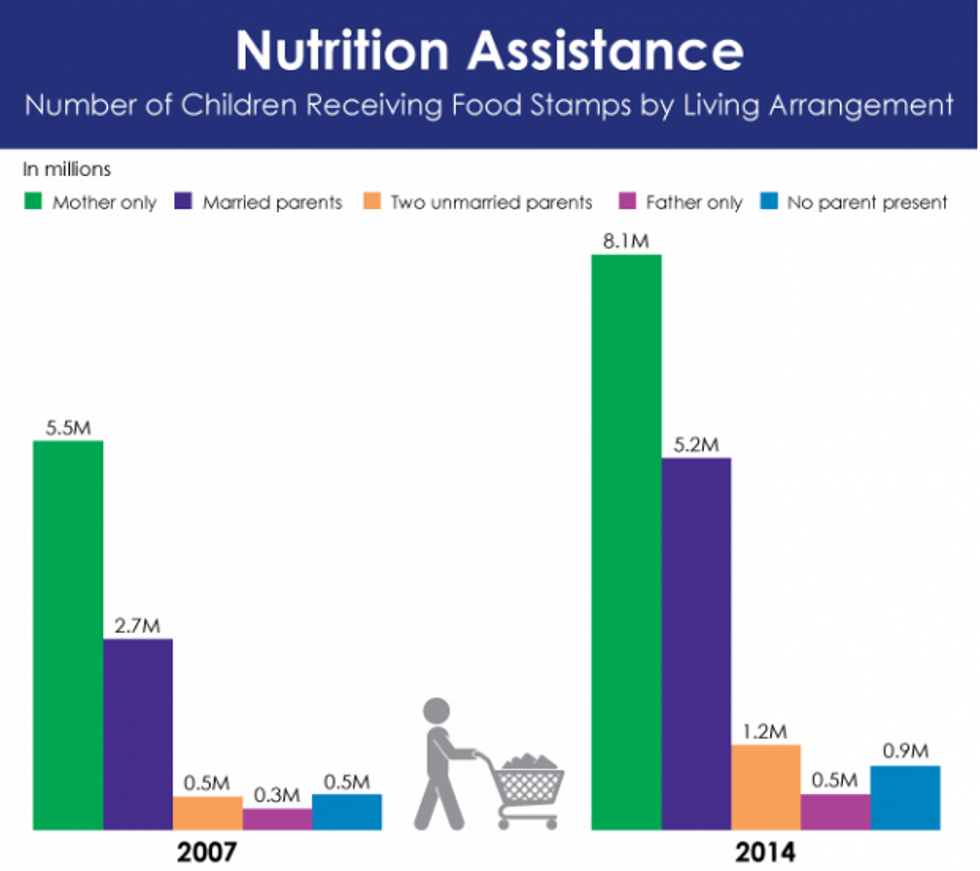 Image: U.S. Census Bureau
"The rate of children living with married parents who receive food stamps has doubled since 2007," Census said.
The findings are likely to bolster claims from some Republicans that the Obama administration seems to have a goal of putting more people under government aid programs. Former House Speaker Newt Gingrich in 2012 called President Barack Obama the "food stamp president," which led some to say his comment was racist.
The debate over food stamps has led to a sort of chicken-and-egg argument between Republicans and Democrats. The GOP has said the end of the recession should allow Congress to reduce spending on food stamps.
While Democrats have tried to give President Barack Obama credit for a rebounding economy, they also note that millions of additional people are using food stamps, and that the program should not be cut yet. The total number of people using food stamps has almost doubled since the start of the Great Recession, to nearly 48 million in 2013.
The number finally dipped from that peak in 2014, but just a little, to about 46 million people.
Republicans have tried since 2013 to cut food stamp spending, as part of their overall plan to slow spending and get control of the budget deficit. In 2013, the House voted to cut $39 billion from food stamps over a decade, and almost a year ago, President Barack Obama signed a final deal that will cut just $8.7 billion from the program over ten years.
That cut was estimated to reduce food stamp benefits by about $90 per month for the hundreds of thousands of homes that use them.