Actress Julianne Moore revealed in a recent interview with the Hollywood Reporter that she doesn't believe in God and feels that — despite having some luck — she has "created [her] own life."
Moore, 54, said that her mother's death back in 2009 led to her current theological standing, explaining that she believes humans impose structure on the world in an effort to make sense of it all.
"I learned when my mother died five years ago that there is no 'there' there," the actress told the Hollywood Reporter. "Structure, it's all imposed. We impose order and narrative on everything in order to understand it. Otherwise, there's nothing but chaos."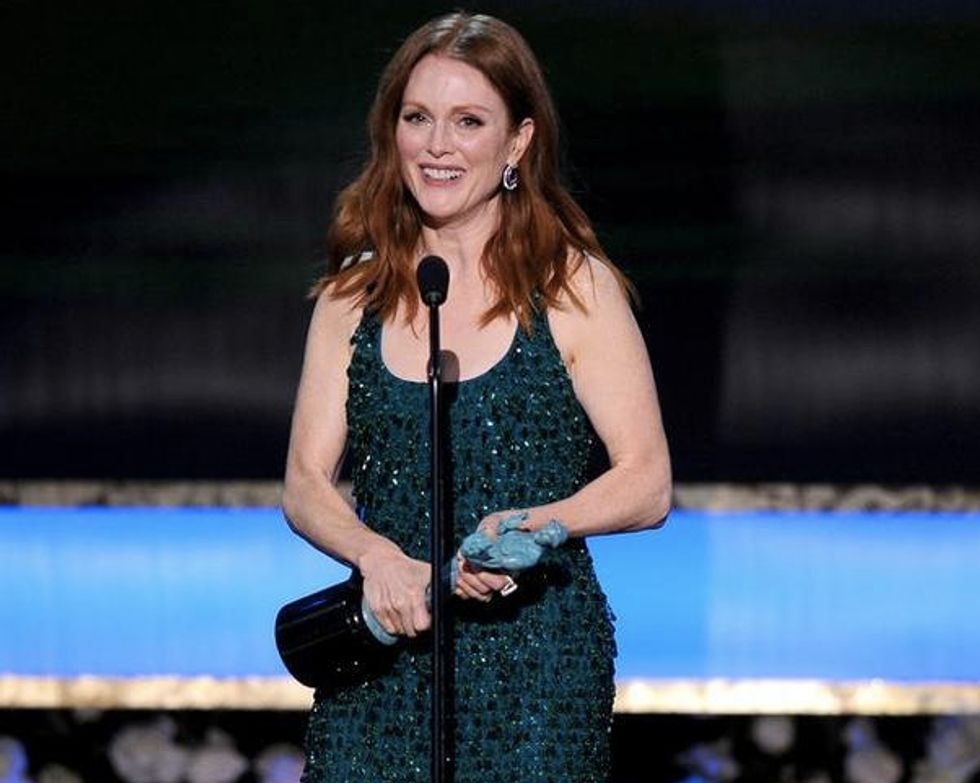 Julianne Moore accepts the award for outstanding performance by a female actor in a leading role for "Still Alice" at the 21st annual Screen Actors Guild Awards at the Shrine Auditorium on Sunday, Jan. 25, 2015, in Los Angeles. (Vince Bucci/Invision/AP)
Moore also believes that individuals chart their own paths, allowing them to craft the lives that they want for themselves.
"The idea that you're the center of your own narrative and that you can create your life is a great idea," Moore said. "I totally believe it. I've been really lucky, but I feel I've completely created my own life."
The daughter of an Army dad who was a helicopter pilot and paratrooper with the 82nd Airborne Division, Moore told the outlet that she moved around a lot as a child — an experience that she said made her adaptable.
The Hollywood Reporter noted that Moore is politically liberal, supporting Planned Parenthood and gun control, among other causes, with the star saying that she gets the most reaction to the tweets she sends about "gun safety."
"I get more reactions on Twitter about gun safety than anything else. I don't understand how we're threatening the Second Amendment because we're talking about gun safety rules," she said. "That, to me, is really shocking."
As for her apparent atheism, Moore reportedly said something back in 2002 as well that led some outlets to dub her a non-believer.
During an appearance on "Inside the Actor's Studio, she was reportedly asked what she would like God to say at the pearly gates of Heaven, according to the Huffington Post.
Her response: "Well, I guess you were wrong. I do exist!"
Read the entire Hollywood Reporter article here. 
(H/T: Hollywood Reporter)