Before a St. Louis City Hall meeting on a possible police oversight civilian board turned into a shoving match Wednesday, the mood in the room reportedly turned sour when some spotted a man wearing an "I am Darren Wilson" bracelet.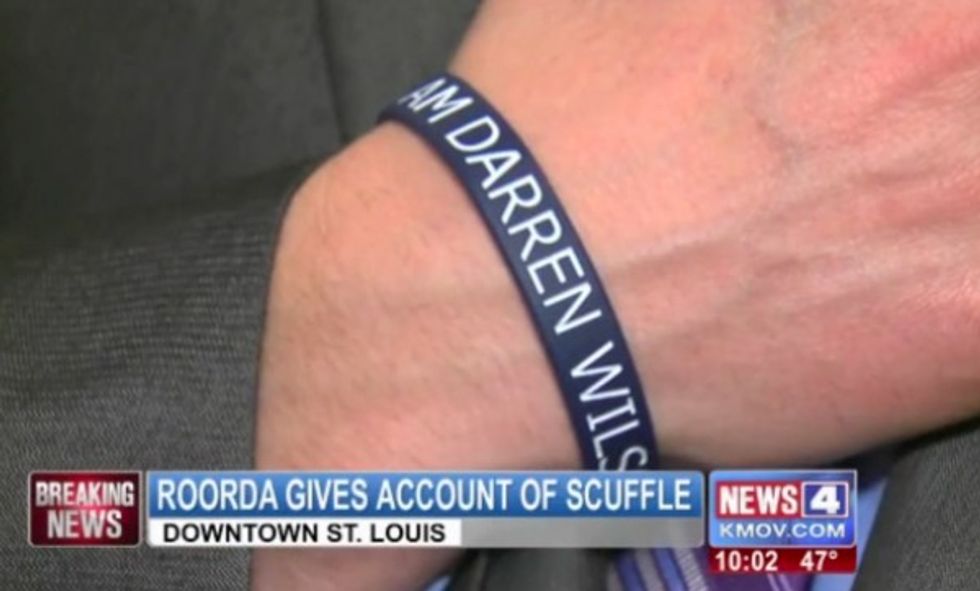 Image source: KMOV-TV
Wilson — a former Ferguson, Missouri, police officer — fatally shot 18-year-old Michael Brown in August, sparking months of racially charged protests and riots.
The man wearing the bracelet was Jeff Roorda, the business manager of the St. Louis Police Officers Association, who said he was there to support officers, KMOV-TV reported.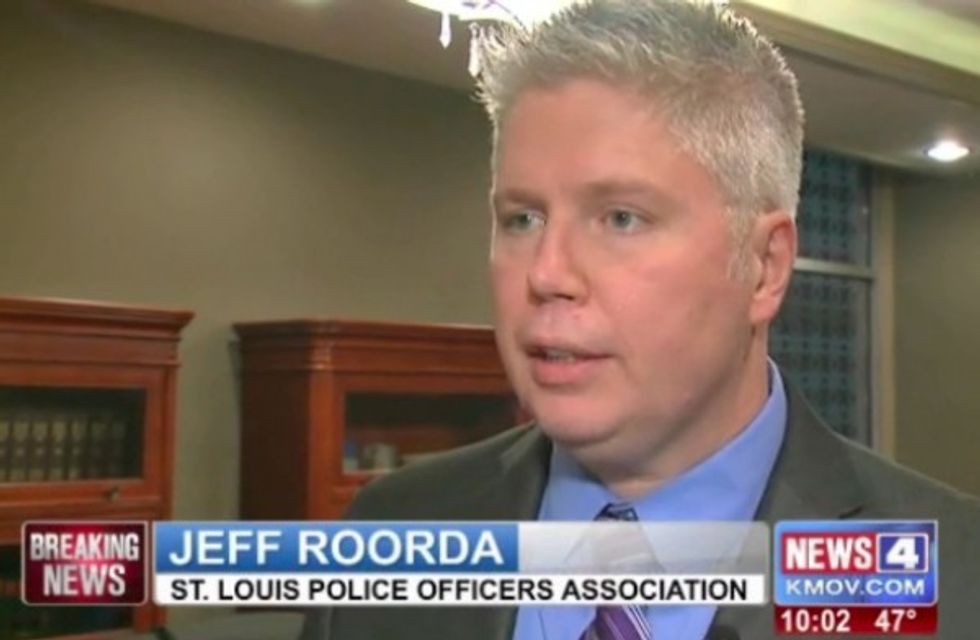 Image source: KMOV-TV
After Roorda was seen wearing the bracelet — as well as when cops testified against the civilian oversight board — the mood in the room became heated, the St. Louis Post-Dispatch reported.
Alderman Terry Kennedy — whom the Post-Dispatch said has been in favor of a civilian review board — labored to quell the steadily growing noise. Then Roorda stood up and called for order, which riled up the crowd even more...not to mention Kennedy.
"Excuse me, first of all, you do not tell me my function," Kennedy said, according to the paper. Roorda shouted back.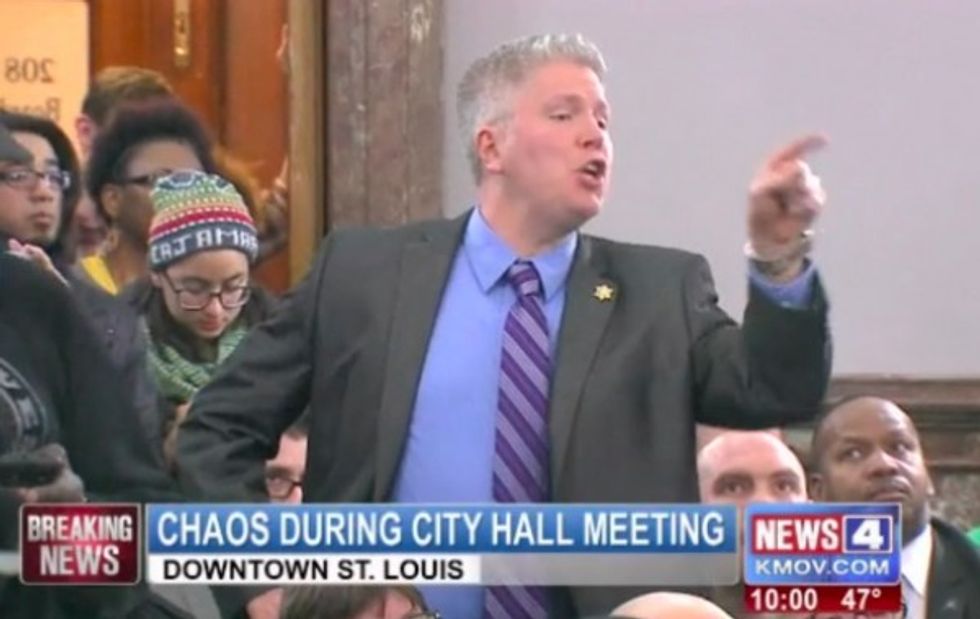 Image source: KMOV-TV
Then others began yelling, and soon the shouting turned into pushing and shoving for about 15 minutes. The meeting was adjourned after order was restored.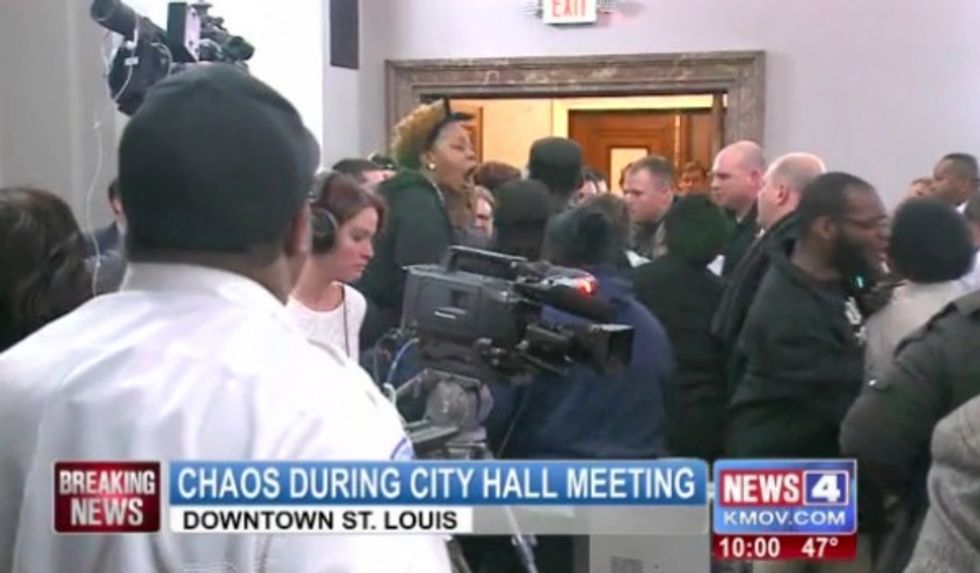 Image source: KMOV-TV
Witnesses told KMOV the melee commenced when a woman was pushed by Roorda during his exchange with Kennedy.
"I was literally just trying to leave the meeting and I got caught in whatever Roorda and Kennedy had going on in their exchange," Cachet Currie told the station. "Roorda just jumped out into the aisle, pushed me over, and tried to get to Kennedy. I'm like, 'wait a minute, don't push me.' Then he started going off on me, pushing me."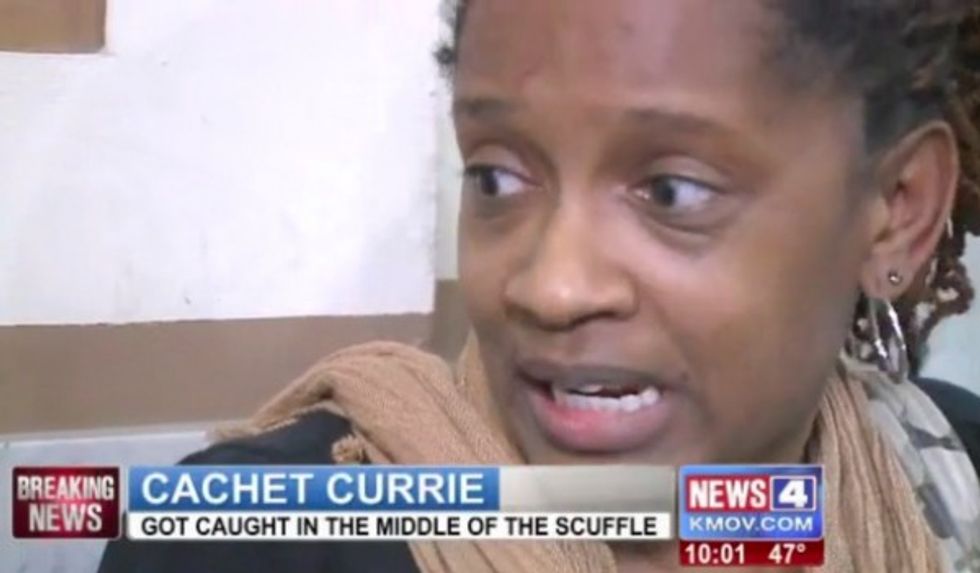 Image source: KMOV-TV
Protesters demanded Roorda's arrest after the meeting, the Post-Dispatch reported; there were no arrests or injuries.
Roorda — who defended wearing his bracelet as freedom of speech — told KMOV he didn't push Currie and that the meeting was a "sham."
"We spent the night hearing from anti-police radicals," Roorda told the Post-Dispatch. "We hear from two police officers and (Kennedy) lets the place go wild." He added that he became surrounded during the unrest and that people grabbed at his ankles.
More from the Post-Dispatch:
Under the measure, the St. Louis Civilian Oversight Board would have the authority to investigate allegations of police misconduct, research and assess police policies, operations and procedures, and make findings and recommendations. It would also be able to independently review evidence and witness statements from investigations by police internal affairs. The board would report its findings to the city's public safety director and police chief.

The board would be made up of seven members nominated by the mayor and approved by the Board of Aldermen. They would not be paid. Nominees would have to be city residents. They couldn't hold public office or be related to employees of the police department. Each member would have a specific district that spans several city wards.
—
Follow Dave Urbanski (@DaveVUrbanski) on Twitter