House Republicans next week will call up and pass a bill to eliminate Obamacare, its first attempt at a full repeal in the new Republican-led Congress.
GOP leaders will consider legislation from a freshman House member, Rep. Brad Byrne (R-Ala.). While Republicans have passed repeal bills every year since they've controlled the House, Byrne and others are eager to watch the bill finally get a vote in the Senate.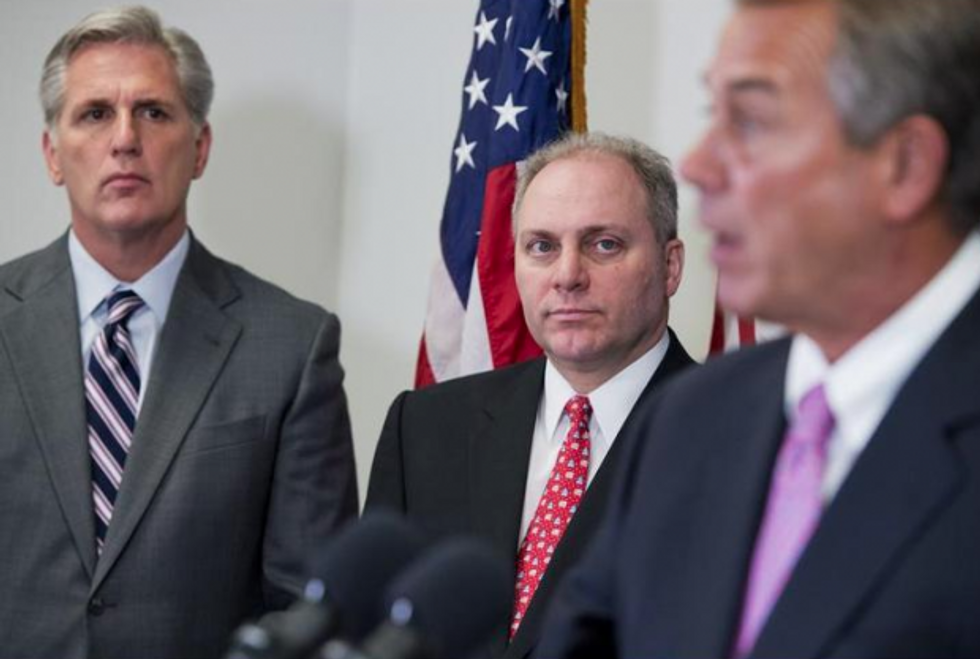 House Majority Leader Kevin McCarthy (R-Calif.), Majority Whip Steve Scalise (R-La.), and Speaker John Boehner (R-Ohio) will call up a bill to fully repeal Obamacare next week. Image: Tom Williams/CQ-Roll Call,Inc.
"This vote is notable because it will be the first time since Republicans have taken control of the Senate that the House will act on a bill to repeal Obamacare," Byrne said. "Senator Harry Reid can no longer stand in the way of allowing a vote on repealing this law once and for all."
Byrne also noted that next week's vote will be the first since the law has been fully implemented. The Obama administration is in the midst of its second round of enrollments, and says 9.5 million people have enrolled so far.
Even if the House and Senate can pass the bill, it will undoubtedly face a veto threat from President Barack Obama. A veto could only be overridden by a two-thirds majority vote in the House and Senate, and it's doubtful the votes are there to do that.
But Republicans are aware of this hurdle, and say it's still important to continue to press for full repeal, and then follow that up with smaller bills to tweak or repeal parts of the law.
The House has already started that process. Earlier this month, the House approved a bill to eliminate language in Obamacare that says companies must give health insurance to employees that work 30 hours a week.
The GOP says that rule gives companies an incentive to cut back worker hours, which reduces paychecks for workers around the country. The House passed that bill with help from 12 Democrats.
And on the first day of work this year, the House approved a bill that would let companies exempt veterans when counting up employees to see if they have 50 or more, at which point they must offer health insurance to employees.
That bill passed the House unanimously, a sign that this Obamacare tweak could easily become law. Another sign is the White House reaction to that bill so far — while the White House has threatened to veto several other bills this year, it has made no such threat against this bill.
Under Byrne's bill, Obamacare would be repealed, and House committees would be instructed to come up with a plan for health care reform that adheres to a dozen principles.
Those principles include fostering job growth, lowering costs, and finding affordable coverage for people with pre-existing conditions.
Other principles include longstanding GOP priorities such as reforming the medical liability system, protecting the doctor-patient relationship, prohibiting taxpayer funding of abortions, and letting patients and customers keep health plans they like.
Majority Leader Kevin McCarthy (R-Calif.) announced a new group Friday that will work on how to replace Obamacare with these sorts of reforms. The group will be led by Energy and Commerce Committee Chairman Fred Upton (R-Mich.), Ways & Means Committee Chairman Paul Ryan (R-Wis.) and Education and the Workforce Committee Chairman John Kline (R-Minn.).
— This story was last updated at 12:49 p.m.