A hunter patiently stalking animals earlier this month on a ranch in De Leon, Texas, when suddenly they saw a massive creature that made him do a "double take." It was a nearly 800-pound hog, which was almost double the size of the biggest hog Blaine Garcia had ever captured.
"I did a double take. I couldn't believe his size. He took off running down a draw. I tried to walk up and get a better look but he kept running off as I approached," Garcia told The Flash Today.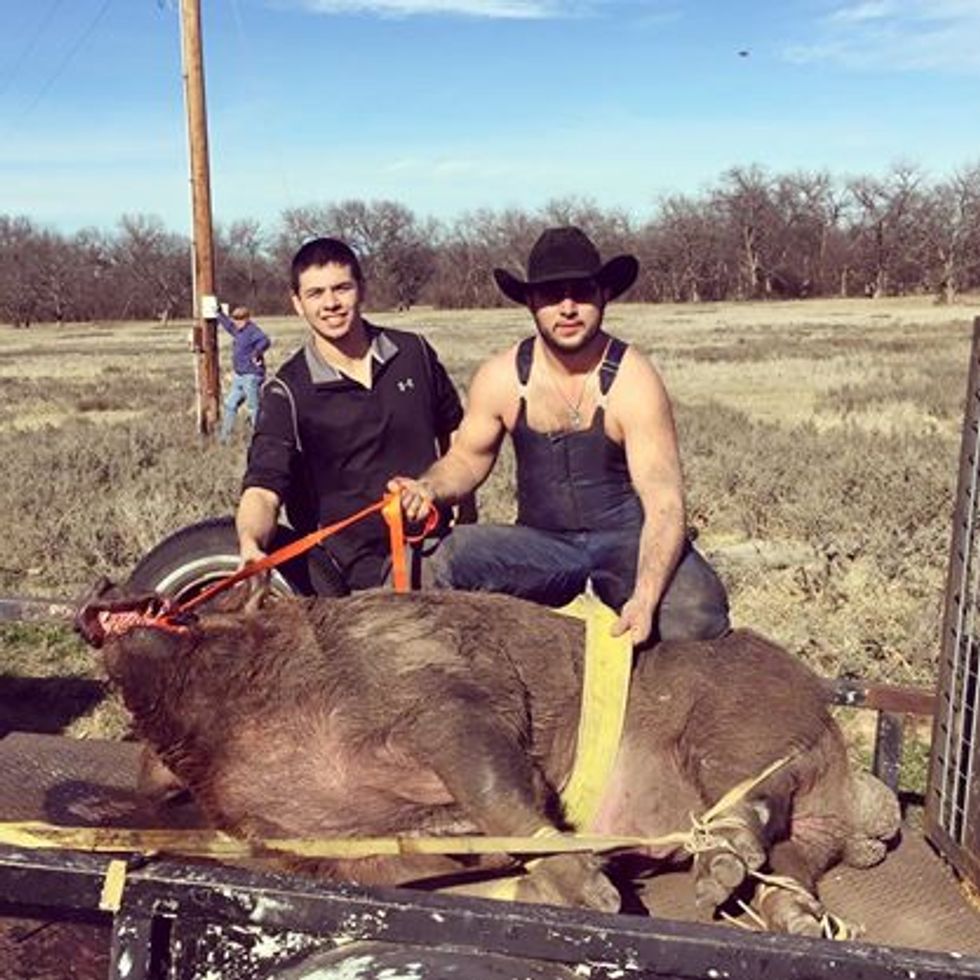 Source: Blaine Garcia, Facebook
Garcia quickly called his hunting buddy, Wyatt Walton, to help him capture the gigantic beast. He also reportedly enlisted the help of his two hunting bulldogs.
The New York Daily News explains how Garcia and his helpers went about catching the hog alive:
Garcia then set his pup free. It sprinted over to its prey and latched its jaw onto the towering creature's ear. But the hog was so big that the pup couldn't bring it down.

Wyatt then arrived and the two men grabbed the boar's legs before tying them together.

They then called on hunters Zach Ryon and Ray Chupp, who have a 2,500-pound winch, to hoist the hog onto a trailer.

The animal was taken to a temporary cattle corral home, where it is receiving 24-hour care.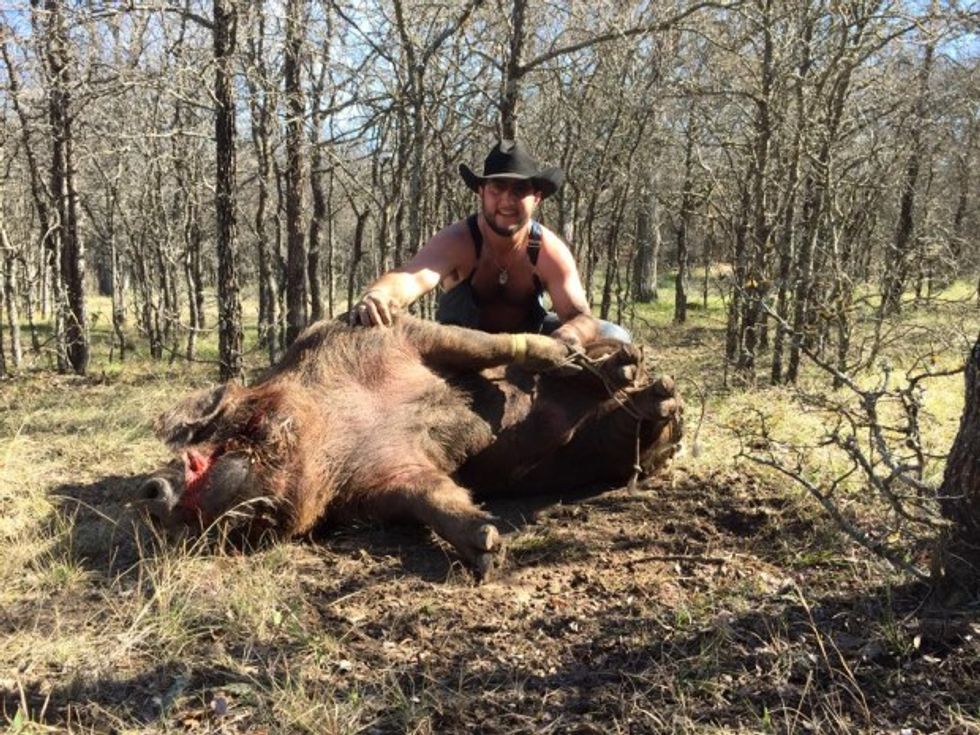 Source: Blaine Garcia, Facebook
Though they were thinking about selling the creature for a good sum, Garcia later took to Facebook to "clear a few things up" after receiving support and coming under the "constant attack and scrutiny of ignorant animal activists."
As it turned out, the massive hog actually belonged to someone and the animal "allegedly escaped from his 11-acre pen outside of town." He wrote:
Secondly, it was evident from the start that this hog belonged to somebody at one time or another. As I stated in previous comments, anyone who thinks that either one of us thought this hog was completely feral does not know us. We have both hunted hogs all of our lives, and can clearly differentiate between the two. We had numerous phone calls from buyers, those who wanted to congratulate, those who wanted to hate, and those who were trying to claim the hog as theirs. Of course the 2400$ price tag posted in the articles helped that matter.

After a property hearing yesterday, he was awarded to Cuco Pacheco. The 790lb. hog allegedly escaped from his 11-acre pen outside of town, and made his way onto Jimmy Dale's property unnoticed until I found him that Friday.
Even though he won't get to keep the hog, Garcia said "this was all an experience of a lifetime."
"We gained access to land all over, and made lots of new friends and connections. Not many people could take two Bulldogs and catch/tie a pissed off hog of this size as we did, and I'm proud for that. Thanks again, and we look forward to finding 'Big Frank' now," he added.