For a peek at the future, don't look in a crystal ball.
Look in a maternity ward.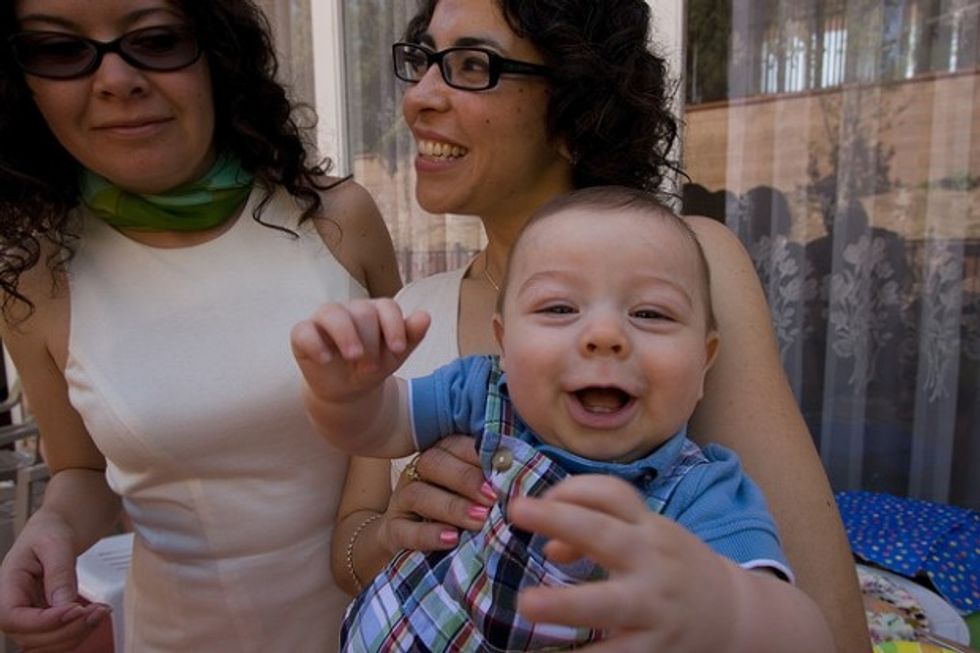 A baby prepares for baptism in Fernando, California. (Image via Marco Antonio Torres/flickr)
In a Thursday report on the Pew Charitable Trusts' Stateline blog, analysts laid out the increasingly Hispanic future of the U.S. by showing the percentage of each state's population that is made up of Hispanics — and the much larger percentages of births to Hispanics.
In California and Texas, roughly 38 percent of the population is Hispanic, but Hispanics account for nearly half of each state's births.
In New Jersey, Hispanics account for less than 20 percent of the population is Hispanic but more than 1/4 of births.
In many Southern states, Hispanic babies' representation in maternity wards is some 50 percent greater than their parents' representation in the general population.
Stateline's blunt assessment: "U.S. population growth is being driven by Hispanics; no other ethnic group is being replenished by enough babies or immigrants to keep its overall population from declining."
West Virginia, Vermont and Maine are the only states in the U.S. in which Hispanics do not account for an outsized percentage of births.
Explore Stateline's population map below:
The Stateline post focused on the education dilemma facing states.
On the one hand, many lawmakers are pushing to keep undocumented immigrants from receiving in-state tuition benefits at state universities as a matter of principle.
On the other hand, activists argue that states need to keep their people educated to be successful — and with Hispanics making up an ever-growing, under-educated percentage of nearly every state, some say states need to expand educational opportunities.
"It's not even about immigration. Just make higher education affordable so all the people can get an education," Manuel Ramirez, the first person in his immigrant family to earn a college degree, told Stateline. "If Texas is going to be competitive, it has to produce great minds and give them a job."
—
Follow Zach Noble (@thezachnoble) on Twitter
[instory-firewire]