The most important things in a disaster situation are guns, a backup generator and tons of canned food, right?
Scratch all that, one expert says.
You'll be better served by a gym membership and a Bible — used far in advance of the disaster.
Dr. James Carafano, a 25-year Army veteran and national security expert at the Heritage Foundation, makes the case in his new book, "Surviving the End: A Practical Guide for Everyday Americans in the Age of Terror," that preparing for disasters shouldn't be a life-consuming chore.
The PJ Media contributor sat down with TheBlaze this week to discuss his approach to disaster preparedness.
"People think of preppers, homesteaders, 'Have to do everything for myself' people as being the people who will survive major disasters," Carafano said. "In actually surviving, those lifestyles aren't going to work."
Instead, Carafano argues, those most likely to survive an apocalypse are the people who were doing healthy things in the first place.
Carafano said his book is about finding "a place in the middle" that allows people to live fruitful lives and be ready should disaster strike.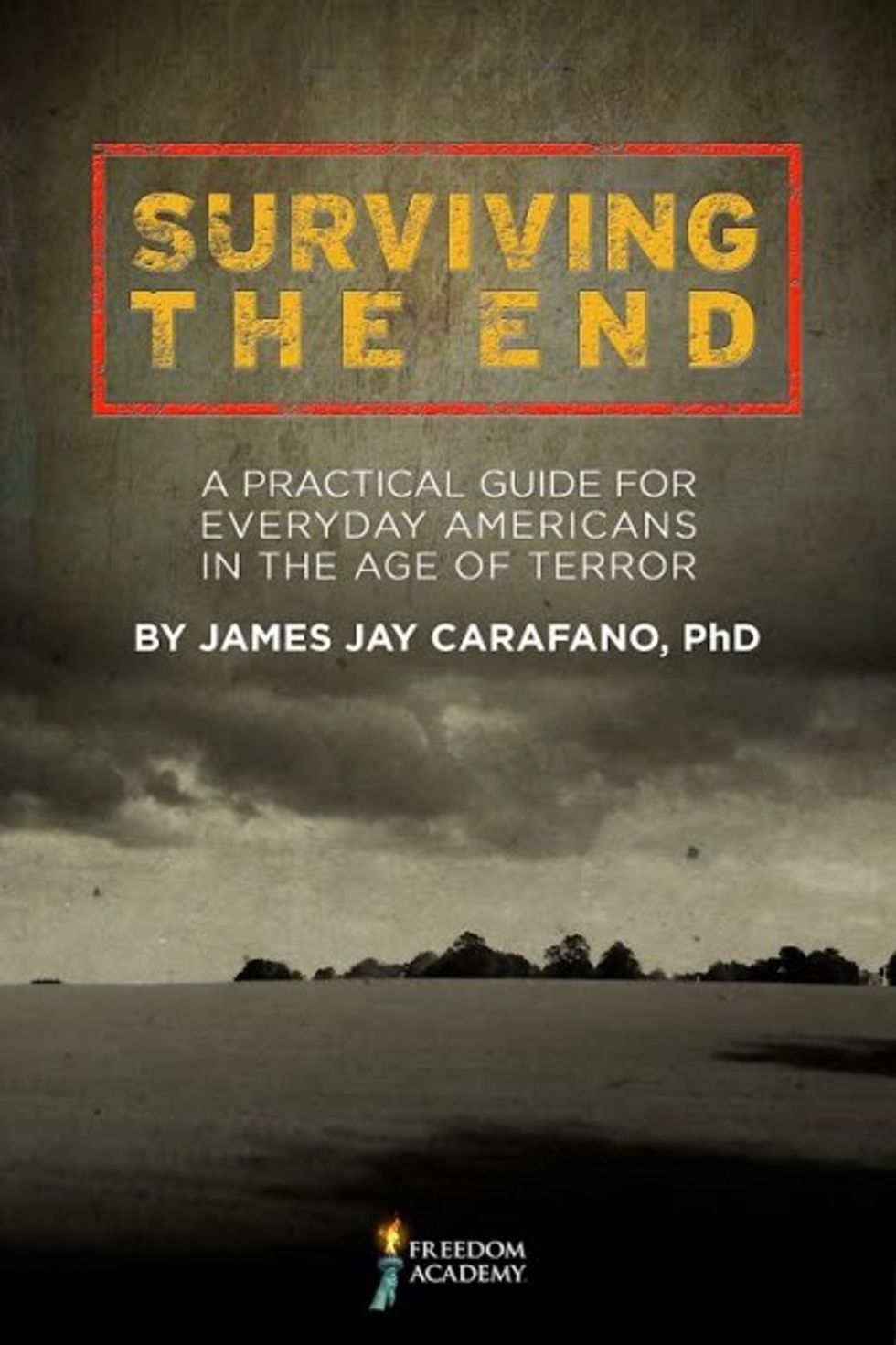 Image courtesy Javelin
"A lot of these [strategies discussed in the book] are things you ought to be doing anyway," Carafano said, calling his book less of a survivalist checklist and more of a philosophical guide.
Carafano's four keys: family, faith, education and health.
"Those most likely to succeed [in a major disaster] are married, high school-educated, church-going parents," he said, adding that a strong, healthy body is also crucial.
"People of faith deal with stress better," he added, speaking of the potential importance of church communities in an apocalyptic disaster. "They're more confident decision-makers in times of crisis,"
One thing people should not count on when faced with disaster: the government.
"We've seen time and again, the government fails in natural disaster situations," Carafano said. "The people in the community are the most important, not FEMA or some other government agency."
James Carafano. (Image via TheBlaze TV)
Carafano's book deals with a wide range of possible disasters, he said, from cyber attacks to earthquakes to terrorist assaults.
And yes, there's a chapter on zombie outbreaks.
How does the book handle so many different possibilities?
While Carafano said he tailored advice for specific disaster scenarios, most of his resources apply to any and all disaster scenarios.
Learning to think critically, losing weight and getting in shape, becoming active in your church and community — none of these strategies will "get you there overnight," but implemented far ahead of time, they'll leave a person in great shape to tackle extreme situations, Carafano said.
His book also deals with topics such as school choice that might leave some wondering, "What is this doing in a survivalist book?" — but which Carafano said could have a huge impact on how well the U.S. can cope with disasters.
"Humans survived the Ice Age," Carafano noted, saying that if we can survive that, we can survive just about anything with the right mix of individual grit and social support.
Despite the general optimism, Carafano ended his interview with TheBlaze on a dour note: the danger of electromagnetic pulses, or EMPs.
"If you lose the grid, you're dead," he said, estimating the North American casualties of a grid-destroying EMP to be "90 percent of the population."
But at the end of the day, Carafano's approach is all about a happy, healthy approach to disaster preparedness.
"Preparing for the worst should make you happier," he said. "Exercise. Read books. Take a walk with your family on a sunny afternoon to practice meeting at a disaster rendezvous point. Practice hard work, the kind of work that brings joy to life."
"Surviving the End" is due out in print and e-book format Feb. 16 — click here for more information on the book.
—
Follow Zach Noble (@thezachnoble) on Twitter