NFL quarterback Johnny Manziel has entered rehab, a family spokesman told ESPN.com on Monday.
Manziel, the Texas A&M star known as "Johnny Football," has been plagued by controversy throughout his college and pro career. His first season with the Cleveland Browns this year culminated in him not showing up for practice the day before the seaons's final game. According to ESPN, team security had to go looking for him and found him asleep in his home, with one source saying he was "drunk of his a**."
"Johnny knows there are areas in which he needs to improve in order to be a better family member, friend and teammate and he thought the offseason was the right time to take this step," spokesman Brad Beckworth said in a statement.
"On behalf of Johnny and his family, we're asking for privacy until he rejoins the team in Cleveland."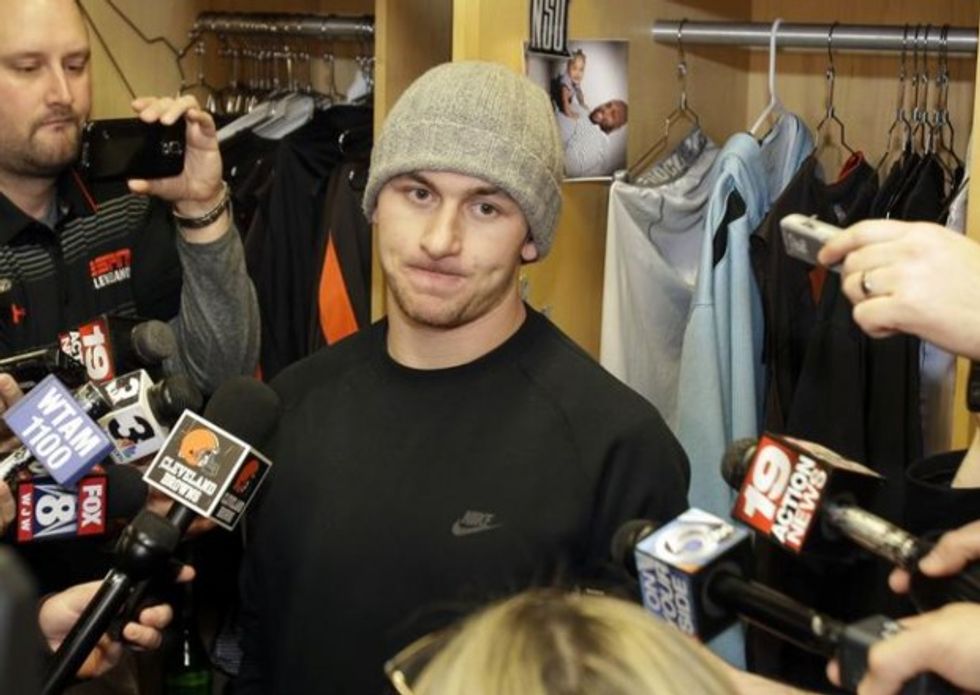 Cleveland Browns quarterback Johnny Manziel talks with the media at the NFL football team's training camp, Monday, Dec. 29, 2014, in Berea, Ohio. Along with key injuries and late-game collapses, the Browns' seventh straight losing season was undermined by the antics of wide receiver Josh Gordon, Manziel and cornerback Justin Gilbert. Owner Jimmy Haslam promised the organization will weed out any problem players. (AP Photo/Tony Dejak)
It's unclear what, exactly, Manziel entered treatment for.
"We respect Johnny's initiative in this decision and will fully support him throughout this process. Our players' health and well-being will always be of the utmost importance to the Cleveland Browns," Browns General Manager Ray Farmer said.
"We continually strive to create a supportive environment and provide the appropriate resources, with our foremost focus being on the individual and not just the football player. Johnny's privacy will be respected by us during this very important period and we hope that others will do the same," he added.
Manziel has long been known as a partier. In December he admitted that he needed to be a better leader in order to be "the guy" in Cleveland. Only days later, the incident involving him missing practice occurred.
In college, Manzeil was suspended for half a game following allegations that he was paid thousands of dollars in order to sign autographs.
Developing.