Golden Globe winning actor Randy Quaid released a bizarre video Tuesday showing him go on an unhinged-rant against Rupert Murdoch as his wife relaxed on the bed behind him wearing only a bikini and pair of sunglasses.
The "Independence Day" actor said he helped News Corp and Warner Brothers earn more than $1 billion dollars, but was never shown proper gratitude.
"What did I get in return? A Warner Brothers exec, Bruce Berman, stole my house, and News Corp's the New York Post continues to smear me to high heaven with a pack of lies," he said.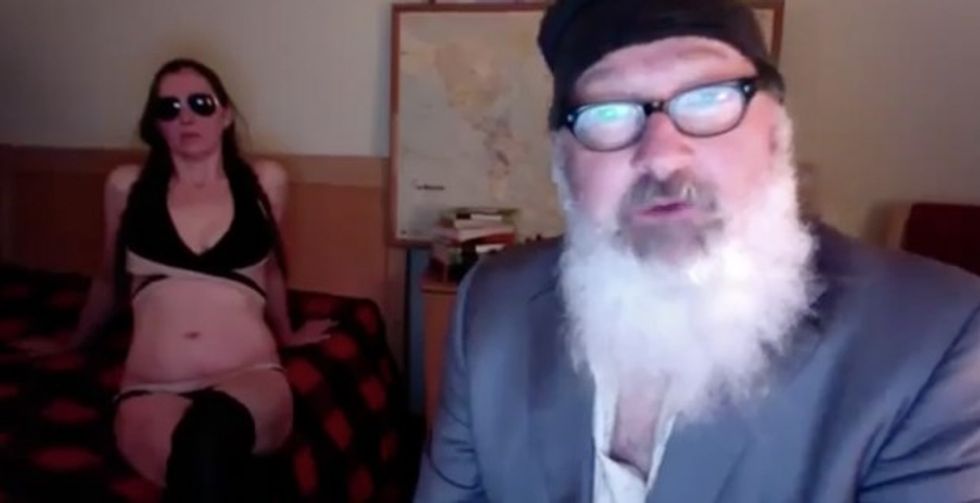 Image source: Screen grab
"For good measure, Warner Brothers even had my wife and I falsely arrested six times by TMZ," he added. "No, for real. That's really how it works. 'Hastgag PMC' – police-media corruption. Boom!"
Quaid and his wife live in Canada after fleeing to avoid vandalism charges. They applied for refugee status contending they were afraid they would be murdered by "Hollywood star whackers."
— Click here to see the video (warning: mature content) —
"So Rupert, you want to f**k me? I'm going to f**k you," Quaid said.
The video then took an NSFW tone as the actor gave his wife a Murdoch mask, bent her over and began stimulating sex on camera.
"Together, Rupert, together we'll wipe out police-media corruption," Quaid shouted during the sexually suggestive act. "I'm back!"
—
Follow Oliver Darcy (@oliverdarcy) on Twitter