Human Rights Watch Executive Director Kenneth Roth drew criticism Wednesday for tweeting that Jordan executing jihadi prisoners would only "reinforce" the Islamic State group's "callousness toward human life."
If Jordan now executes alleged ISIS-related inmates on death row, it'll only reinforce ISIS callousness toward human life, not rise above it

— Kenneth Roth (@KenRoth) February 3, 2015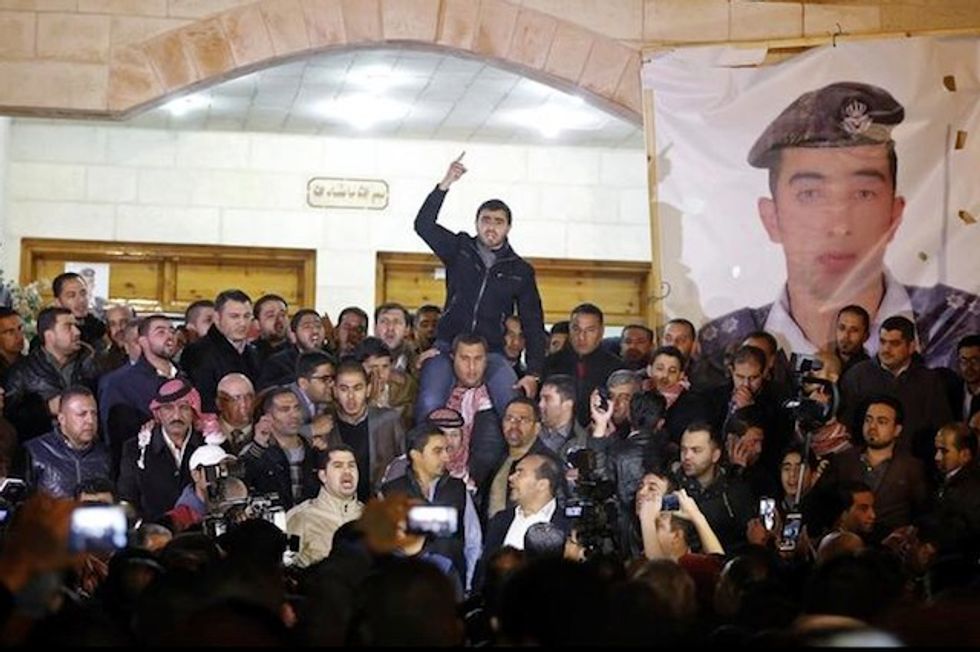 Supporters and family members of Jordanian pilot Lt. Muath al-Kaseasbeh express their anger over his killing, at the tribal gathering chamber, Amman, Jordan, Tuesday, 3, 2015. (AP Photo/Raad Adayleh)
Here are some of the responses to Roth's comment posted on Twitter:
@KenRoth @rulajebreal Do you believe the stuff you write, or are you reflexively contrary? ISIS could care less. Literally a death cult.

— Stephen Fotos (@sjfotos) February 3, 2015
@KenRoth the world must not show any mercy to terrorists. ISIS are inhuman, they are evil, and they must be destroyed. ISIS = Satan

— fares (@falzoubi) February 3, 2015
@KenRoth I vote for Kenneth to go over to Iraq/Syria & speak to ISIS alone to see if they will become less callous, are you game Ken?

— JadedByPolitics (@JadedByPolitics) February 3, 2015
@KenRoth But, did you ask ISIS "pretty pretty please stop massacaring innocent people."?

— Hello my name is... (@GuyLandDesigner) February 3, 2015
@PhillyWCWagon @KenRoth @rulajebreal maybe he thinks the world is a 1970s Coca Cola ad

— Yuki Asakura (@YukikoAsakura) February 3, 2015
Earlier, Roth highlighted what he described as the radical Islamist terrorist group's depravity:
ISIS's deepening level of depravity is just sickening. Jordanian pilot is latest victim of its revolting behavior. http://t.co/CQtAPHxPKF

— Kenneth Roth (@KenRoth) February 3, 2015
Jordan on Wednesday said it had executed two Iraqi jihadists in response to the release of an Islamic State video purporting to show Jordanian fighter pilot Lt. Muath al-Kaseasbeh who the group had been holding captive being burned alive in a cage.
(H/T: Twitchy)