The Islamic State released a video Tuesday purportedly showing the gruesome killing of Jordanian air force pilot Lt. Muath al-Kaseasbeh.
In the video, Kaseasbeh appears to be burned alive.
The government of Jordan confirmed that the pilot had been killed and vowed "punishment and revenge" on the Islamic State, slating imprisoned jihadists for accelerated execution in response.
Lt Muath al-Kaseasbeh ejected from an F-16. To be burnt alive in a cage. Let this be the only image anyone remembers: pic.twitter.com/Y8vkDuJCkL

— Shiv Aroor (@ShivAroor) February 3, 2015
The 22-minute video, titled "Healing of the Believers' Chests," appears to show Kaseasbeh locked in a cage and set ablaze, the Washington Post reported, citing a press release from SITE intelligence.
The video's release comes three days after another online video showed the apparent beheading of Japanese journalist Kenji Goto.
Images from the purported Kaseasbeh slaying video spread quickly across social media Tuesday, with pro-Islamic State Twitter accounts writing "Allah Akbar" messages along with the images.
Journalist Zaid Benjamin tweeted images from the purported killing.
عاجل: مقاتلو #الدولة_الإسلامية يحرقون الطيار الاردني #معاذ_الكساسبة حياً pic.twitter.com/JUPjK9C8B7

— Zaid Benjamin (@zaidbenjamin) February 3, 2015
#ISIS releases pictures purporting to show Jordanian pilot being burned alive. pic.twitter.com/h04venfypw

— Zaid Benjamin (@zaidbenjamin) February 3, 2015
Jordan last week agreed to free an Al Qaeda prisoner in return for Kaseasbeh, but never received proof that he was still alive.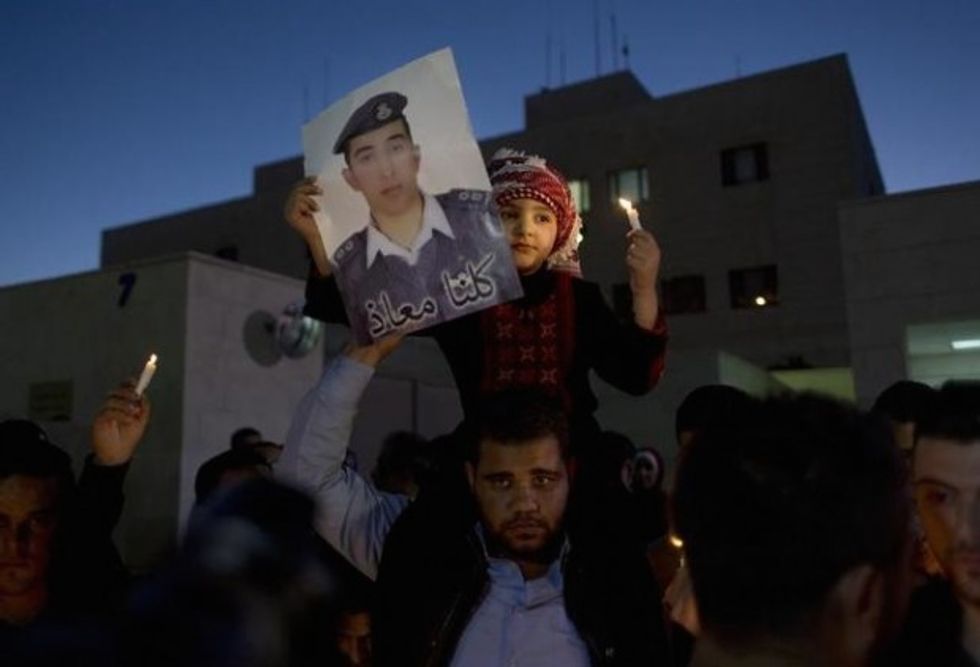 A Jordanian child holds a candle and carries a poster with a picture of Jordanian pilot, Lt. Muath al-Kaseasbeh. The Islamic State released a video on Tuesday purportedly showing the pilot being burned alive. (AP Photo/Nasser Nasser)
On Tuesday, Jordanian state TV confirmed Kaseasbeh's death and claimed the pilot had been killed a month prior on Jan. 3, Fox News reported.
The Daily Mail reported that Jordan will executive six imprisoned jihadists, including failed female failed suicide bomber Sajida al-Rishawi, Wednesday morning in retribution.
BuzzFeed News reported that tweets showing images from the purported execution appear to be geo-tagged to Raqqa, the de facto capital of the Islamic State in northern Syria.
In remarks televised Tuesday afternoon, U.S. President Barack Obama said the video demonstrated the Islamic State's focus on "death and destruction" and revealed how the Islamic State's ideology is "bankrupt."
"Should in fact this video be authentic it's just one more indication of the viciousness and barbarity of this organization," he said.
King Abdullah of Jordan was in Washington Tuesday, and reports surfaced Tuesday that he would cut short his U.S. visit and return to Jordan following the news of the video's release.
CNN @barbarastarrcnn : #Jordan King Abdullah will cut his visit to Washington, return to Amman in hrs. #ISISpic.twitter.com/DBmn1MGfUv

— Joyce Karam (@Joyce_Karam) February 3, 2015
As news of the purported killing hit the world, many journalists, Jordanians and Muslims tweeted anti-Islamic State messages of anger and sadness, accompanied by the hashtag "WeAreAllMaaz[Muath]" in Arabic.
#Jordan today stands united against all dark forces of extremism, ignorance & killings of innocent. #ISIS beware . #كلنا_معاذ#IamMuath

— Samar Obaid (@SamObaid) February 3, 2015
May we burn them one by one, like how they burned our pilot. #كلنا_معاذ Rest in Peace.

— بشار الشيخ خليل (@BasharPWNZ) February 3, 2015
Don't share the #ISIS photos allegedly showing the burning of Moaz Kasasbeh. This is how we remember him. #كلنا_معاذpic.twitter.com/ye18wmO8Zj

— Faisal Irshaid (@faisalirshaid) February 3, 2015
This story has been updated.
—
Follow Zach Noble (@thezachnoble) on Twitter