On his way home Tuesday night, Patrick Izzo was sitting in the front car of the Metro-North train from New York City when he and his fellow passengers felt a huge jolt.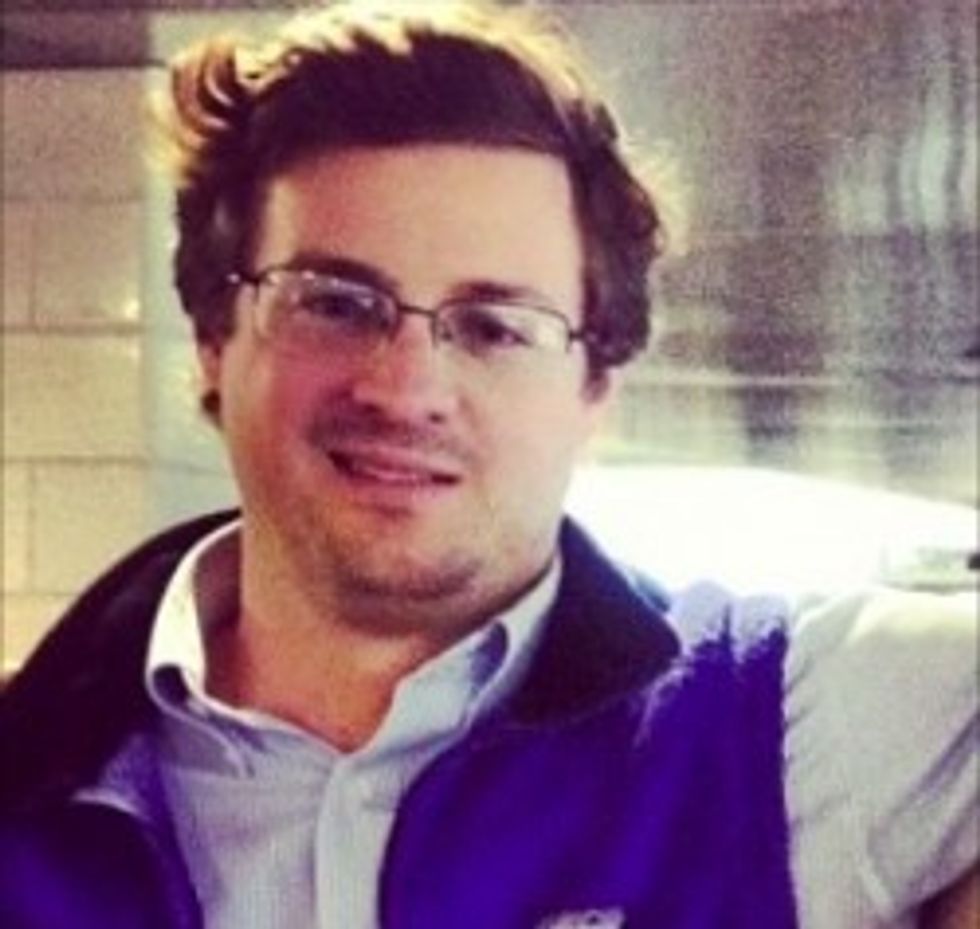 Patrick Izzo
Realizing there was a collision, the 29-year-old immediately stood up from his aisle seat and had a terrifying thought: What if the train derails?
So the business entrepreneur from Bedford, New York, began thinking of the best spot to be in case the train jumped the tracks.
But there was no time left. In the next instant, flames burst through the train.
The electric third rail came undone in the collision with an SUV sitting on the tracks, which created a huge fire when combined with gas from the vehicle.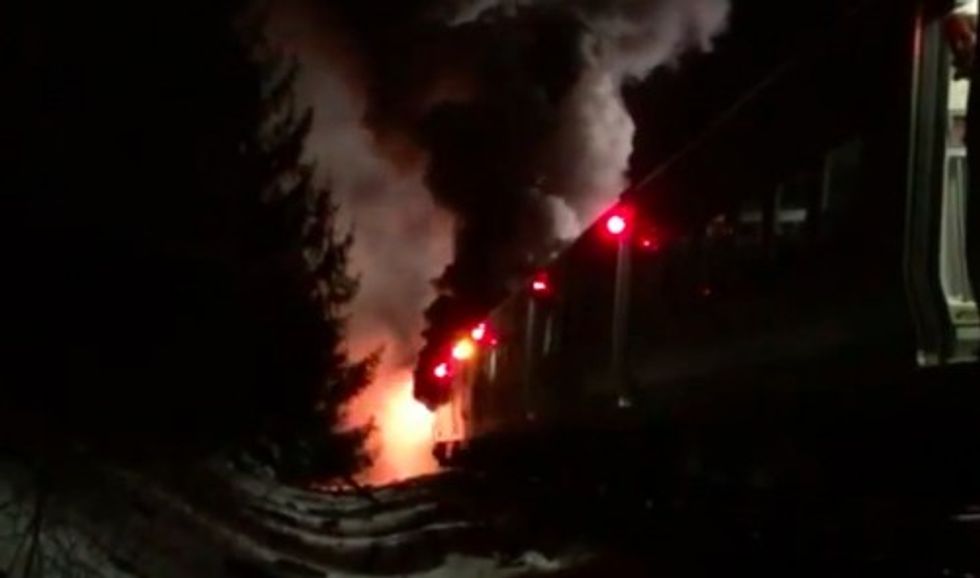 Image source: YouTube
Izzo, knocked over in the panic, looked down and noticed his hands and shirt were on fire. He felt flames singeing his hair, too.
More than that, around him were sudden casualties of that same third rail that pierced the floor of the train and struck passengers. A guy right in front of Izzo lost his leg; several others had severed limbs.
It all happened in one horrifying moment.
With flames filling the rail car and people dying, Izzo knew exactly what his surroundings resembled: "It was hell," he told TheBlaze.
But Izzo somehow had the presence of mind to head to a door and smash an emergency glass box with his elbow. He deployed the latch, and the train door opened.
Izzo waited for the train to slow down and then made the six-foot jump over the third rail and quickly plunged his burning hands underneath the snow. He was the first passenger out.
Others followed behind him, but some seemed nervous to take the leap — so Izzo started screaming for them all to get out of the burning train.
While many joined Izzo and jumped to safety after he got the train door open, a handful of others did not. In the end five train passengers died in the catastrophe; one individual inside the SUV that was struck by the train on the tracks also died.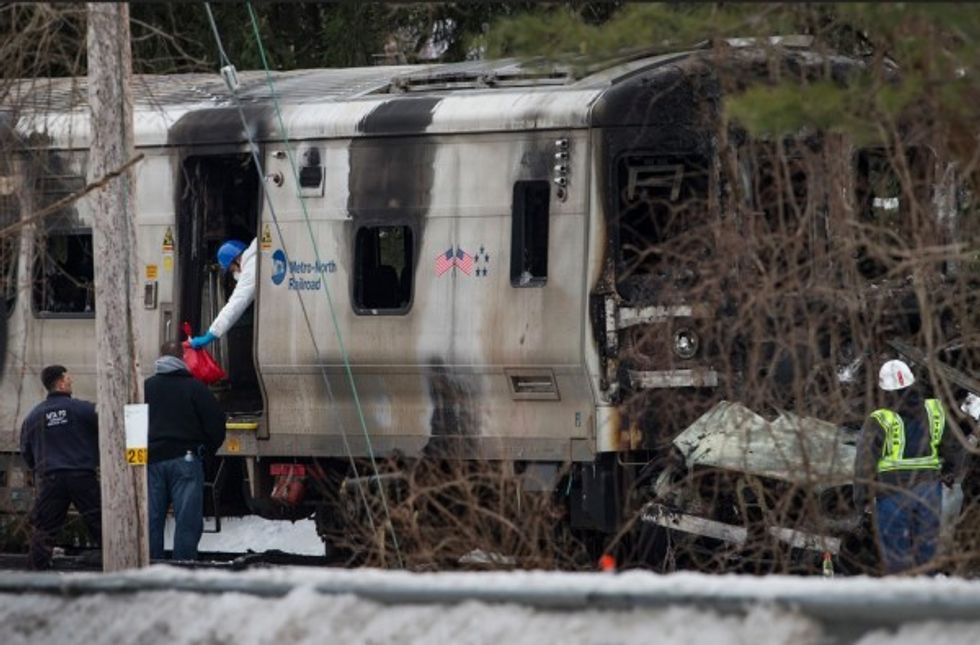 Officials inspect a Metro-North train crash with a sport utility vehicle that occurred last night in Valhalla, New York. The crash started a fire in the train cars that killed six people, including the driver of the vehicle.
(Image source: Andrew Burton/Getty Images)
The call went out to emergency personnel, but the train came to a stop between a hill and a river, meaning it took first responders longer to get to the injured. Izzo was in the cold for half an hour before he was carted off for treatment.
Izzo called his mother from the ambulance, telling her what happened and that his hands were burned. Figuring the burns mustn't be that serious if he could use his phone, Izzo's relieved mom didn't realize that someone dialed for Patrick and held the phone to his ear. She didn't know he was in the first car, either. Later she found out how serious his burns were.
Sally Izzo — Patrick's sister and a news producer for Laurie Dhue at TheBlaze TV — said she was simply thankful that her brother made it out alive.
Visiting him for the first time Wednesday at a hospital in Westchester, New York, Sally said she kept telling Patrick that he's a hero for getting that door opened — but he just wished he could have done more and was quick to credit others. In particular Izzo noted a woman seated at the very front of his train who miraculously escaped injury — and who just happened to be an EMT and helped rescue passengers.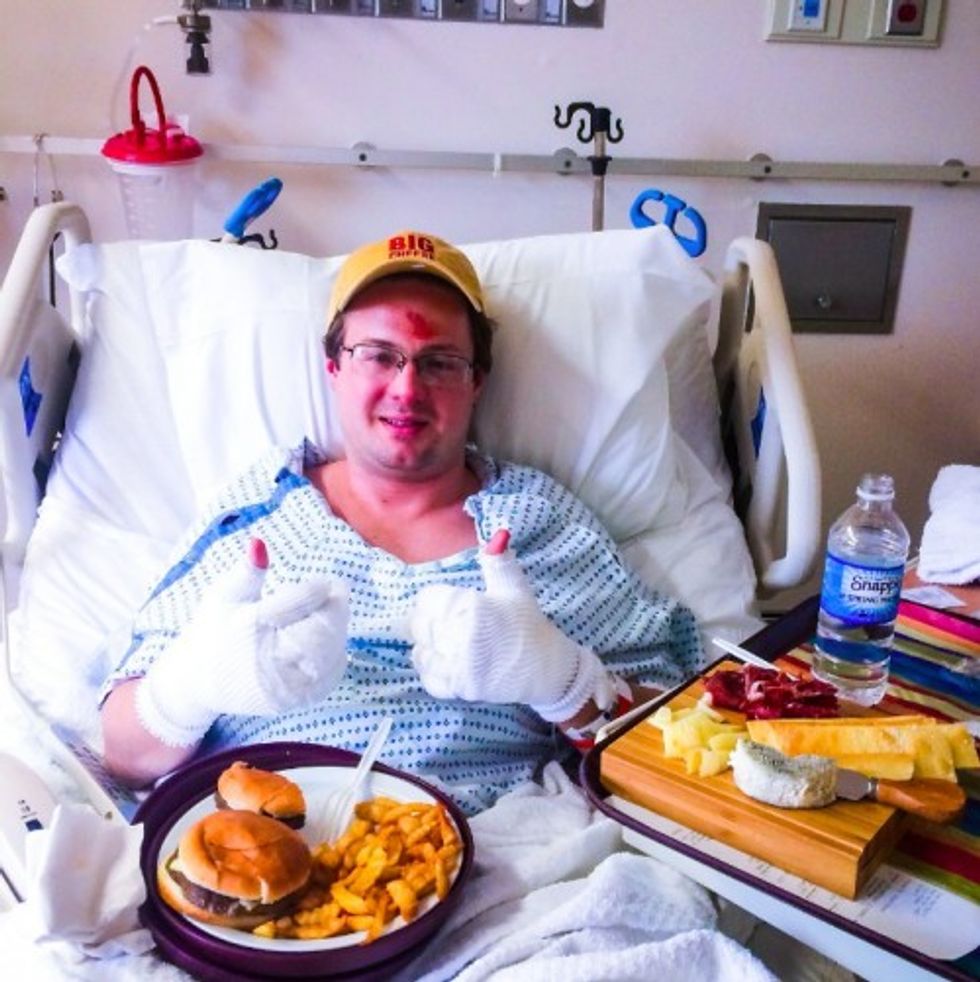 Patrick Izzo, the day after the deadly train accident outside New York City. (Image source: Sally Izzo)
Izzo's long-term prognosis is unclear, since 72 hours need to pass in order to evaluate the severity of his burns. But he has dexterity in his fingers, along with a lot of pain — which is actually a good sign because it means not all his nerves were burned.
In the end, Izzo suffered second- and third-degree burns on his hands, a burn on his forehead, and a cut leg; he also injured an ankle jumping from the train.
All of which is obviously minor compared to what could have happened. For now Izzo will endure a week in the hospital — which includes a surgery on his hands scheduled for Friday — receive regular redressing of the thick bandages, and indulge in his coveted cheese from Murray's in New York City that Sally brought to him upon request.
It's the least she can do for a hero.
This story has been updated.
—
Follow Dave Urbanski (@DaveVUrbanski) on Twitter