Senate Democrats blocked a bill to fund the Department of Homeland Security for the third day in a row on Thursday, a move Republicans say is preventing the Senate from doing its job, and could put DHS funding at risk later this month.
The Senate voted 52-47 in favor of advancing the DHS bill, but 60 votes were needed, so it failed for lack of support among Democrats. That's similar to the vote result seen on Tuesday and Wednesday.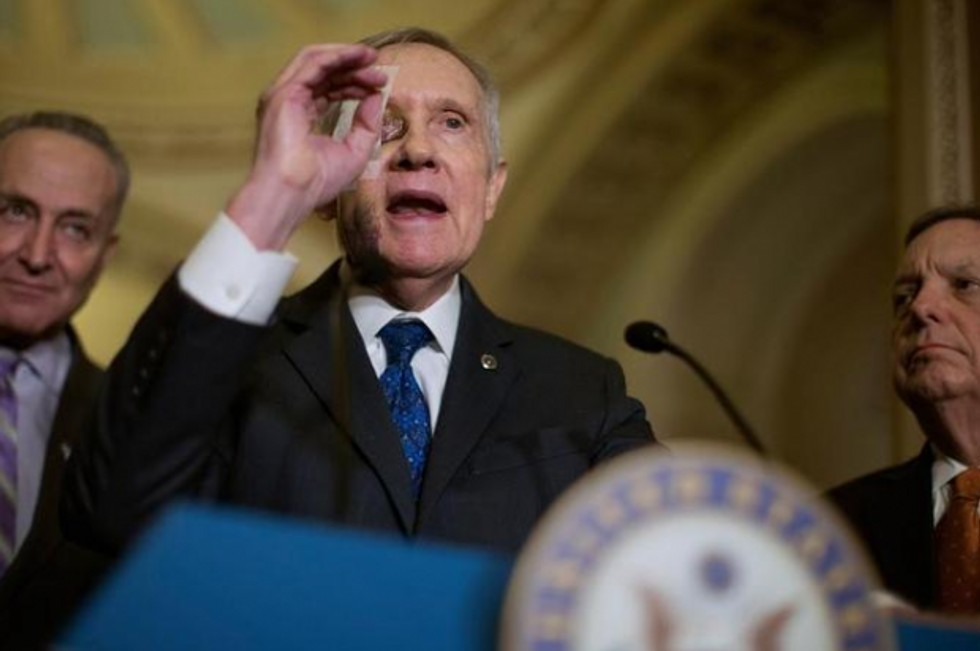 Senate Minority Leader Harry Reid (D-Nev.) gestures, and incidentally describes how many Democrats have voted to advance the DHS spending bill this week. Image: Chip Somodevilla/Getty Images
Democrats oppose the House-passed funding bill because it would also prevent President Barack Obama from implementing his executive action on immigration. They say that language makes it a non-starter for them, and have called on the GOP to call up a "clean" DHS bill that doesn't threaten Obama's immigration plan.
Democrats have also argued that Obama has said he would veto the bill, and say Republicans should therefore move a bill that doesn't attack Obama's immigration move if they want to ensure funding for DHS.
But Republicans have made it clear they are trying to return to a time when the Senate didn't simply take its cues from the White House, and worked on legislation on its own terms. On the floor today, Senate Majority Leader Mitch McConnell (R-Ky.) said Democrats should vote to advance the bill, since that would start a process of considering various amendments to it.
After that, McConnell said any differences between the House and Senate bills would be worked out in what's called a "conference," an event that used to be routine but is now rare.
"It would allow us to have a fair amendment process. If there are differences with the House regular order, there's a remedy. It's called going to conference," McConnell said.
"None of this is possible while the Democrats continue to filibuster even getting on the bill," he added.
Republicans have prided themselves on allowing members to offer amendments on bills, something that happened just 15 times in all of 2014 under Sen. Harry Reid (D-Nev.), who now leads the minority party. For example, the Senate took several weeks to pass a bill approving the Keystone pipeline in January, and dealt with several amendments from both parties.
But Reid told McConnell Thursday Democrats aren't interested in the process described by McConnell, and said the GOP needs to bring up a DHS bill that doesn't defund Obama's immigration program.
"There is bipartisan support to move forward on a free-standing bill that sends Homeland Security directly to the president," he said. "We want to do that, that's what should be done, that's regular order, and if you and the rest of the Republicans… want to come and debate immigration, we're willing to do that."
McConnell brushed Reid's criticism aside, and defended his proposed process. "What it would do would be to set up an order for amendments, rotating from side to side, which is exactly the open amendment process that the Democratic leader seems to feel somehow we're preventing," he said.
But with no Democrat voting to move ahead with the bill, it's unclear how the mess will be sorted out. Republicans are clearly hoping Democrats come around and agree to start work on the bill, while Democrats continue to hope the GOP will cave in and takes up a clean DHS bill.