The day after a heated confrontation between a Texas state representative and members of a local open carry group last month, the Texas house voted to make it easier for lawmakers to install panic buttons in their offices.
Kory Watkins — the leader of Open Carry Tarrant County, who allegedly put his foot in the doorway at the office of Rep. Poncho Nevarez (D-Eagle Pass) during January's dustup — later posted an inflammatory Facebook video directed at elected officials.
In the clip, Watkins says: "We should be demanding these people give us our rights back, or it's punishable by death. Treason. Do you understand how serious this is? Texas? We need to start sticking more than foots in doors, OK?"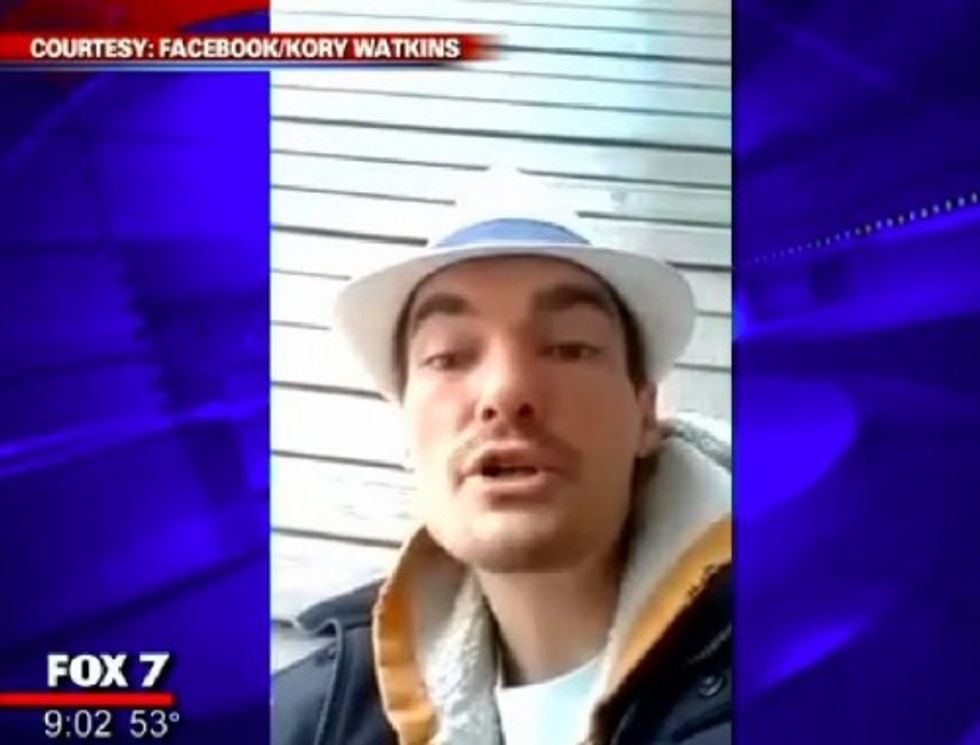 Kory Watkins (Image source: KTBC-TV)
While Watkins took down the clip Wednesday morning, saying he wasn't threatening anyone and figuring some "would intentionally misinterpret my words," the video has upset two prominent advocates of open carry in the Lone Star state, KTBC-TV in Austin reported.
C.J. Grisham with Open Carry Texas — which is unaffiliated with Open Carry Tarrant County — isn't happy with Watkins' actions.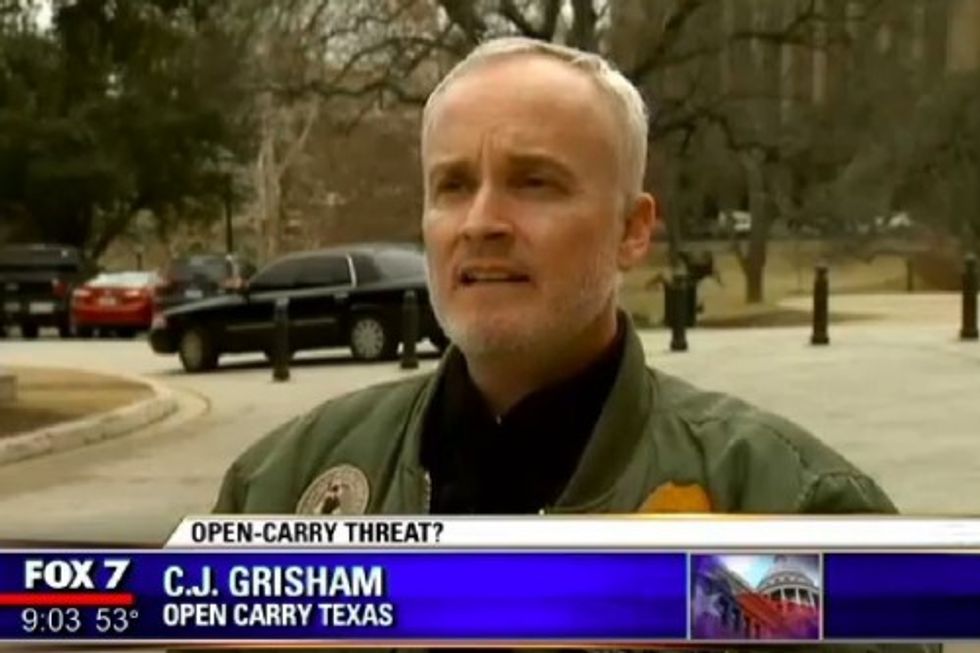 Image source: KTBC-TV
"It's very frustrating because every time we seem to be building momentum, along comes Kory saying something that completely destroys the respect that these bills have," Grisham told KTBC.
Terry Holcomb with Texas Carry — also unaffiliated with Open Carry Tarrant County — said Watkins' video message was "completely unacceptable."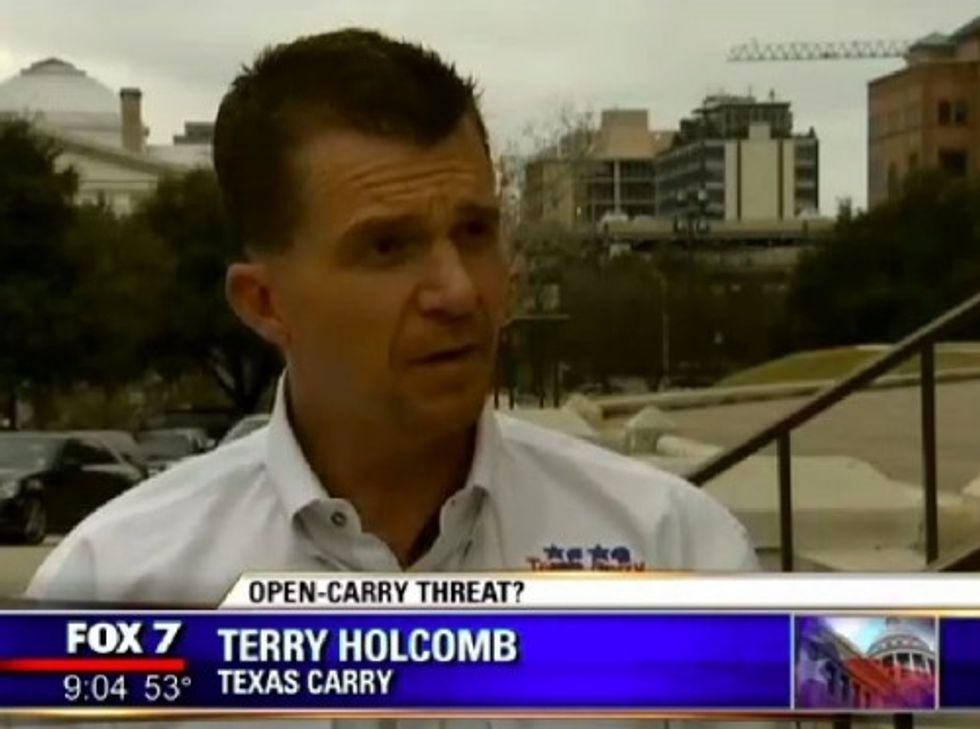 Image source: KTBC-TV
"It wasn't symbolic," Holcomb told KTBC. "He basically said he wanted to do something more than put his foot in the door..and he's taking it to the next level. Completely unacceptable language and I believe he meant exactly what he said."
Grisham made his displeasure with Watkins clear: "You know, I don't have a doctorate in the English language, but when you say that not voting for a bill is treason punishable by death, that doesn't mean that we're going to give you a lollipop. I don't know how you can interpret that any other way than a veiled threat."
Watkins' attorney downplayed the hubbub.
"In all the time that I've talked to him and I've talked to him when he's pretty excited...I've never seen Kory act as though he would be violent in any way...not ever," Warren Norred told KTBC. "He speaks strongly, he's passionate about what he wants to do."
Here's Watkins' full statement from his Facebook page regarding the video:
This morning I removed a video from my Facebook because I thought there were those that would intentionally misinterpret my words. In this video I referred to treason, and the fact that the penalty for treason was death. My intent was to show that our founders took treason very seriously. Our elected officials have taken an oath to defend the constitution. Dereliction of that oath is an equally serious matter. I was certainly not threatening anyone. I love the constitution dearly, and the constitution is very clear on the process for convicting someone for treason, I was obviously not calling for such a process, nor was I threatening anyone. I simply wished to point out the seriousness of the constitution.

Let me make it clear and unequivocal: I was not talking about hurting legislators, or anyone else. I am an advocate of peaceful non-cooperation. When I speak of "stepping it up a notch" mean within the boundaries of "peaceful non-cooperation". Instead of just a foot in the door. perhaps we need "sit ins" chanting "hell no we won't go".

We at Open Carry Tarrant County denounce in the strongest terms harming or threatening to harm persons or property as a strategy to bring about open carry in Texas. Anyone who has done so, has not done so on behalf of our organization. We at Open Carry Tarrant County proudly follow in the tradition of Ghandi, Martin Luther King and Rosa Parks in in using peaceful noncooperation as a means to demand our rights.
MyFoxAustin | KTBC | Fox 7 Austin | News Weather Sports
—
Follow Dave Urbanski (@DaveVUrbanski) on Twitter