National Security Advisor Susan Rice said the United States must take a longer view on national security, in a speech that focused as much on gender and LGBT equality and climate change as Islamic State terrorism and Russian aggression.
"The issues is not simply about when we should have started arming the Syrian rebels or whether we should provide lethal assistance to Ukraine," Rice said in a speech to the Brookings Institution when introducing President Barack Obama's 2015 National Security Strategy. "It's about the nature of U.S. leadership for the future. With this national security strategy, we stake out a much larger role for America in shaping the world while anticipating the challenges to come."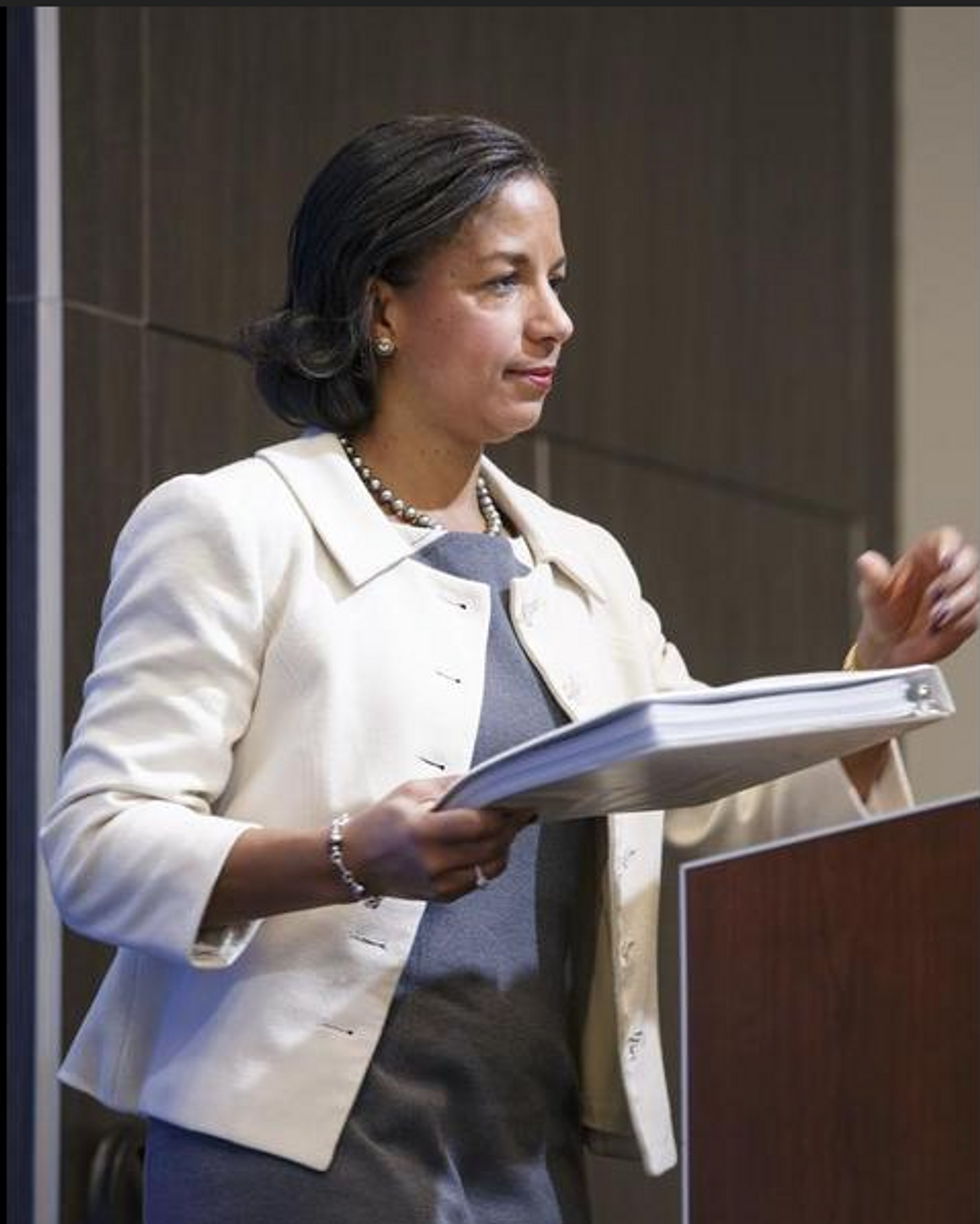 National Security Adviser Susan Rice arrives to speak at the Brookings Institution to outline President Barack Obama's foreign policy priorities, Friday, Feb. 6, 2015, in Washington. (AP Photo/J. Scott Applewhite)
However, when taking questions, Rice said the Obama administration has not yet reached a decision on arming Ukraine as it battles Russian-backed separatists.
"We are very much assessing with our European allies what comes next with respect to economic pressure and other forms of pressure," Rice said. "We are already providing military assistance to Ukraine. We have not taken the decision yet to up that to include lethal defensive equipment. It's something that's under consideration. But obviously, it's a significant step."
Rice said the U.S. has gained much ground in the fight against the Islamic State.
"Together, we've taken out thousands of ISIL's fighters, destroyed nearly 200 oil and gas facilities that fund their terror, and pushed them out of territory," she said. "With the world united in condemnation of its horrific executions, ISIL should know that their barbarism only fortifies the world's collective resolve."
On Iran, she said the U.S. is making a move toward a "world without nuclear weapons," and urged Congress against additional sanctions while the negotiations continue.
She went on to frame the national security aspects of climate change, which she said the administration is addressing with its "groundbreaking climate commitment with China."
"American leadership is addressing the very real threat of climate change. The science is clear," she said. "The impacts of climate change will only worsen over time. Even longer droughts, more severe storms, more forced migration."
Rice stated that two years is "plenty of time" for Obama to implement his national security strategy, which includes leading by example. She said that the Guantanamo Bay prison population has been reduced by half and "we plan to finish the job."
She also stated that Obama has deepened America's commitment to equality at home and abroad.
"We believe everyone should be able to speak their minds and practice their faith freely," Rice said. "We believe that all girls deserve the very same opportunities as boys. We believe that all human beings are created equal and are worthy of the same love and respect, including our lesbian, gay, bisexual and transgender brothers and sisters."