Kid Rock had some not-so-nice words for Michael Moore and Seth Rogen late last month for the filmmaker and actor's comments about the new "American Sniper" movie and now the singer is doubling down on his criticism.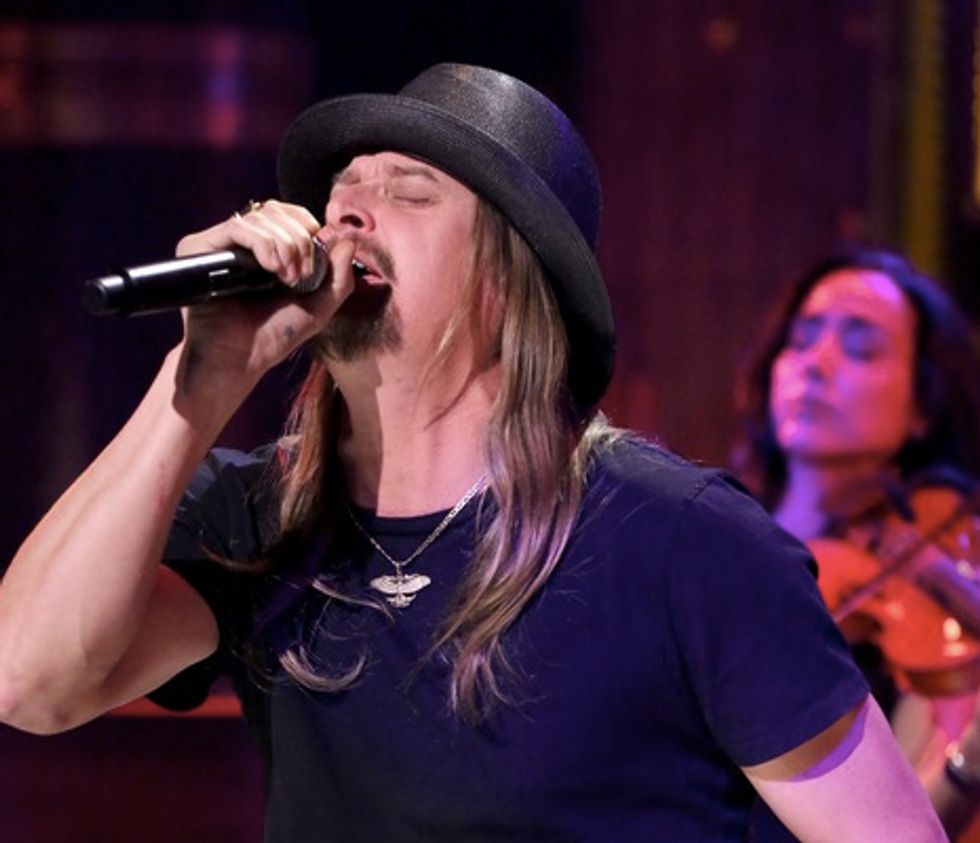 Image source: NBC/NBCU Photo Bank via Getty Images
During an interview with the New York Times Magazine Friday, the singer defended the explicit remarks that seemed to express a distaste with the movie that retells the story of American war veteran Chris Kyle.
"It was something that I could run my mouth on. I've been so connected to the military, so I thought it was my place. Everyone knows, or they should know if they're going to comment, that these guys don't create policy. They get their orders, and that's what they're supposed to do," Kid Rock told the Times Magazine.
"But I'd be lying if I said I wasn't looking for an excuse to tell Michael Moore to go f*** himself. When this came up, I was like, "There it is!" the singer added.
Following the movie's release, Moore, a liberal filmmaker, tweeted controversial remarks, in which he did not mention the movie by name but took aim at snipers in general:
My uncle killed by sniper in WW2. We were taught snipers were cowards. Will shoot u in the back. Snipers aren't heroes. And invaders r worse

— Michael Moore (@MMFlint) January 18, 2015
Rogen, who co-starred with actor James Franco in the embattled movie "The Interview," tweeted his own remarks about the movie the same day as Moore, saying,
American Sniper kind of reminds me of the movie that's showing in the third act of Inglorious Basterds.

— Seth Rogen (@Sethrogen) January 18, 2015
Rogen clarified what he meant by issuing a separate tweet the next day:
I just said something "kinda reminded" me of something else. I actually liked American Sniper. It just reminded me of the Tarantino scene.

— Seth Rogen (@Sethrogen) January 19, 2015
Kid Rock went on to talk about his political leanings and who might be willing to support for president in 2016.
"Fiscally, I'm Republican. But the social issues kill me — gay marriage and abortion. It's like, Come on, man, get off it. There's so many big problems we got that we really need to address in this country," he said.
"I'm very interested in the things that Ben Carson has to say. I'm very interested in our governor in Michigan [Rick Snyder], who is bringing Detroit out of bankruptcy. I'd love to see him go for the gold, because he's a nerd, and he's an accountant," Kid Rock said of his 2016 preferences.
But as far as endorsing anyone as he did for Mitt Romney in 2012, he's not quite ready to make any final decisions yet: "[A]t this point, I just don't know. It's definitely not on my list of things to do."
(H/T: New York Times Magazine)
–
Follow Jon Street (@JonStreet) on Twitter