Meteorologists are searching for answers after rain with a "milky" quality fell in the Pacific Northwest Friday.
Mark Turner, a meteorologist at the National Weather Service in Spokane, told BuzzFeed that the "dirty" rain was seen in Oregon, Washington and Idaho.
Rainwater collected from our rain gauge today. Rather murky. Still not sure why. #wawx #cloudyrain pic.twitter.com/bp225Mfv50

— NWS Spokane (@NWSSpokane) February 6, 2015
No one, however, seems to know exactly what caused it.
"We have heard a few theories thus far including; volcanic ash from Mexico or Russia, dust picked up from last night's strong winds, or perhaps ash from last year's wildfires over SE Oregon/SW Idaho. We still don't have a definitive answer," the NWS Spokane said in a Facebook post.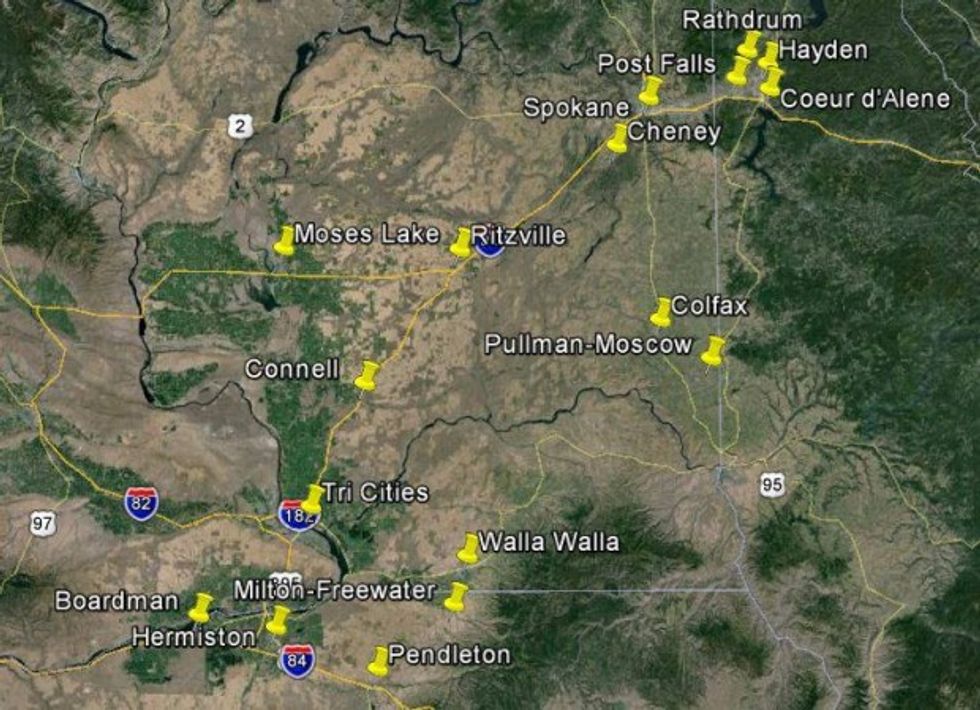 Image source: National Weather Service Spokane / Facebook
Turner elaborated on one of the theories to BuzzFeed.
"Oregon has had strong winds," he told the website. "It could just be that an area has been dry and strong winds kicked up some dust."
"In some summer dry spells we'll get big dust storms and then if it rains we can see a similar thing," Turner added. "But the timing of this is odd."
Others gave more weight to alternative theories.
One weather enthusiast suggested that the rain might be a result of Japan's Sakurajima eruptions.
The 'dirty rain' near @NWSSpokane might be from Japan's Sakurajima eruptions lately #wawx https://t.co/oWdmcyNyYl pic.twitter.com/Xr96eTFPyd

— James Hyde (@wxmeddler) February 7, 2015
That theory was echoed by a local Washington state emergency office.
"We have received reports of 'white stuff' on vehicles," the Walla Walla County office said in a Facebook post. "The ash is more than likely from Volcano Shiveluch in Kamchatka Krai, Russia, which spewed an ash plume to about the 22,000-foot level in late January. It has been deposited in a wide spread area, including Washington and Oregon."
Here's a closeup of the "dirty" rain at our office. #wawx pic.twitter.com/alG85QatHB

— NWS Spokane (@NWSSpokane) February 6, 2015
Nevertheless, no one is certain at this point what caused the mystery rain.
"While many have speculated on the origins of the residue, the truth is that we really don't know where it came from!" the NWS Spokane said on Facebook. "We are continuing to investigate and have reached out to other offices for assistance in recreating atmospheric flows from the past several days. We've also reached out to other agencies that may have collected samples appropriate for testing."
"We don't really know," Turner echoed to BuzzFeed. "It's a mystery at this point."
—
Follow Oliver Darcy (@oliverdarcy) on Twitter