President Barack Obama said his refusal to meet with Prime Minister Benjamin Netanyahu two weeks before Israel's elections isn't personal — he wouldn't meet with German Chancellor Angela Merkel under the same circumstances, either.
"As much as I love Angela, if she was two weeks away from election, she probably would not have received an invitation to the White House, and I suspect she would not have asked for one," Obama said at a joint news conference with the German leader Monday at the White House. "Some of this just has to do with how we do business. I think it is important for us to maintain these protocols because the U.S.-Israeli relationship is not about a particular party."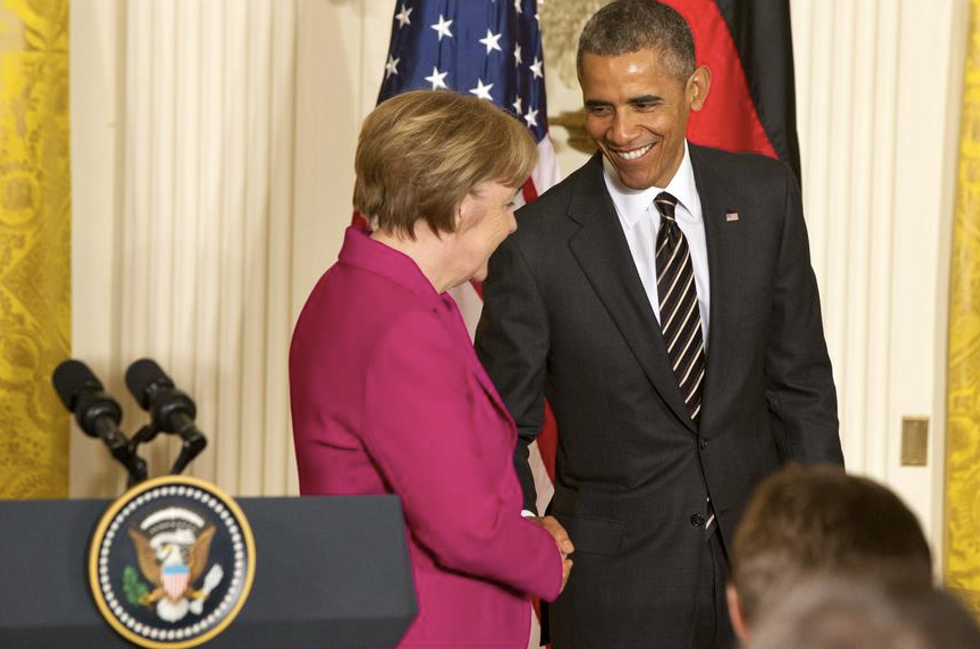 President Barack Obama shakes hands with German Chancellor Angela Merkel after thier joint news conference in the East Room of the White House in Washington, Monday, Feb. 9, 2015. The leaders were expected to discuss the ongoing conflict in Ukraine, and arming Ukrainian fighters to wage a more effective battle against Russian-backed separatists. (AP Photo/Jacquelyn Martin)
Obama said the relationship between the United States and Israel is unbreakable but that he and Netanyahu have their "differences," particularly over sanctions for Iran amid nuclear negotiations.
"I don't want to be coy. The prime minister and I have differences around Iran's sanctions," Obama said. "I have been very clear and Angela agrees with me and [British Prime Minister] David Cameron agrees with me and the others who are members of the negotiations agree that it does not make sense to sour the negotiations a month or two before they are about to be completed and we should play that out if we can get a deal, we should embrace it. If we cannot get a deal, we will have to make a set of decisions and, as I said to Congress, I will be the first one to work with them to apply even stronger measures against Iran."
House Speaker John Boehner (R-Ohio) invited Netanyahu to speak to a joint session of Congress without first informing the White House, which the administration said was a breach of protocol. The White House subsequently said Obama would not meet with Netanyahu during his U.S. trip because of the "close proximity to their elections, so as to avoid the appearance of influencing a democratic election in a foreign country." Netanyahu's speech is planned for March 3; the Israeli elections are March 17.
On Monday, Sen. Bernie Sanders (I-Vt.) became the first senator to say he will skip Netanyahu's speech.