A father in Seminole County, Florida, is raising concerns after he discovered a lesson on Islam in his son's 10th-grade history textbook, a book that is also used by school districts across the state.
In an interview with WFTV, the father, Ron Wagner, read from his son's history book:
"There is no god, but God. Muhammad is the messenger of God."
Wagner also claimed that students were told to "recite this prayer as the first Pillar of Islam, off of the board at the teacher's instruction."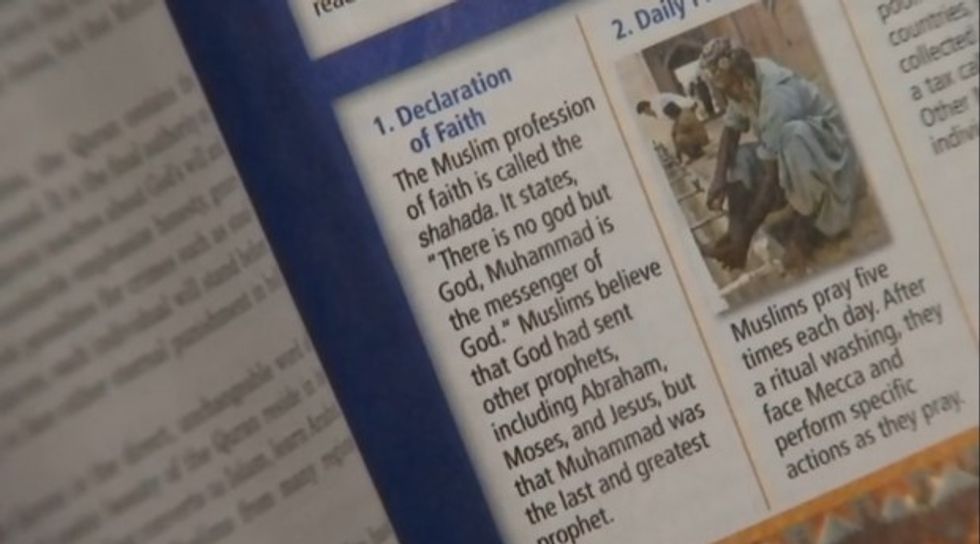 WFTV
Wager said he's not a religious man, but making such a heavily religious lesson "mandatory and part of the curriculum" just "didn't seem right." He wasn't even aware such lessons were being taught until he saw a text on his son's phone from a teacher — a reminder to complete his prayer rug assignment and study an assigned packet on Islam.
The textbook in question is titled "World History" by publisher Prentice Hall. WFTV has more on the content in the chapter on Islam:
Inside of the book is a chapter dedicated to the "Rise of Islam," including prayers and scriptures from the Quran. What's more disturbing for Wagner is that the first 100 pages discussing Judaism and Christianity are missing. The district blames a manufacturer defect in 68 books that are only a year old.
The Seminole County School District reportedly conducted an investigation after hearing Wagner's concerns and determined no indoctrination or inappropriate instruction was taking place. Further, Dr. Michael Blasewitz, who is in charge of the high school curriculum, told the father that the "Pillars of Islam are benchmarks in the state curriculum," according to Wagner.
Blasewitz also reportedly "stormed out" during an interview about the Islam lessons, telling the news outlet, "If anything, [the curriculum] is a little imbalanced toward Christianity and Judaism."
(H/T: Fox News Insider)