Sens. Pat Leahy (D-Vt.) and Brian Schatz (D-Hawaii) will skip the planned March 3 address to Congress by Israeli Prime Minister Benjamin Netanyahu, and are the first two Senate Democrats to say they won't attend.
Like many House Democrats who will skip the speech, Leahy said he didn't approve of the way House Speaker John Boehner (R-Ohio) invited Netanyahu to speak without coordinating with congressional Democrats or the Obama administration.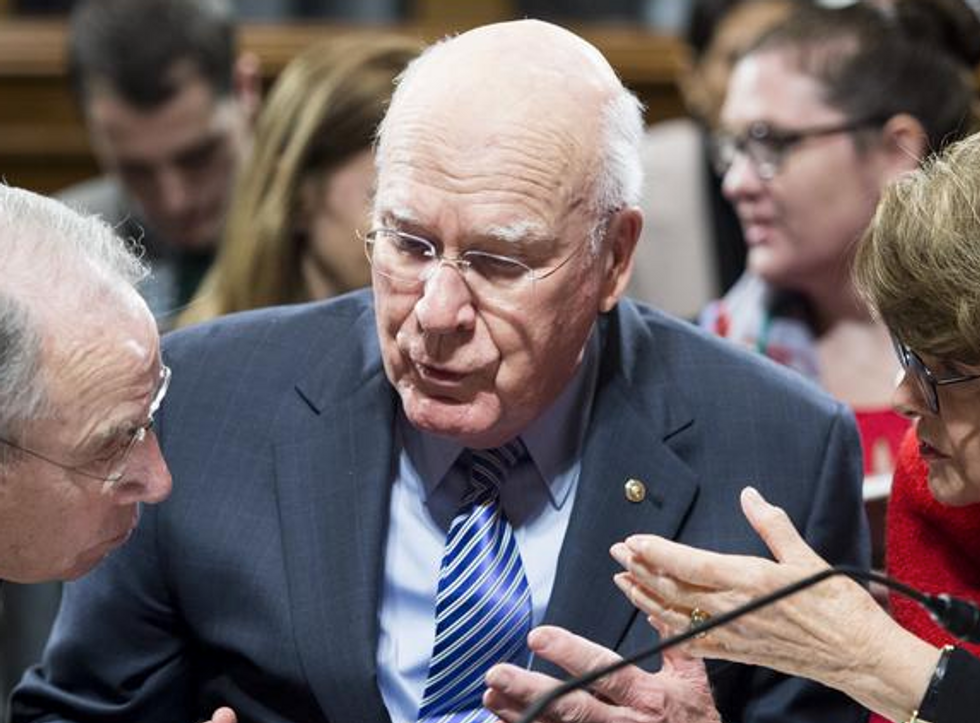 Sen. Pat Leahy (D-Vt.) said Monday he wouldn't attend Israeli Prime Minister Benjamin Netanyahu's March 3 speech. Image: Bill Clark/CQ-Roll Call,Inc.
"The unfortunate way that House leaders have unilaterally arranged this, and then heavily politicized it, has demolished the potential constructive value of this Joint Meeting," said Leahy, who is the top Democrat on the Senate Judiciary Committee.
"They have orchestrated a tawdry and high-handed stunt that has embarrassed not only Israel but the Congress itself," he added. Leahy said foreign policy is supposed to be more coordinated between the parties, but said Republicans have "diminished that valuable precedent" with its Netanyahu invitation.
Schatz agreed, and said in a Tuesday statement that he was "disappointed" with the lack of coordination from Republicans.
"Congress has a longstanding tradition of bipartisanship in foreign policy," he said. "We must continue that important tradition. I will not be attending Prime Minister Netanyahu's speech because it does more harm than good to the bipartisan U.S.-Israel alliance."
Leahy and Schatz joined Sen. Bernie Sanders (I-Vt.), who said earlier Monday that he wouldn't attend the speech because it was "wrong" that President Obama wasn't consulted.
Sanders said Monday that he wouldn't go, but said, "I may watch it on TV."
Aside from being angry about the lack of coordination with the Netanyahu visit, Democrats have also said it's wrong for foreign leaders to make high-profile visits with top U.S. officials so close to their national elections. Netanyahu will speak on March 3, and Israel's elections are slated for just two weeks later.
That reasoning is partly why President Barack Obama, Vice President Joe Biden, and Secretary of State John Kerry also have no plans to meet with Netanyahu. However, some conservatives have said that rule appears to be a loose one, as Obama himself has met with foreign leaders on the cusp of their national elections.
The controversy over the visit has prompted several House Democrats to say they won't attend, but so far, Leahy and Sanders are the only two senators to say they won't go.
— This story was updated at 4:12 p.m.