The confirmed death of an American held hostage by the Islamic State is prompting some Republicans to demand a tougher military posture against terrorist group — a demand that could make it harder for the Obama administration and Congress to agree on a battle plan.
On Tuesday morning, the White House confirmed the death of Kayla Mueller, an American who had been held hostage by the Islamic State for more than a year.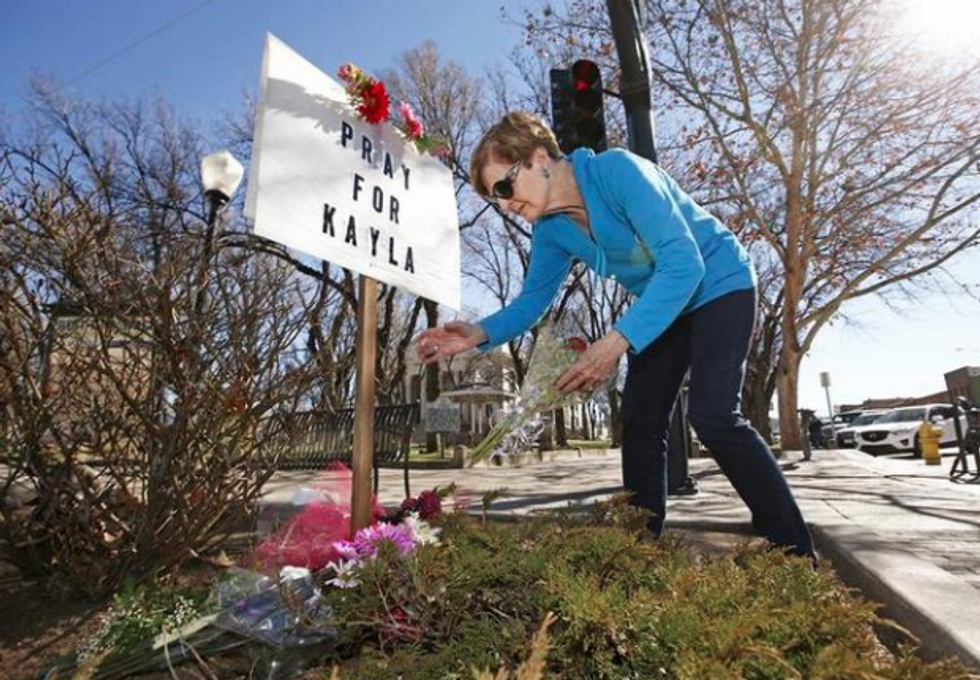 A woman leaves a bouquet of flowers at a 'Pray for Kayla' sign in Arizona. Mueller, a 26-year-old American woman held by Islamic State militants, has been confirmed dead, her parents and the Obama administration said. Her death led some Republicans to call for a tougher military posture against the Islamic State.
That announcement came just a day before the White House was expected to formally ask Congress for authority to use military force against the Islamic State. The administration is known to support a request that does not allow for ground troops, except in limited circumstances.
But Mueller's death led some to say it's time to consider stepping up U.S. involvement. So far, the U.S. has used airstrikes against the Islamic State, and has been training troops in Syria to fight on the ground that the U.S. hopes can ultimately be used to fight the terrorist group directly.
House Speaker John Boehner (R-Ohio) didn't specifically call for U.S. ground troops, but did say the U.S. effort needs to be "redoubled" in the wake of Mueller's death.
"The tragic death of Kayla Mueller underscores the brutal nature of the enemy we face in ISIL, a group of terrorist thugs that has brought medieval savagery to the 21st century," Boehner said. "This brave and caring woman – who lived a life dedicated to helping those most in need - and her family are in my thoughts and prayers."
"Our efforts to defeat this terrorist enemy must be redoubled, for the sake of all of their victims," he added.
Mueller was from Arizona, and Rep. Matt Salmon (R-Ariz.) joined Boehner in saying the U.S. needs to find ways to do more. Salmon said the U.S. should react the way Jordan did last week after the Islamic State burned one of its pilots alive.
"As Jordan has responded, so should America, and it is my hope that President Obama will bring the full, swift, and deadly force of the United States military to bear against these Islamic extremists who seek to crush Iraq, Syria, and the Middle East as a whole and subject them to the oppression of 'the caliphate,' " he said.
Those comments fall short of an explicit call for ground troops, and even when that option is mentioned, it's seen as a last resort. Sen. Ted Cruz (R-Texas) said over the weekend that the mission should be to defeat the group at all costs.
"If need be, we should go that step, but it should be driven by the mission," he said.
Still, the reactions so far indicate that many in the GOP wants to take tougher steps. At a minimum, that could mean keeping open the option of using ground troops if necessary, language that would likely make Democrats wary of opening the door to a major new military effort in the Middle East.
Bloomberg reported Tuesday afternoon that the White House seems to be considering a request that prohibit "enduring offensive ground operations," and would make just a few exceptions to this limitation. Other reports indicate President Obama's request will be limited to a three-year effort against the Islamic State.
Several Republicans have indicated this kind of language won't work, since it not only ties the hands of the executive branch, but it also telegraphs to the Islamic State that they will never have to face U.S. ground forces.
If that language does prove to be a stumbling block to an agreement, there's a chance the White House could decide it doesn't need its request approved by Congress. White House officials have said before they believe they already have the authority they need to fight the Islamic State.
Even if the White House makes its request this week, debate and votes on a resolution are likely to start in late February or early March, since both the House and Senate are out next week.