In the past 30 days, Boston has seen over 73 inches of snow hit the city. The snow from the past week helped the city smash 1978's 30-day snowfall record of 58.8 inches.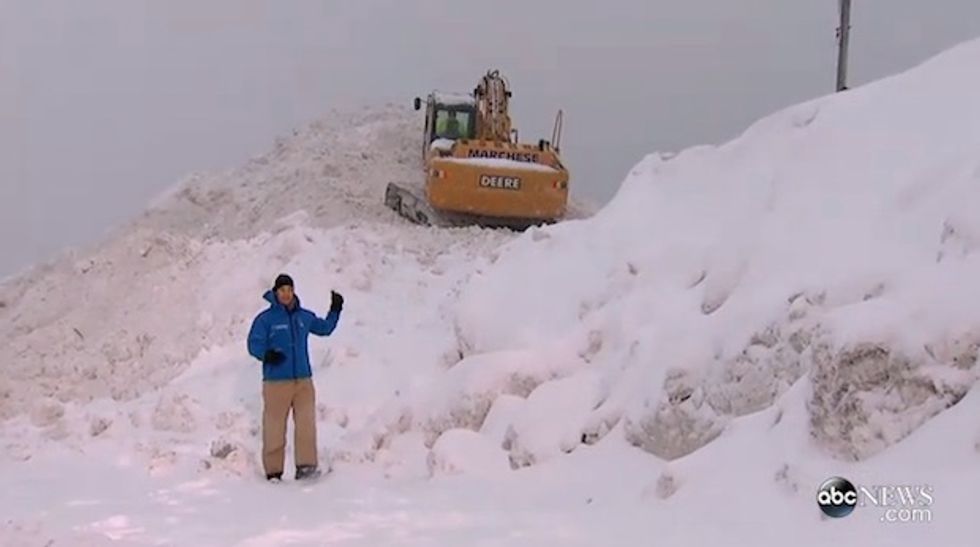 Image: Screen capture ABC News
Boston budgeted $18 million for snow removal this winter. That money has already been spent and there is more snow on the way.
The record-setting snowfall has also saddled Boston and all of the surrounding communities with a dilemma -- where do they put all of the snow removed from the streets?
The answer is simple; snow farms.
Snow farms are the places where snow is sent to be melted. After being moved off streets into piles, it is loaded onto trucks and taken to the snow farms where it stacked as high as 40 feet. Bulldozers move the massive piles of snow into trucks equipped with heaters capable of turning snow and ice into water at a rate of 350 tons an hour.
Why isn't the snow just pushed into the waters of nearby Boston Harbor? The city and local areas used to do just that. However, environmental concerns changed that tactic back in 2009. Snow that hits the streets picks up oil and chemicals that could contaminate the water.
Only when public safety is at risk, are the rules relaxed and snow is allowed to be shoved into the harbor or the ocean. The Boston Globe reports that the Department of Environmental Protection, the U.S. Coast Guard and local environmental groups have been alerted to the need to dump the snow into the water. It appears that all are in agreement, the situation has reached the point where public safety trumps the environmental precautions normally applied to snow removal.
ABC News covered how the snow is being handled.
__
Follow Mike Opelka (@Stuntbrain) on Twitter.