Archaeologists recently discovered 100 "cult sites" featuring stones shaped like sexual organs, among other artifacts, in the Eilat Mountains in Israel's Negev Desert.
The experts, who published their findings in the Journal of the Israel Prehistoric Society, say that the locations, which date back 8,000 years, may have hosted animal sacrifices and are investigating further to learn more about the precise use of the elusive sites, Live Science reported.
"The sites' location on the igneous mountains is unique, very different from the known settlement pattern of sites of the southern Negev," an abstract reads. "The newly discovered sites consist of small, low stone installations – circular, oval and elongated, as well as a repeated pattern of a pair with an elongated cell pointing to a circle. They also contain an array of distinctive objects that imply their function as cult site."
Artifacts, stone structures and carvings were found in these areas, which the outlet reported were sometimes clustered together.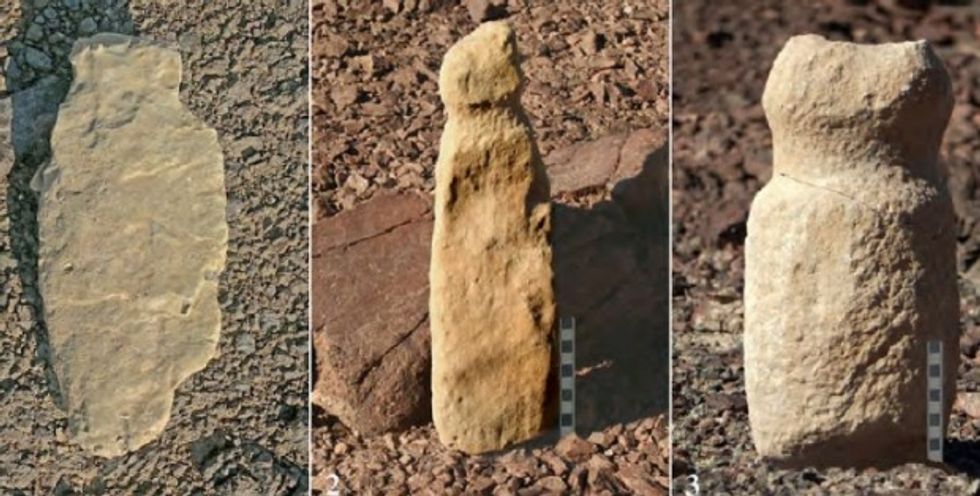 Anthropomorphic images found at the site (Journal of Israel Prehistoric Society)
It is believed that these sites belonged to people in the Pre-Pottery Neolithic B period, with the article noting that the information found offers a "new insight into the spiritual culture of the desert Neolithic societies."
Archaeologists also said that it appeared as though both life and death were themes depicted among the symbols and artifacts found at the sites.
As for the theme of life, researchers found what they claim are images depicting male and female genitalia, with death being represented by the burial of stone objects that were set upside down, according to the paper.
"The circle is a female symbol, and the elongated cell is a male one (phallus)," Uzi Avner, researcher with the Arava-Dead Sea Science Center and the Arava Institute, told Live Science.
Researchers claim that combinations of life and death themes are "well-known in anthropological studies as relating to ancestral cult," as they plan to continue researching the purpose and meaning of the various artifacts.
While most of the sites were found in generally flat areas of the Eilat Mountains, others were located in other regions of southern Jordan and Negev, indicating a "broad phenomenon," according to archaeologists. 
"The many cult sites stand in contrast to the small number of Neolithic habitations known in the Negev and they offer a new insight into the spiritual culture of the desert Neolithic societies," the paper read.
Read more about the find here.
(H/T: Live Science)