President Barack Obama has submitted a request to Congress to expand the fight against the Islamic State, including the possibility of ground operations.
Congress and the White House have been discussing the specifics of approving an authorization for use of military force resolution. The resolution would be in place for three years, so would carry over to the next president.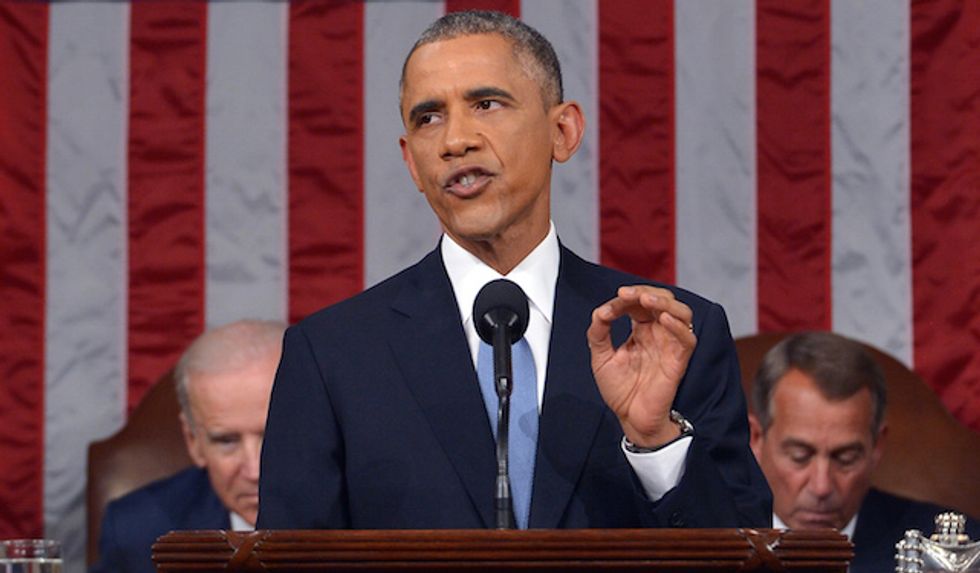 AP Photo/Mandel Ngan
"The authorization I propose would provide the flexibility to conduct ground combat operations in other, more limited circumstances, such as rescue operations involving U.S. or coalition personnel or the use of special operations forces to take military action against ISIL leadership," Obama said in the letter to Congress Wednesday.
"It would also authorize the use of U.S. forces in situations where ground combat operations are not expected or intended, such as intelligence collection and sharing, missions to enable kinetic strikes, or the provision of operational planning and other forms of advice and assistance to partner forces," the letter continues.
Obama has said he has the authority to combat the Islamic State under the post-9/11 authorization for military force granted to President George W. Bush, but there has been legal debate on the matter. Obama has further said he wants the United States to present a united voice agains the Islamic State.
"Although existing statutes provide me with the authority I need to take these actions, I have repeatedly expressed my commitment to working with the Congress to pass a bipartisan authorization for the use of military force (AUMF) against ISIL," Obama said in the letter.
The major sticking point will be ground troops. Currently the U.S. has engaged in airstrikes, while the only on-ground military personnel have been in a training and advisory role for the Iraqis.
Obama's proposal would reportedly allow the use of special forces and advisers for defensive purposes but would prohibit "enduring offensive ground forces," lawmakers and aides told Reuters. The proposal would not set any geographic limitations on combatting the Islamic State, a Sunni militant group mostly concentrated in Iraq and Syria.
The proposal comes to Congress the day after the Obama administration confirmed the death of U.S. aid worker Kayla Mueller, who was held captive by the Islamic State.
"It threatens American personnel and facilities located in the region and is responsible for the deaths of U.S. citizens James Foley, Steven Sotloff, Abdul-Rahman Peter Kassig, and Kayla Mueller," Obama said in his letter. "If left unchecked, ISIL will pose a threat beyond the Middle East, including to the United States homeland."
Read full request.