It's befuddled scientists for decades but now, French scientists think they might have finally discovered the answer.
The mystery of how popcorn pops and what exactly causes that audible noise led a team of French scientists to place a piece of popcorn on a hot plate and record the process using a high-speed camera. The camera took 2,900 pictures per second as the phenomenon occurred.
What they found in their observation is that popcorn bursts open, jumps and then "pops" all in a matter of a few hundredths of a second. The graphic below provides a clearer understanding of the process.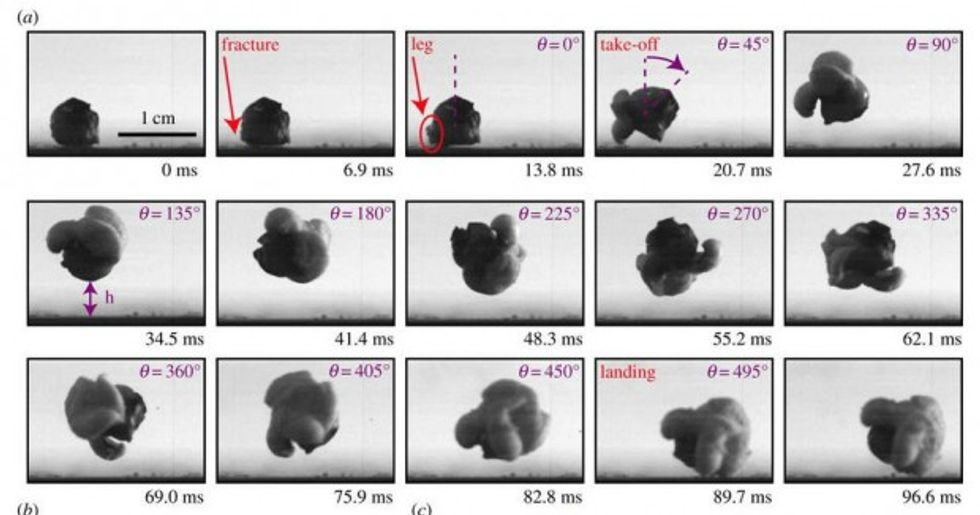 A graphic shows the steps that occur as popcorn pops. (Image source: Journal of the Royal Society Interface)
"We observe that popcorn jumps with a 'leg' of starch which is compressed on the ground. As a result, popcorn is midway between two categories of moving systems: explosive plants using fracture mechanisms and jumping animals using muscles," the researchers wrote in the Journal of the Royal Society Interface.
"By synchronizing video recordings with acoustic recordings, we propose that the familiar 'pop' sound of the popcorn is caused by the release of water vapor," they added.
The scientists further noted that when the popcorn reaches a temperature of more than 100 degrees Celsius, the moisture contents begin to boil.
As the vaporized pressure continues to increase, the hull of the popcorn breaks, jumps anywhere from a few millimeters to several centimeters and around the same time produces the famous "popping" sound. All of this happens simultaneously as starch granules expand, eventually forming the spongy texture of popcorn pieces in many shapes.
Such observation suggested that water vapor is the cause of the decades-old mystery of where popcorn gets its "pop." But to be sure, they conducted one last examination. Going back to the video they recorded, they harmonized the media elements and arrived at this inference.
"Concerning the 'pop' sound, we synchronized acoustic and video recordings: the scenario of an excitation by the water vapor release is consistent with our observations," the scientists concluded.
The Daily Mail published this video showing how a single piece of popcorn becomes a soft, fluffy starch:
(H/T: Daily Mail)
–
Follow Jon Street (@JonStreet) on Twitter