U.S. Marines destroyed their weapons with sledgehammers before evacuating with other U.S. personnel from the embassy in Yemen after rebels seized control of the country.
Just before leaving the capital city of Sanaa Wednesday, U.S. Embassy Marines and diplomatic personnel destroyed weapons and left more than 20 vehicles at the airport before departing the country on a civilian charter plane.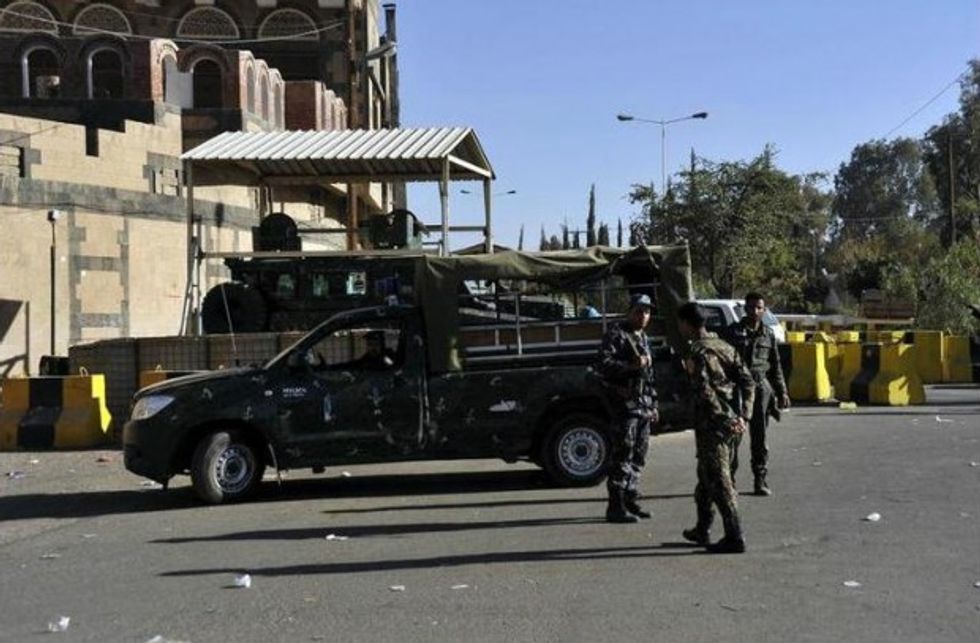 Security forces stand guard around the U.S. Embassy building in Sanaa, Yemen, on Feb. 11, 2015. The U.S. government closed its embassy in Yemen and evacuated all diplomatic staff after Shiite Houthi rebels took over large parts of the country. (Anadolu Agency/Getty Images)
"Specifically, each bolt was removed from its weapons body and rendered inoperable by smashing with sledgehammers. The weapons bodies, minus the bolts, were then separately smashed with sledgehammers. All of these destroyed components were left at the airport – and components were scattered; no usable weapon was taken from any Marine," the Marine Corps said in a statement.
Military.com reported, it isn't clear who is now in possession of the equipment. The outlet reported M-9 pistols and M-4 carbines were among the items destroyed.
The Marines insisted nothing was "handed over" to any rebels.
"The Marine Security Force left the American embassy in Yemen for the movement to the airfield as part of the 'ordered departure' with only personal weapons ... None of them were 'handed over' in any way to anyone. The destruction of weapons at the embassy and the airport was carried out in accordance with an approved destruction plan," the statement said. "To be clear: No Marine handed a weapon to a Houthi, or had one taken from him."
A Marine spokesman could not say whether it was unprecedented for U.S. troops to destroy the equipment. Pentagon spokesman Army Col. Steve Warren did not indicate whether the vehicles were also destroyed, according to Military.com.
Warren was unsure of why U.S. troops and personnel left in a civilian charter plane rather than a military aircraft, though said the weapons could have been transported out of Yemen had the Marines traveled by military aircraft instead.
The Houthi rebel group known as Ansar Allah, which translates as "Partisans of God," follows the branch of Shiite Islam known as Zaidism. The Houthis have been fighting for control over Yemen for months, demanding a government that is more representative of its citizens.
"Our demands are like the demands of the Yemeni people who seek a decent life, a good economy, security, stability, [and] freedom of expression," Houthi spokesman Mohammed Abdul Sallam told Al Jazeera in August.
The escalating protests led Yemeni President Abd Rabbo Mansour Hadi and members of his cabinet to resign in January.
TheBlaze contacted a spokesman for the Marine Corp on Thursday but was told that "no further information beyond what the full statement" was available. 
–
Follow Jon Street (@JonStreet) on Twitter