Since the U.S. Supreme Court rejected hearing Alabama's appeal on gay marriage earlier this week, Sen. Ted Cruz (R-Texas) has taken the firmest stance of all potential Republican presidential candidate on the issue.
Cruz introduced the State Marriage Defense Act just two days after the high court's decision, which would allow states to decide on how to define marriage, rather than federal judges.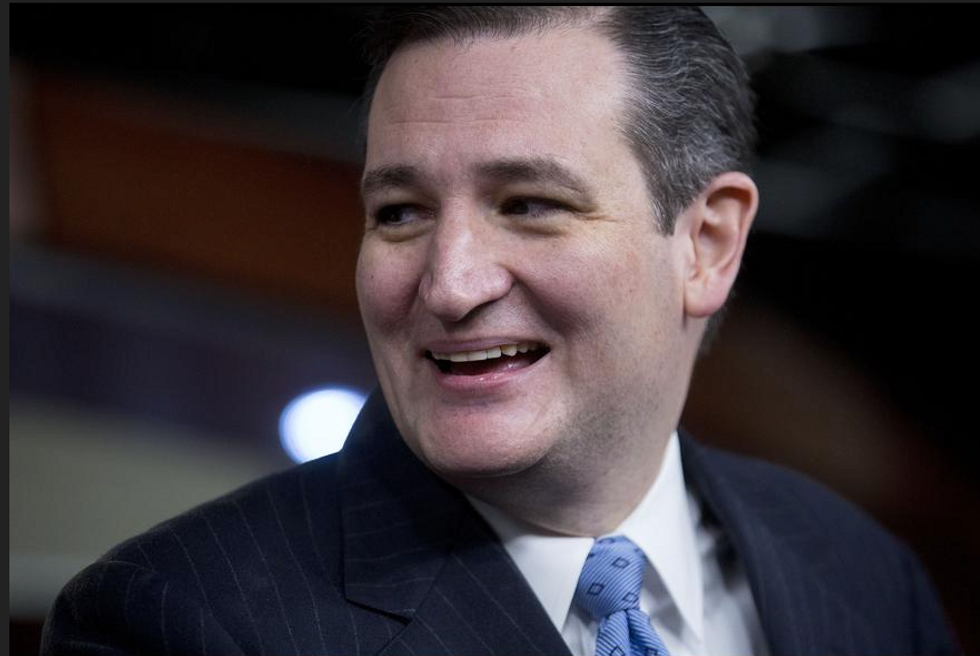 Senator Ted Cruz, a Republican from Texas, laughs during a news conference on the Department of Homeland Security (DHS) funding bill in Washington, D.C., U.S., on Thursday, Feb. 12, 2015. The DHS is operating under a continuing resolution that expires on Feb 27 with a stalemate over whether the must-pass measure should carry riders to upend President Barack Obama's immigration policies continuing to threaten passage of the legislation. (Bloomberg/Bloomberg via Getty Images)
While Republicans have long been the party supporting only traditional marriage, media reports have recently stressed how slow likely Republican 2016 presidential have been to speak out on the Alabama matter.
The Supreme Court opted not to hear a case in which Alabama requested a delay in a lower court order against the state's ban on same-sex marriage. The Supreme Court essentially made Alabama the 37th state in the country to recognize same-sex marriage, in what is expected to be a preview to the court's decision later this year in a gay marriage case.
"Even though the Supreme Court made clear in United States v. Windsor that the federal government should defer to state 'choices about who may be married,' the Obama Administration has disregarded state marriage laws enacted by democratically-elected legislatures to uphold traditional marriage," Cruz said in a statement.
"I support traditional marriage and we should reject attempts by the Obama Administration to force same-sex marriage on all 50 states," Cruz continued. "The State Marriage Defense Act helps safeguard the ability of states to preserve traditional marriage for their citizens."
Cruz also plans to introduce an amendment to the Constitution "further protect marriage and to prevent judicial activism," according to a news release.
Cruz is the only candidate to actually take action with legislation.
Cruz's Senate colleagues Rand Paul of Kentucky and Marco Rubio of Florida have not filed legislation on the matter as Cruz has, nor are they co-sponsors to the Cruz bill.
Both Paul and Rubio, who are expected to run for the Republican presidential nomination, have said they believe marriage should be between one man and one woman, but that the matter should be left to the states. Rubio told ABC News on Wednesday he wanted to learn more details about the Alabama matter before commenting on it specifically.
Cruz's bill allowing states to decide on the definition of marriage is co-sponsored by Sens. John Boozman of Arkansas, Mike Crapo of Idaho, Steve Daines of Montana, James Inhofe and James Lankford of Oklahoma, Mike Lee of Utah, Pat Roberts of Kansas, Tim Scott of South Carolina, Jeff Sessions and Richard Shelby of Alabama and David Vitter of Louisiana. In the House, Reps. Randy Weber (R-Texas) introduced a companion bill.
A spokeswoman for Cruz said he was not available for an interview on Thursday.
Former neurosurgeon Ben Carson asserted in a statement to ABC, "the issue of marriage -- an institution that has been so clearly defined and guarded by this nation for centuries -- should be decided upon by the state court as it pertains to that particular state's residents."
Meanwhile, former Texas Gov. Rick Perry and Louisiana Gov. Bobby Jindal each said the definition of marriage should be a state issue, but did not comment directly on the Alabama situation.
—