More than a third of Americans are worried about Shariah law coming to the United States and more than one in four believe that the Islamic State terror group reflects the "true nature of Islam," according to newly released polling data from LifeWay Research.
Overall, the survey found that Americans' views were quite complicated on both Islam and the Islamic State.
While 37 percent expressed fears about Shariah law, 27 percent believed that the Islamic State reflects Islam's true nature, and 48 percent disagreed with the statement "ISIS is not Islamic," some see the Muslim faith in a different light.
Consider that 22 percent of Americans agreed that the Islamic State is not Islamic, with an additional three in 10 expressing that they aren't quite sure where they stand on the matter.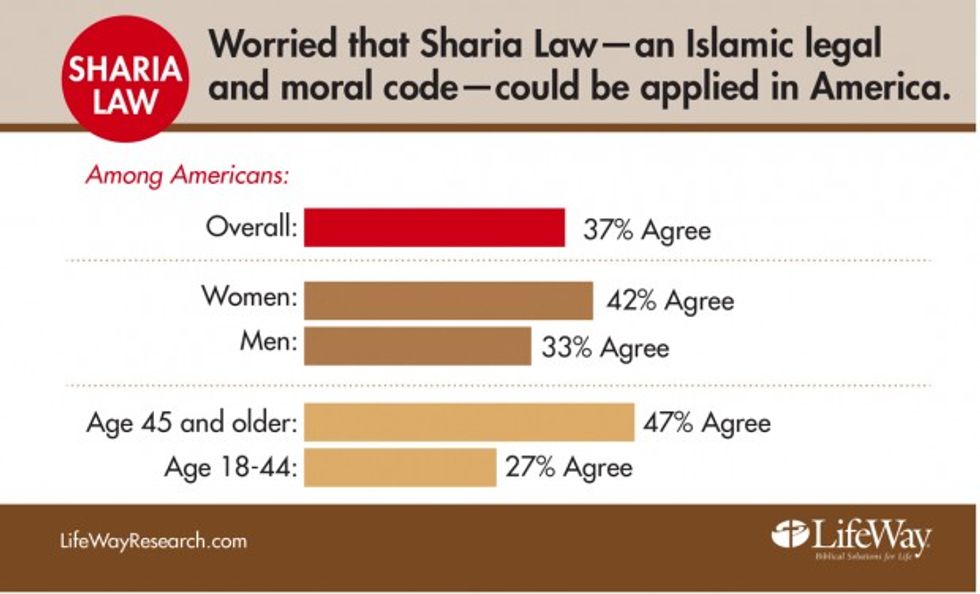 LifeWay Research
And perhaps most telling, 47 percent rejected the notion that the Islamic State is evidence of what happens when Islam takes control in society, with an additional 26 percent claiming that they weren't sure where they stand, according to LifeWay.
When presented with the statement "true Islam creates a peaceful society," 43 percent of Americans agreed, though 39 percent disagreed and an additional 18 percent were unsure. 
In addition to surveying the general public, the research firm also spoke with pastors, who took a somewhat more negative stance on Islam, with 61 percent of Protestant senior preachers disagreeing with the notion that "true Islam creates a peaceful society."
Additionally, 45 percent said that they believe the Islamic State is an indication of what happens when Islam dominates in a society, though 47 percent disagreed.
LifeWay Research conducted the two surveys — one among the general public and the other among pastors — in September and October 2014. Each sample consisted of 1,000 individuals, with margins of error between +/- 3.1 and 3.5 percentage points. Read the findings here.
The research comes as a new Islamic tribunal in north Texas is causing controversy.
(H/T: LifeWay Research)
--
Front page image via Shutterstock.com