A Southern California mom said her preschooler was brought to tears when she found out she couldn't exchange Valentine's Day cards at school because of a state regulation.
Dezery Castillo, whose daughter is a preschooler at Sandia Elementary School in the Apple Valley Unified School District, said parents and students received a note saying that Valentine's Day treats were not allowed because of a policy change on "donations" that restricts "goods" and "commodities."
"Therefore, Valentine cards/candy may not be distributed," the note said.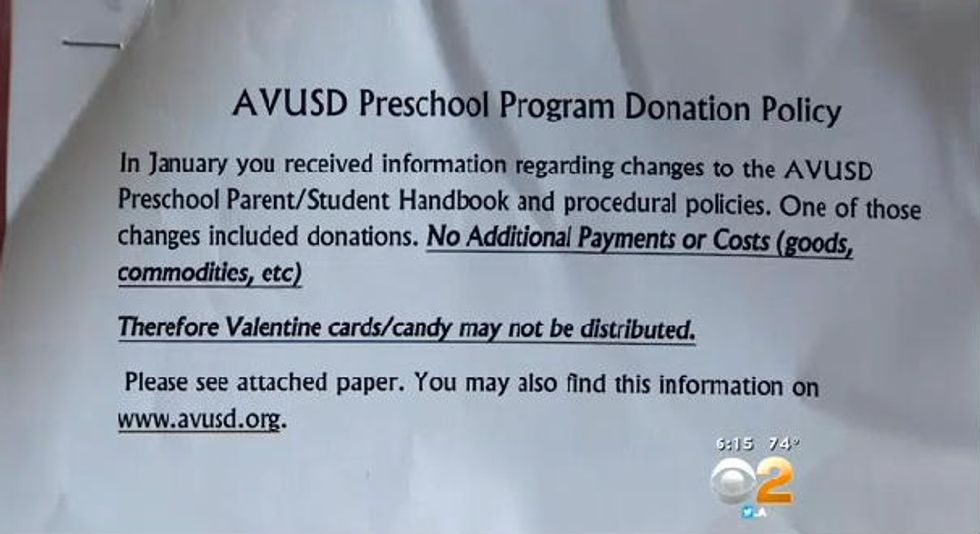 Image source: KCAL-TV
The restriction is apparently based on a California Department of Education regulation that affects state-funded preschool programs. Kindergarten through 12th-grade schools are not affected.
"So really what it comes down to is, because we are a licensed state-funded preschool, we have to abide by certain regulations or we'll lose our license and our funding," district spokeswoman Kristin Hernandez told KCAL-TV.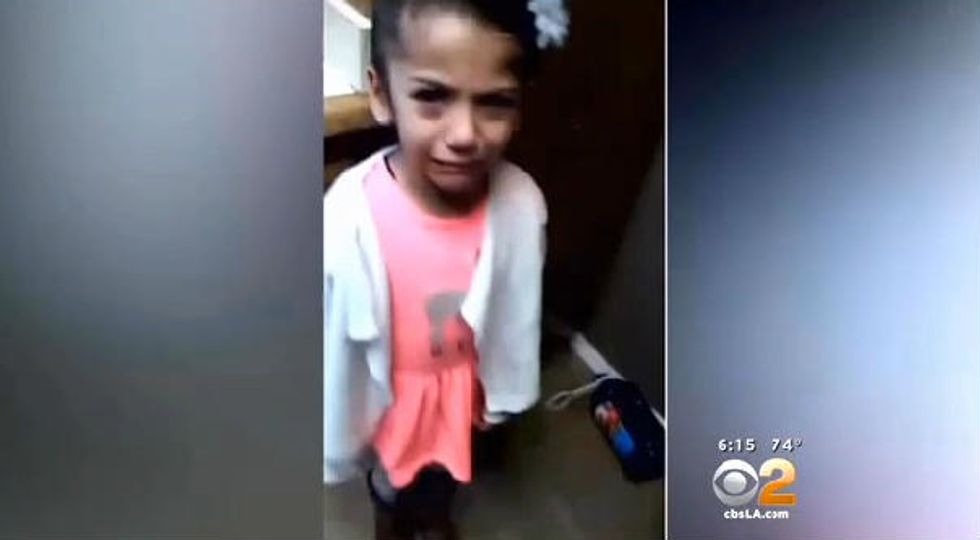 Dezery Castillo said her preschooler daughter was brought to tears after she was told she couldn't exchange valentines because of a state regulation. (Image source: KCAL-TV)
But some parents like Castillo think the ban is "taking it to the extreme."
"It's Valentine's Day...It's a day of sharing, giving. And they can't even show that or express that to their classmates," Castillo said.
Castillo said learning of the ban was "a little upsetting."
Her preschool-aged daughter thought so, too. Castillo said her little girl was brought to tears after learning she couldn't exchange cards and candy with her friends. Parents had a party outside of the school's campus to let their kids enjoy some Valentine's Day fun.
But the school district defended the policy and said that students were still allowed to have a Valentine's Day party — just not with the cards and candy that you might expect.
"A lot of our teachers did choose to have Valentine's Day crafts and make cards within their classroom with the resources that we had from within," Hernandez told KCAL.
Hernandez said the purpose of the state regulation is to alleviate financial burdens from families that may be facing income-level challenges.
"The prohibition includes activities or services that would increase the family's cost of participation including meals, recreation and field trips," the regulation reads.
(H/T: KCAL-TV)
–
Follow Jon Street (@JonStreet) on Twitter