More than one-third of all House members have signed onto legislation that would repeal Obamacare's tax on insurance companies, which even some Democrats agree is leading to high insurance costs for millions of American families.
According to a Congressional Budget Office report, the tax on health insurance providers is generally passed on to consumers "in the form of higher premiums for private coverage." And a Joint Committee on Taxation estimate says ending the tax by 2016 could save families up to $400 in costs.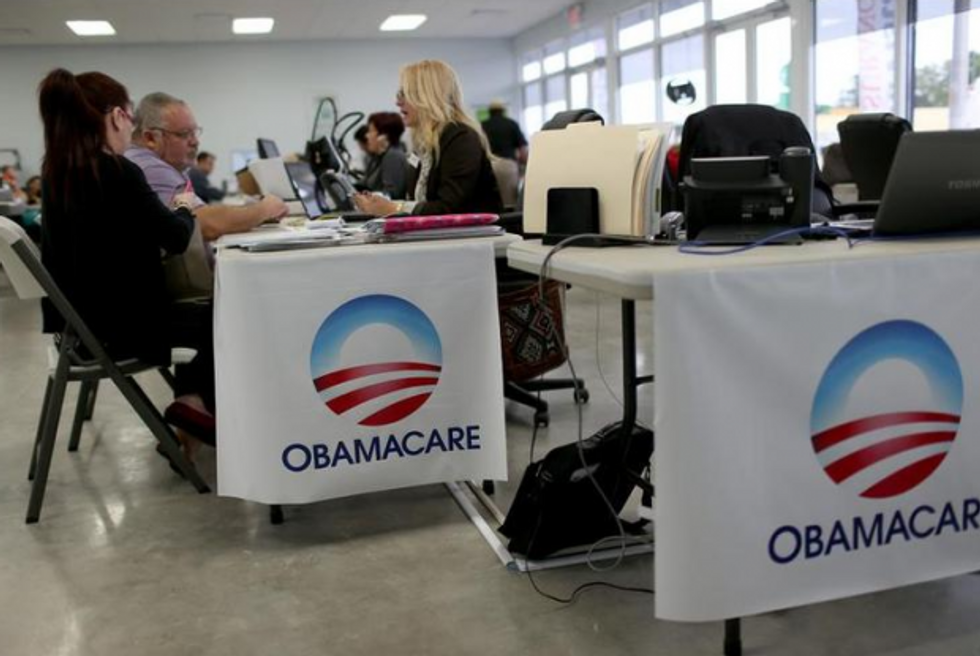 Dozens of House members, including three Democrats, are hoping to eliminate an Obamacare tax on insurance companies that is driving up insurance costs for families. Image: Joe Raedle/Getty Images
While Obamacare is a law that has generally been attacked by Republicans, the bill to end the tax is also supported by a few Democrats who say Congress needs to find a way to reduce rising health insurance premiums.
"I hear every day from individuals, families, and businesses in Arizona about the cost of health care," said Rep. Kyrsten Sinema (D-Ariz.). "This common sense fix will help lower out of pocket costs for hardworking Arizonans. By working together, we can provide relief for individuals, families, and employers while increasing access to quality affordable health care."
Other Democrats on the bill so far are Reps. Patrick Murphy (D-Fla.) and Collin Peterson (D-Minn.), and they're joined by 160 Republican sponsors.
Rep. Charles Boustany (R-La.) is the lead sponsor of the bill, and he cited estimates saying the insurance tax could add $5,000 to a family's insurance bill over the next decade. The National Federation of Independent Business Research Foundation has said it will cost hundreds of thousands of jobs through 2023.
The tax was estimated to extract $8 billion from insurance companies in 2014, and that is expected to rise to more than $14 billion by 2018.
"American families and small businesses are on the brink of being crushed under the weight of the Health Insurance Tax," Boustany said. "This provision drives up costs for individuals, families, and small businesses while threatening hundreds of thousands of lost jobs over the next decade."
"Republicans and Democrats agree this tax must be repealed to lower costs for consumers and improve accessibility to high-quality care for all Americans," he added.
In the last Congress, Boustany's bill had 9 Democratic cosponsors, and in 2012, it had support from 8 Democrats.
Obamacare is just about to finish its second enrollment year. People have until February 15 to enroll for 2015, and the Obama administration said a few weeks ago that 9.5 million people were enrolled so far.