A spokesman for the Export-Import Bank got into a Twitter fight Monday with a staunch opponent of the Bank, and simultaneously gave Twitter followers a preview of this year's debate over whether to reauthorize the Bank, or kill it.
The Ex-Im Bank was at risk late last year of having its charter expire without having it renewed by Congress, but it was saved at the last minute by legislation keeping it in business through the end of June, 2015.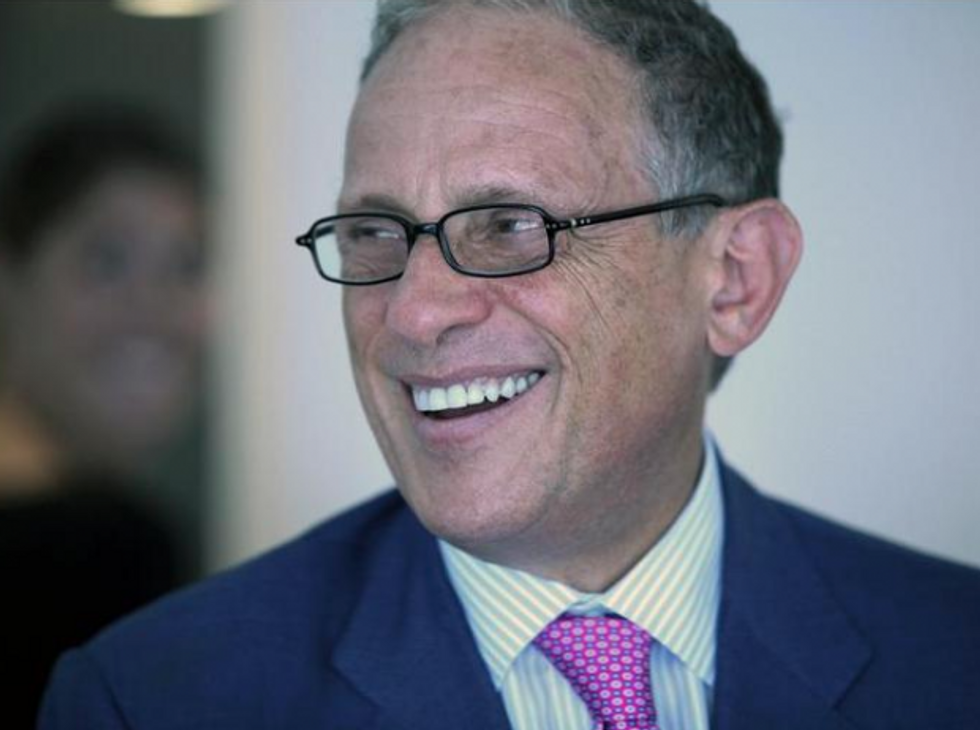 Fred Hochberg, president of the Export-Import Bank, has a dedicated communications staff. But it may not be enough to save the Bank from being eliminated later this year. Image: Bloomberg/Bloomberg via Getty Images
Ex-Im is the government's export credit agency, and it gives direct loans or loan guarantees to foreign companies, so those companies have an easier time buying U.S. goods and services.
While most major countries have similar export credit agencies, conservatives say the Bank is essentially corporate welfare for huge companies that are usually big enough to win their own export contracts on their own or with the help of private financing. While supporters of the Bank say it helps small companies, the Boeing Company is often cited as the chief recipient of Ex-Im Bank aid.
Heritage Action opposes the Bank for those reasons, and on Monday, the group's communications director, Dan Holler, tweeted that the Bank is about to help the Bahamas get "favorable loan rates" so it can resurface its roads, with the help of an American company, Hi-Lite Global.
"Can't make this up," Holler tweeted.
Monday was a government holiday, and while that means most government press officers are checked out, Ex-Im spokesman Matt Bevens waded into the fight.
"You don't want U.S. biz to 'turn export opportunities into sales?' " Bevens asked. "Want China to win infrastructure deals?"
Holler replied by asking Bevens to acknowledge that the loan rates are favorable, and Bevens shot back that Ex-Im "levels playing fields" to help U.S. companies.
"What % of ExIm loans 'level the playing field' and where is that data made available?" Holler asked back.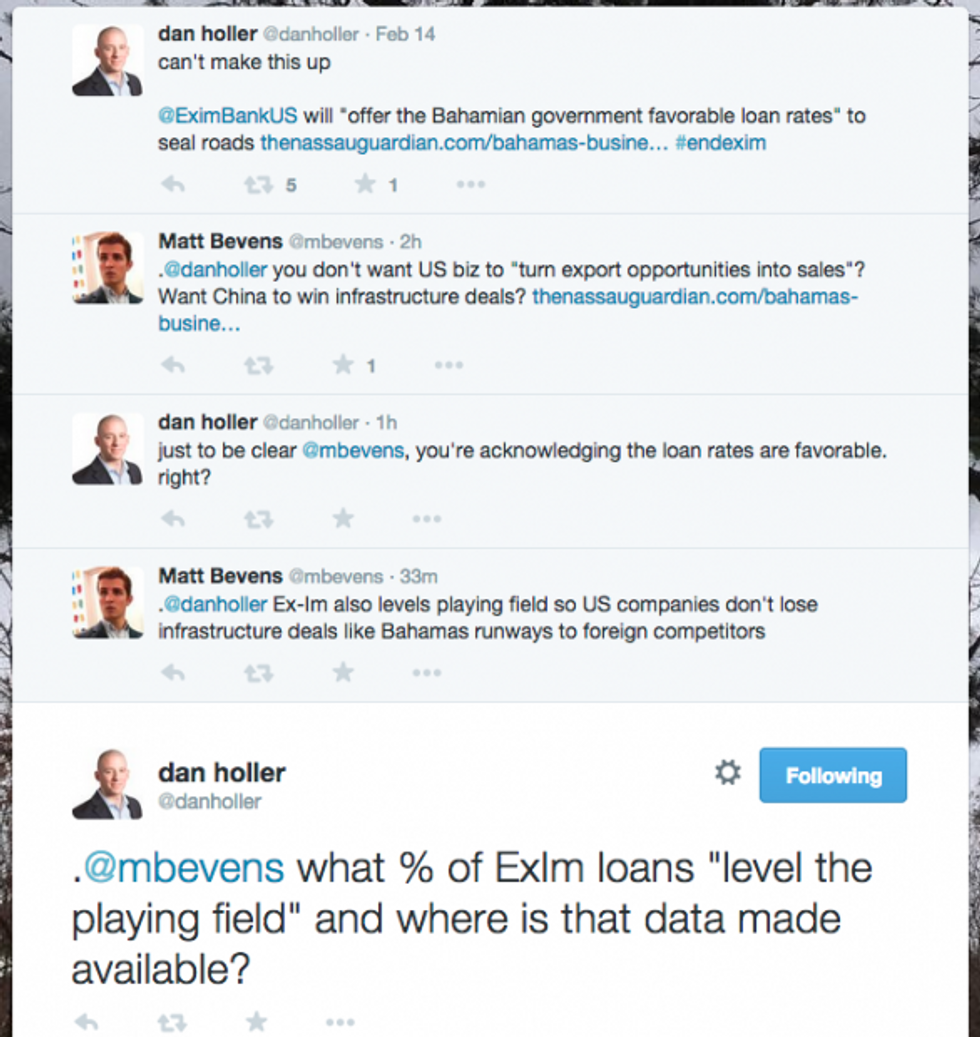 Some combination of the holiday, the late hour in the day, and a pending snowstorm may have stopped the fight there, but it's expected to continue through the summer as the June expiration of Ex-Im's charter approaches. Holler is backed by members of Congress like Rep. Jeb Hensarling (R-Texas), who wants to let Ex-Im expire.
But the GOP is somewhat split over the fate of the Bank, as the U.S. Chamber of Commerce supports its continued operation, and many members have companies in their districts that benefit from Ex-Im financing.
Last year, the Congressional Budget Office dismissed a key talking point often made by supporters of the Bank — that the Bank costs taxpayers no money, and in fact returns money to the Treasury Department by charging companies for its service. CBO destroyed that argument by saying it's based on phony government accounting.
Specifically, CBO said Ex-Im's loan guarantee programs are generally expected to generate $14 billion for the U.S. government over the next ten years, but only when the government's special accounting rules are used. Using a traditional fair-value accounting method shows a $2 billion loss due to these loan programs.
"As I have said previously, the Export-Import Bank's supposed profits are nothing more than an illusion," Hensarling said at the time.